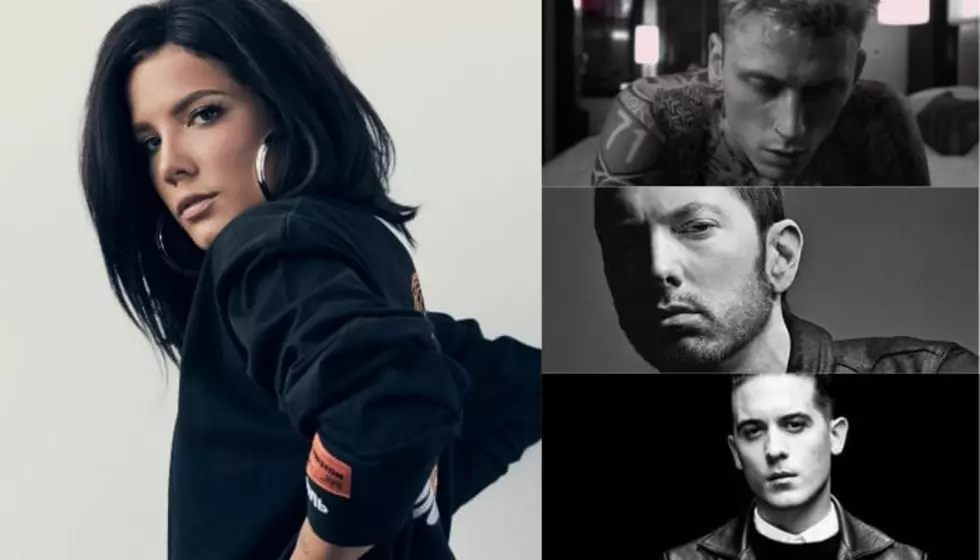 Did Halsey hit back at Machine Gun Kelly in Eminem, G-Eazy feud?
Did Halsey call Machine Gun Kelly "pathetic" for dragging her into the Eminem, MGK and G-Eazy beef? That's what many are saying of the singer's tweet a few days ago following Machine Gun Kelly's recent Breakfast Club appearance.
"how *absolutely* pathetic," Halsey tweeted, seemingly a stab at MGK for bringing their reported relationship into the ongoing feud among the rapper, Em and Eazy. (The latter with whom Halsey broke up this summer, per Teen Vogue.)
NME
And Kelly held his cards close to his chest regarding the Halsey and G-Eazy drama during his Breakfast Club chat, the big takeaway being that he and G did a "bunch of drugs together" on a trip to Finland the two rappers took.
What do you think about the apparently never-ending Eminem, MGK and G-Eazy saga? Are you ready for the rap battle to die down, or do you want more diss tracks to decipher? Sound off in the comments section and let us know!
The EmineMGK beef, explained

When Em surprise-dropped his latest LP, two of the songs on the album contained jabs at MGK (seemingly spurred by an old tweet). But in short order, Kelly fired back with "Rap Devil," unleashing the riposte in Em's home state.
Of course, Eminem wasn't gonna stand for that, so he shot reprisal "Killshot" after making it clear that he wanted to "destroy" MGK. Machine Gun Kelly then promised a new EP while bragging that Em's "Killshot" missed the mark.
To wit, G-Eazy got involved because his made his own diss track aimed at ol' MGK. And both Eazy and Kelly have reportedly been involved with Halsey. Hey, getting along in the rap game has never been an easy job.