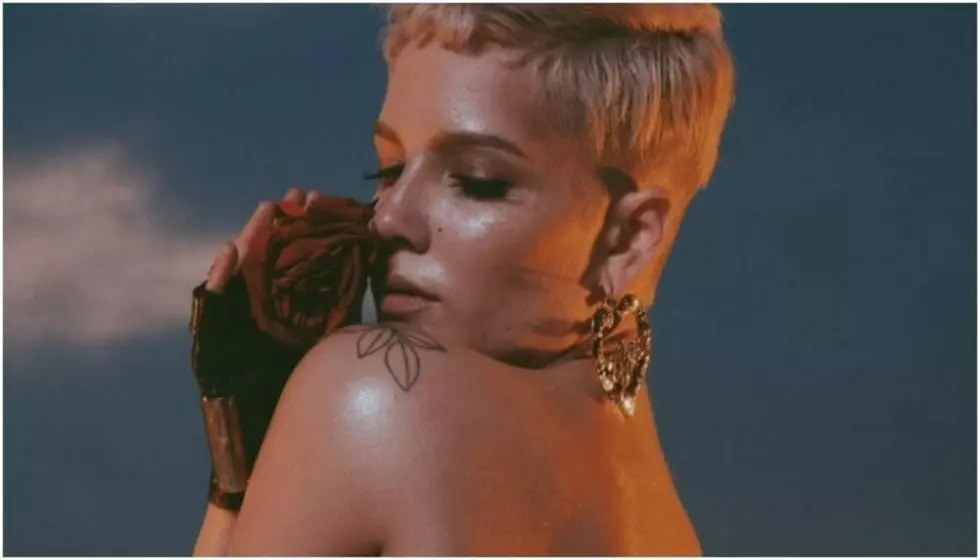 Halsey says next album is "better" than 'Badlands'
Halsey has been teasing fans like crazy about her next album, saying it's even better than her debut album Badlands.
The singer has been having a huge year already. She just dropped a collab with BTS that broke the internet. Halsey and BTS have such a cute relationship, and the singer even wrote a touching tribute in their honor when they were named part of TIME's 100 Most Influential People.
Just because we love it, you can check out the record-breaking video for "Boy With Luv"  below.
Since then, she's been announced to perform the song as well as "Without Me" at this year's Billboard Music Awards. Not to mention she's nominated for two awards herself, including Best Female Artist.
Now, she's decided to give us some more info about her upcoming album, which she's said will
come out this year.
She's previously opened up about what the record means to her in a tweet.
In a string of recent tweets, she said that the new album is full of songs like her track "Gasoline."
In case you forgot what that sounded like, you can listen to that below to get hyped.
It's unclear of when the follow up to 2017's
hopeless fountain kingdom
will drop, but let's hope it's soon.
In other news, Halsey recently opened up about how some alternative radio stations can be sexist and selective. It stemmed from comments by some stations that her collab with YUNGBLUD and Travis Barker, "11 Minutes" was "too pop."
"Weird that some ALT stations are calling 11 Minutes "too pop" when I'm tuning into their stations and hearing full blown EDM records these days," she begins. "Forget that 11 Minutes has more live guitar and live recorded organic kit than most other alt songs. But it's cause there's a girly voice on it right?"
Following the success of Halsey's chart-topping "Without Me" and YUNGBLUD's absolutely infectious "Loner," the duo recruited the blink-182 drummer's talents for an all-encompassing collab, "11 Minutes."
"The song tells the story of a perfect tragedy that reflects modern love within our society," YUNGBLUD explains. "We are so distracted and focused on what's next, we can fail to see what is actually in front of us. We don't realize how much we need something until it's taken away from us."
If you haven't already, you can check out the track's official music video below.
The singer was recently announced as an artist performing at Woodstock's 50th anniversary event. She took to Twitter to comment on the divisive opinions over the lineup.
As if Halsey hasn't been busy enough, she
recently joined
Khalid on the
Coachella
stage for a performance of "Eastside" which you can see below.
How excited are you for Halsey's new album? Sound off in the comments below!
[envira-gallery id="186668"]