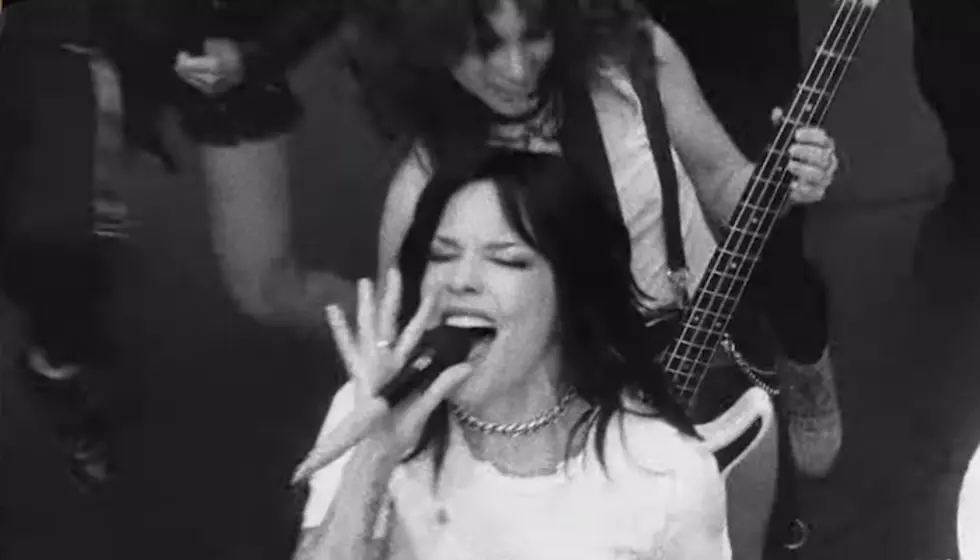 Halsey gives "Nightmare" live debut at free pop-up show
[Photo via YouTube]
Following two intimate Webster Hall shows playing Badlands and Hopeless Fountain Kingdom in full this month, Halsey kicked off her next era with another special gig.
The singer headed to The Armory in Minneapolis Monday night, but this time she had a "Nightmare" to share, giving the new single its live debut.
Earlier this month, Halsey embarked on the new era by blacking out her social media after the Billboard Music Awards. Then, she posted a link in her social media bios that directed fans to a site where they could sign up for email alerts and proceed to share their worst ever nightmare.
Following more lyrical scavenger hunts and teasers, Halsey finally unleashed "Nightmare" on the world Friday.
The song serves as an empowering anthem detailing themes of bodily autonomy and independence. It also featured appearances from actress/model Cara Delevingne and rock icon Debbie Harry of Blondie, the latter of which Halsey called "a no brainer" when including her.
Following the song's release, Halsey also shared that her fans were her inspiration.
"imagine getting onstage every night and seeing young women sweating mascara tears, lightning in their eyes, throwing elbows and raising fists, screaming till the veins in their necks raise under warm skin, and not being inspired by it. this song is about you, for you."
Halsey debuts "Nightmare" live
Given her connection with her fans, it was no surprise Halsey chose to debut the track at a free, pop-up gig. Given the intimacy of the moment, Halsey asked no phones be used, which upset fans.
"I saw u guys were upset about the phones tonight," Halsey responded. "I'm gonna let u guys keep em but u gotta promise me you aren't gonna have em out during the show. The whole point of this was to create a once in a lifetime moment for us. I only get 1 chance to sing Nightmare for the 1st time ?"
When questioned why she didn't want her fans recording it when a professional crew would be, Halsey explained.
"Yeah and I want the video to show how amazing and passionate my fans are," she tweeted. "Not a sea of cellphones ?"
Following the set, Halsey returned to Twitter to share her fans were "so respectful" of the phone policy.
"YES! Everyone was SO respectful and in the moment I couldn't believe it. It was amazing to watch. I felt SO connected to everyone cause when I looked at them I saw right into their eyes!!!!!!"
Halsey reportedly played "Nightmare" twice, with fans describing the energy as "so crazy" and "fucking unreal."
The wait is finally over, and you can see Halsey perform "Nightmare" for the first time. Check out The Armory show stream here and setlist below.
Halsey The Armory show setlist
1. "Castle" @ 13:16
2. "Heaven In Hiding" @ 18:45
3. "Nightmare" (live debut) @ 23:10
4. "Don't Play"
5. "Walls Could Talk"
6. "Bad At Love"
7. "Without Me" @ 26:58
8. "Hurricane" @ 30:20
9. "Drive"
10. "Colors"
11. "Roman Holiday"
12. "Gasoline"
13. "Nightmare" (again)
14. "Hold Me Down"
15. "Is There Somewhere"
16. "Young God"
*part of the stream
Following the stream, Halsey reflected on the night as a whole and why she chose Minneapolis.
"that mood when 8,000 people show up with 2 days notice to see you play a surprise release show in MINNEAPOLIS!!!! There's a reason this is one of my favorite cities to play too. And they fucking proved it tonight ❤️"
She also explained she originally only planned to stream the first "Nightmare" playthrough but did a last-minute update to include some fan favorites.
"Haha we were only gonna stream nightmare but since I'm nuts I pulled a last minute and wanted to stream some fan favorites so our amazing team did the best they could to cut all those songs together in less than an hour! They crushed it."
Halsey recently released a "Nightmare"-inspired shirt where 100% of the proceeds go to The Yellowhammer Fund for abortion accessibility. More information is available here.
Halsey has a handful of dates in the U.S. and U.K. this summer with a full list here.
What did you think of Halsey's first "Nightmare" performance? Let us know in the comments below.
[envira-gallery id="186668"]