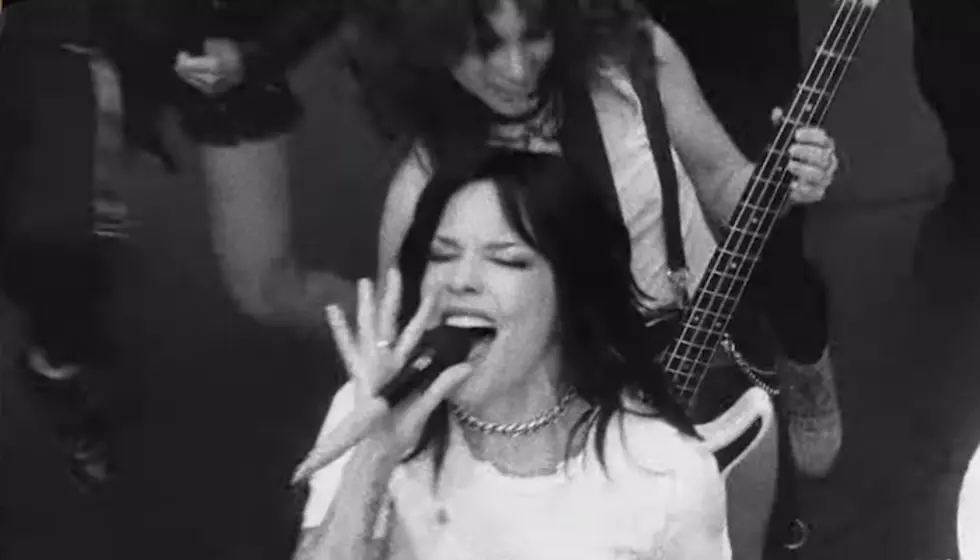 Halsey offers to pay fan's speeding ticket fueled by "Nightmare" jam sesh
[Photo via YouTube]
Halsey's new song "Nightmare" is undoubtedly intense. It's an anthem that makes fans want to jump around, scream and apparently, speed on the road.
One fan shared a story about getting a speeding ticket while listening to the new song that led to Halsey reaching out herself.
Twitter user @_fran_cesca made the confession on Twitter.
"
Driving home from Penn State I got pulled over/given a ticket for the first time ever and when asked why I was going 99 in a 70 I was ~dangerously~ close to admitting I was bangin out to
@halsey
's new song Nightmare," the tweet read.
Then, the singer reached out herself and offered to pay the fines.
Halsey's right, we should drive safe. But she obviously can't blame the fan either who just went a little too hard to her new song.
As for the story of "Nightmare," it's pretty intense itself.  Earlier this month, Halsey embarked on the new era by blacking out her social media after the Billboard Music Awards. Then, she posted a link in her social media bios that directed fans to a site where they could sign up for email alerts and proceed to share their worst ever nightmare.
Following more lyrical scavenger hunts and teasers, Halsey finally unleashed "Nightmare" on the world Friday.
The song serves as an empowering anthem detailing themes of bodily autonomy and independence. It also featured appearances from actress/model
Cara Delevingne
and rock icon Debbie Harry of
Blondie
, the latter of which Halsey called "a no brainer" when including her.
Following the song's release, Halsey also shared that her fans were her inspiration.
"imagine getting onstage every night and seeing young women sweating mascara tears, lightning in their eyes, throwing elbows and raising fists, screaming till the veins in their necks raise under warm skin, and not being inspired by it. this song is about you, for you."
Last night, she just gave her first live-performance of the song. Given her connection with her fans, it was no surprise Halsey chose to debut the track at a free, pop-up gig. Given the intimacy of the moment, Halsey asked no phones be used, which upset fans.
"I saw u guys were upset about the phones tonight," Halsey responded. "I'm gonna let u guys keep em but u gotta promise me you aren't gonna have em out during the show. The whole point of this was to create a once in a lifetime moment for us. I only get 1 chance to sing Nightmare for the 1st time
"
When questioned why she didn't want her fans recording it when a professional crew would be, Halsey explained.
"Yeah and I want the video to show how amazing and passionate my fans are," she tweeted. "Not a sea of cellphones."
Following the set, Halsey returned to Twitter to share her fans were "so respectful" of the phone policy.
"YES! Everyone was SO respectful and in the moment I couldn't believe it. It was amazing to watch. I felt SO connected to everyone cause when I looked at them I saw right into their eyes!!!!!!"
Halsey reportedly played "Nightmare" twice, with fans describing the energy as "so crazy" and "fucking unreal."
You can watch the official music video for "Nightmare" below.
Halsey recently released a "Nightmare"-inspired shirt where 100% of the proceeds go to The Yellowhammer Fund for abortion accessibility. More information is available here.
Halsey has a handful of dates in the U.S. and U.K. this summer with a full list here.
What do you think about the speeding ticket story? Sound off in the comments below!
[envira-gallery id="186695"]