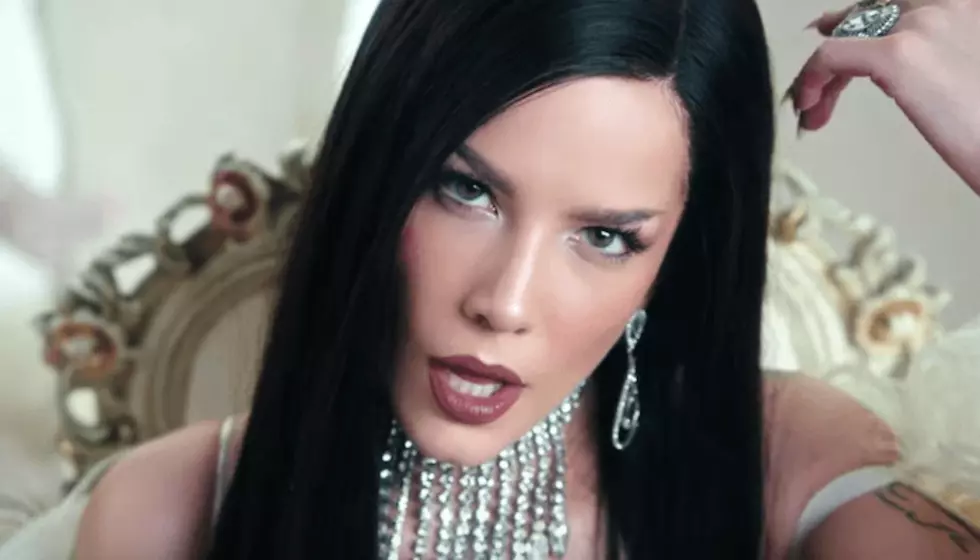 Halsey shares perfect scene throwback complete with Evanescence t-shirt
[Photo via YouTube]
Halsey shared a hilarious throwback that not only shows her love for the scene but reminds her fans where everything got started.
Halsey took to Twitter to share a photo of her as a child, sporting an Evanescence shirt and playing the violin.
"so much to unpack here. the evanescence shirt. the hot topic pants. the look of determination. the Costco glasses. the secondhand violin that got me into music. this post is a whirlwind," she wrote.
Honestly, we can relate to this. Also, we love seeing the throwbacks of the artist before she was a huge international star.
She's previously defended her emo upringing with her love of My Chemical Romance and talked about her love of bands like blink-182, Taking Back Sunday and Fall Out Boy. She even cites those groups as influences behind her song "11 Minutes" with YUNGBLUD and Travis Barker. She's also bragged about getting to see Bring Me The Horizon when she was just 14 years old.
"I grew up on the Warped Tour scene and I had my ears stretched like an inch wide, I was all over Myspace," she said. "I was like, not even a scene kid, like a hardcore kid."
So this only proves once a scene kid, always a scene kid, and we're proud of it.
More Halsey news
Halsey recently performed in Camden and gave an empowering speech about LGBTQ Pride and bigotry.
For background, recently, two women were beaten in a homophobic attack on a London bus that garnered a lot of attention online.
Also, it's Pride month, and some people in Boston are pushing for a "straight pride" parade, causing major outcry.
At the show in the city, Halsey wore a shirt with their faces on it. It also read "Fuck your straight pride" on the back.
She then gave a passionate speech, slamming straight pride and homophobia.
"After the Pride parades are over and after the bars close their Pride nights and the glitter is being swept out of the streets, a lot of people get on those trains and they get on those buses and try to wash the rainbows off their bodies and they're peeling the stickers off their close because when Pride is over, it's not safe to be gay anymore because they're worried that someone is going to viciously assault them or viciously attack them. So when the people around the world ask the question, "Why isn't there a straight pride parade? The answer because if there was one, you wouldn't have to get on the bus and be terrified of being fucking beaten or killed afterwards. That's why there's not a straight pride parade because every fucking day on public transport is a straight pride parade."
She then led the room in a powerful chant of "I will not be afraid."
The entire moment is extremely moving, and was caught by fans at the show. You can her full speech below.
What do you think of the Halsey throwback? Sound off in the comments below!
[envira-gallery id="186668"]