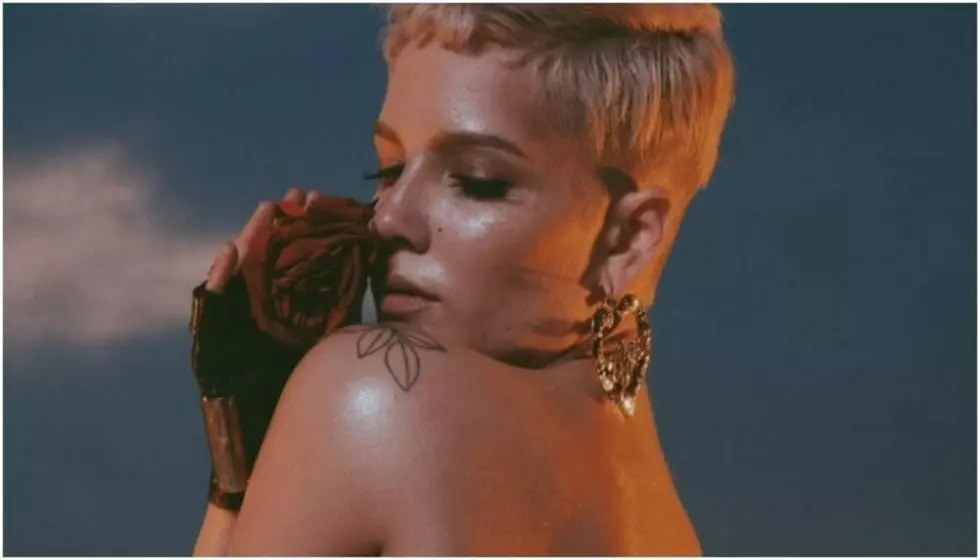 Halsey to receive songwriting award previously earned by Nate Ruess
Halsey is getting a lot of recognition lately for both her social work and music, and now she's getting another trophy to add to her collection.
The musician will receive the Hal David Starlight award. It is given out at the 50th annual Songwriters Hall of Fame Induction and Awards Dinner. That occurs in New York City on June 13.
Each year, the award is given to a young songwriter who's made a "significant impact" on the industry. Other artists who have received the award include Taylor Swift, Nate Ruess of Fun., John Rzeznik of the Goo Goo Dolls, Dan Reynolds of Imagine Dragons and more. 
"Halsey bares her soul with heart-wrenching, rebellious and complex lyrics that come from a place of creativity and strength where not many songwriters are comfortable going," Songwriters Hall of Fame president and ceo Linda Moran said. "She is more than worthy to join the roster of the young songwriters who have received the coveted Hal David Starlight Award."
Recently, Halsey was honored by a youth homeless organization, My Friend's Place, at an event in Los Angeles over the weekend. There, she opened up about her experience with homelessness during a speech.
In her speech, she not only talked about her experience with being homeless. Also, she talked about how she considered sex work to make money during the difficult time of her life.
"When I was living in New York, I was a teenager. My friends were picking out decorations for their dorms, and I was debating on whether or not I should let a stranger inside of me so I could pay for my next meal," she said. "It wasn't because I did something bad. It wasn't because something was wrong with me, and it wasn't because my parents didn't love me — because they did very much."
"But a series of unfortunate circumstances led me to be in that position, and it can happen to absolutely anyone," she continued.
She also added the importance of helping people who are homeless because it's the right thing to do.
"We shouldn't help these people because there's a chance they could turn into a celebrity," she said. "We shouldn't help because 'They could make something of themselves!' Because they are something right now."
You can watch Halsey's entire speech below.
Halsey also just dropped a teaser for her upcoming collab track with
BTS
,
which you can watch below. The song "Boy With Luv" is set to drop on April 12 at 5 a.m. EST.
In other news, Halsey was just nominated for several awards at the Billboard Music Awards. You can see the entire list of nominees here.
She also shared some deep thoughts about her recent growth and party culture on Twitter.  
What do you think of Halsey being honored this way? Sound off in the comments below!
[envira-gallery id="186695"]