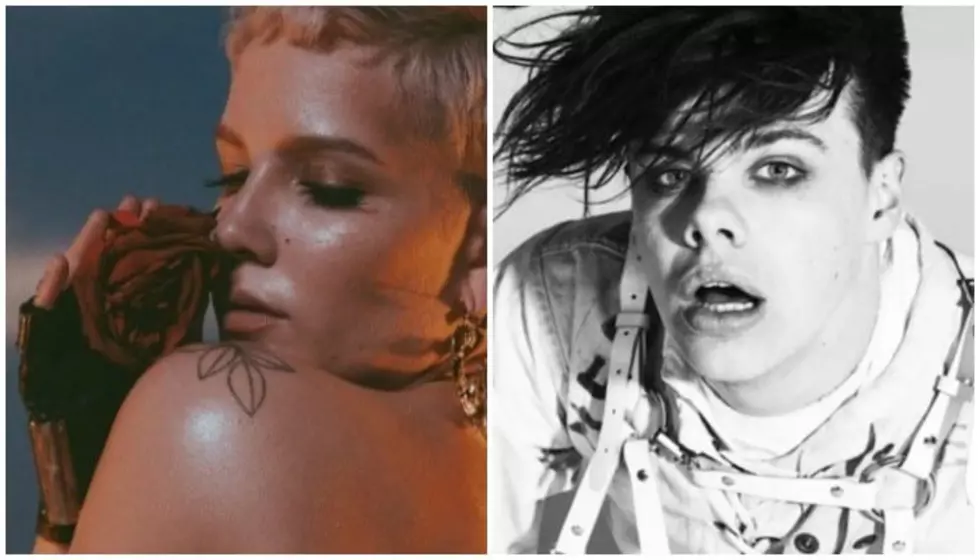 Halsey, YUNGBLUD talk growing up with rock music
Halsey and YUNGBLUD have talked about growing up with rock music in a new interview that also shows the unconventional way "11 Minutes" came to be. 
The duo just released the video for "11 Minutes" featuring Travis Barker and we've been pretty much watching it nonstop ever since.
Halsey and YUNGBLUD sat down with ALT 98.7 FM and talked about how they met. Apparently, Halsey had admired YUNGBLUD for awhile and asked him to get a beer in Los Angeles. The two got pretty drunk and talked about the music they grew up with and YUNGBLUD's idea for the song.
"I ended up jumping in the studio the next day," Halsey said.
She added that she texted Barker to be on the song and he was free and did it almost immediately.
"It was like within 36 hours it went from this idea we were talking about to this fully incubated thing," she said. "We were all in the studio together and it just happened. It was organic and it was the product of us having a conversation about the music we grew up on."
The two talked about the music they loved back in the day. For YUNGBLUD, that was Britpop and for Halsey, it was 2007 emo revival. Halsey said she "I grew up on the Warped Tour scene. I had my ears was happy the song has a 2007 vibe to it.
Halsey talked about her scene days when she was obsessed with bands like blink-182, Taking Back Sunday and Fall Out Boy, which she sites as influences behind the track. She also bragged about getting to see Bring Me The Horizon when she was just 14 years old.
"I grew up on the Warped Tour scene and I had my ears stretched like an inch wide, I was all over Myspace," she said. "I was like, not even a scene kid, like a hardcore kid."
YUNGBLUD compared this to his experience with loving bands such as Oasis and Arctic Monkeys, and growing up in that scene in the UK.
When it comes to the influences behind the song, YUNGBLUD described it as a story about a young perfect high school couple. They broke up because of "the way society teaches things about relationships."
"Success and power is more important than love nowadays," he said.
The song continues as the couple tries to rekindle their love by meeting up. The girl says she's 11 minutes away from meeting her ex. However, she gets into a fatal car crash on the way.
Halsey explained the idea behind the video, which was exploring the story through the 5 stages of grief in a Black MIrror, Eternal Sunshine of the Spotless Mind method of storytelling which confuses the viewer.
"The video is about (YUNGBLUD's) protagonist waking up to an alarm on his watch that starts counting down from 11 minutes and he has 11 minutes to stop the accident and he fails every time," she said.
As far as future collaborations, the two didn't count it out and even said they write music together a lot.
"I really like writing with her because i really admire her mind and the way she thinks," YUNGBLUD said. "I don't think we're going to put any label on it or anything. We're just writing what we write."
You can watch the entire interview below.
You can check out the video for "11 Minutes" below.
What do you think of the new "11 Minutes" video? Sound off in the comments!
[envira-gallery id="186668"]