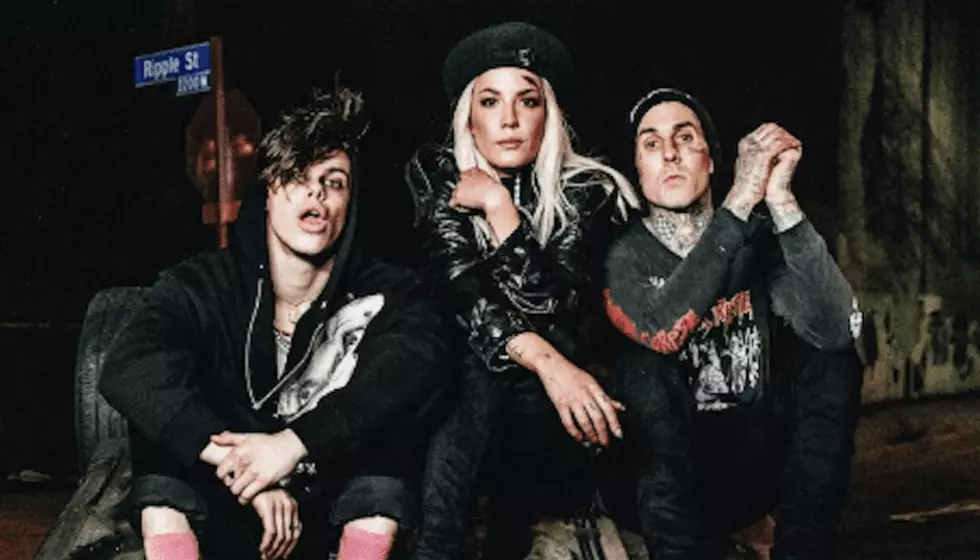 Halsey, YUNGBLUD, Travis Barker collab is what dreams are made of
[Photo by: Spencer Miller]
Earlier today, Halsey and YUNGBLUD began teasing a truly triple-threat collab with blink-182 drummer Travis Barker.
As if knowing the track exists wasn't exciting enough, the reveal came with a countdown for midnight GMT/7 p.m. EST. Now, it's finally here.
Following the success of Halsey's chart-topping "Without Me" and YUNGBLUD's absolutely infectious "Loner," the duo recruited Barker's talents for an all encompassing collab, "11 minutes."
Melded with Barker's incomparable drumming, Halsey and YUNGBLUD's powerful pipes relay a love story ending in self-sabotage.
"The song tells the story of a perfect tragedy that reflects modern love within our society," YUNGBLUD explains. "We are so distracted and focused on what's next, we can fail to see what is actually in front of us. We don't realize how much we need something until it's taken away from us."
Halsey has given blink an in-song shout-out and performed with Barker in the past, and the collab made sense for all parties involved.
"Working with Halsey and Travis was a fucking dream—at the end of the day we're all rock kids," YUNGBLUD says. "We grew up with a mutual adoration for the genre so it completely makes sense that we would come together and try to modernize it."
The trio worked with producer/songwriters Matt Schwartz (Cold War Kids, Kylie Minogue), Zakk Cervini (Good Charlotte, Mayday Parade) and Chris Greatti (Grimes, Black Veil Brides).
Halsey closes it all out with a piano-driven solo, and we'd be lying if we said it didn't give us goosebumps. Check it out here as well as below.
Halsey recently dropped a Juice WRLD remix of "Without Me" and has opened up on the creative process for her next album in between killing it as a host and performer on SNL.
Barker has plenty in the works, from his Musink Festival in March to upcoming and already released collabs with FEVER 333, Vic Mensa and Korn. Plus, there's potential for blink's next album to go in a "completely weird" direction. The band is also slated to headline Back To The Beach in April.
On top of releasing "Loner" earlier this year, YUNGBLUD is out on a massive tour with Australia, U.K. and U.S. dates. A full list of shows and tickets are available here.
What do you think of the trio's collab? Sound off in the comments below!
[envira-gallery id="195377"]