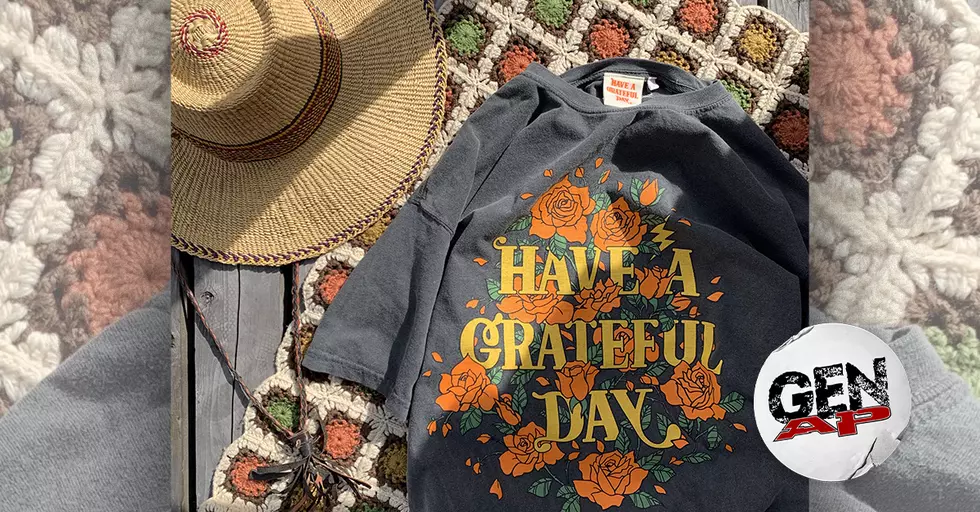 How Japanese streetwear brand Have A Grateful Day is promoting gratitude with Grateful Dead-inspired merch
[Photo via Have A Grateful Day]
Welcome to Generation AP, a weekly spotlight on emerging actors, writers and creatives who are on the verge of taking over.
The Grateful Dead's live shows were legendary, but their parking lots possessed their own fantastical lore. Entering one felt like a nomadic wonderland, teeming with a flea market of VW vans and Technicolor T-shirts. These lots became an ecosystem of small businesses, with vendors selling everything from magic mushrooms to homemade art; anything to make it to the next gig. Since then, the Dead became a band whose influence runs wide, whose sorcery both embodied the very essence of the psychedelic '60s and shook up the business world.
Yusuke Komori's first encounter and, later enchantment, with the Dead came in August 2002 when he attended a RatDog show (guitarist-vocalist Bob Weir's side project-turned-primary vehicle once TGD disbanded in 1995) at Fuji International Speedway in Japan. That day, Komori became immersed in Dead culture — an experience that'd lead to his own business venture.
Read more: Why Praying could be the new Vetements
"It was the beginning of my obsession with the Dead," he says via email. "First of all, my love of the Dead's music and their spirit of freedom and commitment to having fun fit my personality. I also fell in love with Deadheads, who treated me like family. The Grateful Dead and Deadheads have enriched my life and are a very important part of it."
Sixteen years later, Komori began Have A Grateful Day, a brand that maintains the Dead's ethos while imbuing an appreciation for daily life. As a self-taught designer, Komori says he's always been interested in design as a hobby. However, it wasn't until he launched Have A Grateful Day, first as a capsule collection of a sibling brand called GOWEST in 2018, that he began taking it seriously as a career.
"'Have a grateful day' is a phrase I would send to both my loved ones and myself," he explains. "I hope that we can be a part of your everyday life and make you feel grateful for the special day you have."
 [Photo via Have A Grateful Day]
One glance at Have A Grateful Day and you'll see the shop boasts an eclectic range of items. One shirt depicts a rose-crowned skeleton in a series of different surfing positions, captioned with Dead song titles, while another portrays a cartoonish Jerry Garcia sporting his totemic "Captain Trips" hat. Coffee mugs that look pleasingly retro, beach towels that evoke the Summer of Love, floral bandanas and plenty of other treasures have all been up for grabs over the years, too.
However, the Tokyo-based designer says he rarely resells the same items (though he remains flexible when there are a large number of requests). Rather, he keeps his pieces uniform by using the same artwork, sometimes changing the body or color and then reselling the product to make each item stand out. That means owning something from Have A Grateful Day maintains a certain exclusivity, a uniform to wear while carrying on the Dead's creed.
These days, for those who weren't around to ingest acid and witness the Dead's revelatory free-form jams, their biggest mark on the world is their business practices. After all, the Dead transformed from being the house band for Ken Kesey's Acid Tests (then called the Warlocks) to psych colossals by focusing on the people who mattered most — their die-hard fans.
For one, the Dead established a telephone hotline where fans could speak with Eileen Law, their revered office manager, to receive tour news and order tickets directly from the band. (The service became so popular that it was later split into two separate lines for the East and West Coast, available 24 hours a day.) They were also one of the first groups to establish their own mailing list to keep in touch with fans; they became masters of supplying sublime customer value.
[Photo via Have A Grateful Day]
Much like the Dead, Komori knows how to deliver an experience. He thoughtfully and promptly answers DMs, despite English not being his first language. He also frequently creates gifts (stickers, postcards, etc.) to "delight customers" and sends email newsletters when limited-edition products drop. Meanwhile, the shirts are made out of 6.1-ounce fabric and feature a "smooth touch with ring-spun cotton," according to the brand's website.
"I consider novelties to be a communication tool with customers, and I try to exceed their expectations," he explains.
And though Komori says that many people outside of Japan are repping Have A Grateful Day, he'd still like to experience more crossover success and make the brand better known. "My dream is to sell my products at Dead family band shows," he adds.
Beyond that, Komori remains grateful for plenty in his daily life. Three years ago, he got sick and is still undergoing treatment. He says the support of his family gives him "energy and courage." Meanwhile, his fans have allowed the brand to swell, with Komori constantly striving to meet their expectations for his high-quality, one-of-a-kind products. Of course, he makes time to listen to music while he works, including Neil Young, Rose City Band, Grateful Shred and many more.
"I want to thank all the Deadheads around the world," he adds. "I have learned a lot from [them], such as fun, freedom, connection and love — important things for my artwork — and a lot of creativity and inspiration."
Devoted fans made the Dead prosper, and Have A Grateful Day is much the same, spreading love, ambition and optimism along the way. "There is no brand without daily gratitude," Komori says. "I am and always will be 'grateful.'"
[Photo via Have A Grateful Day]
[Photo via Have A Grateful Day]
[Photo via Have A Grateful Day]
[Photo via Have A Grateful Day]
[Photo via Have A Grateful Day]