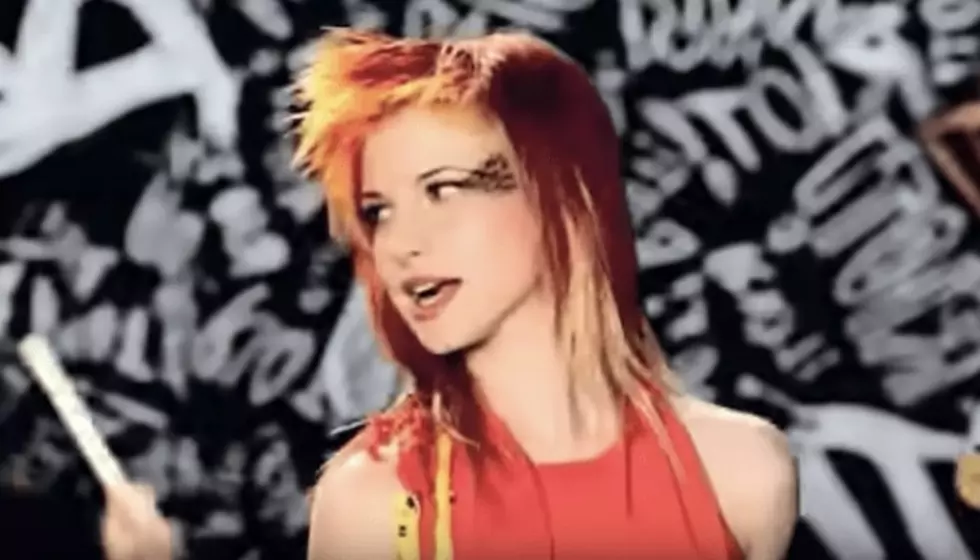 Hayley Williams reiterates "Misery Business" has no place in 2020
[Photo via YouTube]
Hayley Williams recently spoke out on one of Paramore's most popular, yet controversial song. "Misery Business" took the world by storm upon its release as the lead single for Paramore's second LP Riot!
However, the controversial lyrics haven't aged well and Williams decided to stop playing it live in 2018. Now the iconic singer commented on the song in a recent social media post.
Williams is gearing up for a massive 2020. Her solo debut Petals For Armor is set to release on May 8 and she's just announced her first ever solo tour for this summer.
But recently, Hayley Williams took a look back. A look back on "Misery Business" specifically. In a post to her Instagram story, Williams thanked Spotify for including her recent single "Simmer" on their Women Of Rock playlist. But, she also made note that "Misery Business" was included on there as well. 
"SIMMER" is on this playlist. thx @spotify," Williams says. "but so is 'Misery Business'. i know it's one of the band's biggest songs but it shouldn't be used to promote anything having to do with female empowerment or solidarity. i'm so proud of Paramore's career, it's not about shame. it's about growth and progression... and though it'll always be a fan favorite, we don't need to include it on playlists in 2020."
[Photo via Instagram][/caption]Well, it seems Spotify listened because as of 2:30 p.m. EST on March 10, "Misery Business" is no longer on the playlist. 
In a 2017 interview with Track 7 for Riot!'s 10th anniversary, Williams expanded on how she'd changed since writing the song many years ago.
"The thing that annoyed me was that I had already done so much soul-searching about it, years before anyone else had decided there was an issue," Williams says. "When the article began circulating, I sort of had to go and rehash everything in front of everybody. It was important, however, for me to show humility in that moment. I was a 17 year old kid when I wrote the lyrics in question and if I can somehow exemplify what it means to grow up, get information, and become any shade of 'woke', then that's a-okay with me."
Even before that in a blog post in 2015, Williams wrote: "Misery Business is not a set of lyrics that I relate to as a 26-year-old woman. I haven't related to it in a very long time. those words were written when I was 17… admittedly, from a very narrow-minded perspective. It wasn't really meant to be this big philosophical statement about anything. It was quite literally a page in my diary about a singular moment I experienced as a high schooler."
The specific lyrics in question in Paramore's "Misery Business" are "Once a whore, you're nothing more/I'm sorry that'll never change."
Hayley Williams, as always dealt with the controversy with grace and understanding. 
More on Hayley Williams 
Hayley Williams just dropped the first part of her solo album Petals For Armor. Part I consists of five songs and includes the hits "Simmer," "Leave It Alone" and "Cinnamon." It was also recently revealed that all three members of boygenius—the indie-rock super group consisting of Julien Baker, Phoebe Bridgers and Lucy Dacus will all appear on Petals For Armor. 
Williams also spoke on why she's releasing the album in parts. She wants fans to experience it the way she did.
"There are a lot of themes covered on the album as a whole and I thought it best to separate some of these themes so that there can be time for everyone to digest some of the songs before we move along to others," Williams says of PETALS FOR ARMOR I. "It's a way to include people on the journey in the same way that I experienced it."
The full Petals For Armor releases on May 8. Preorders can be found here. A full list of her upcoming tour dates is below and tickets are available here. 
Dates: 
05/13 – Amsterdam, NL @ Melkweg Max
05/15 – Brighton, UK – The Beach @ The Great Escape Festival
05/16 – London, UK @ Electric Brixton
05/18 – Paris, FR @ La Cigale
05/19 – Cologne, DE @ Live Music Hall
05/28 – Seattle, WA @ Moore Theatre
05/30 – San Francisco, CA @ The Masonic
06/01 – Los Angeles, CA @ The Wiltern
06/03 – Denver, CO @ Paramount Theatre
06/05 – Dallas, TX @ HiFi
06/06 – Houston, TX @ House of Blues
06/08 – Orlando, FL @ House of Blues
06/10 – Atlanta, GA @ Tabernacle
06/15 – Charlotte, NC @ The Fillmore Charlotte
06/17 – Silver Spring, MD @ The Fillmore Silver Spring
06/18 – Philadelphia, PA @ The Fillmore Philadelphia
06/20 – Boston, MA @ House of Blues
06/22 – Toronto, ON @ Rebel
06/24 – Brooklyn, NY @ Brooklyn Steel
06/26 – Chicago, IL @ House of Blues
06/27 – Detroit, MI @ The Fillmore Detroit
06/29 – Nashville, TN @ Brooklyn Bowl Nashville