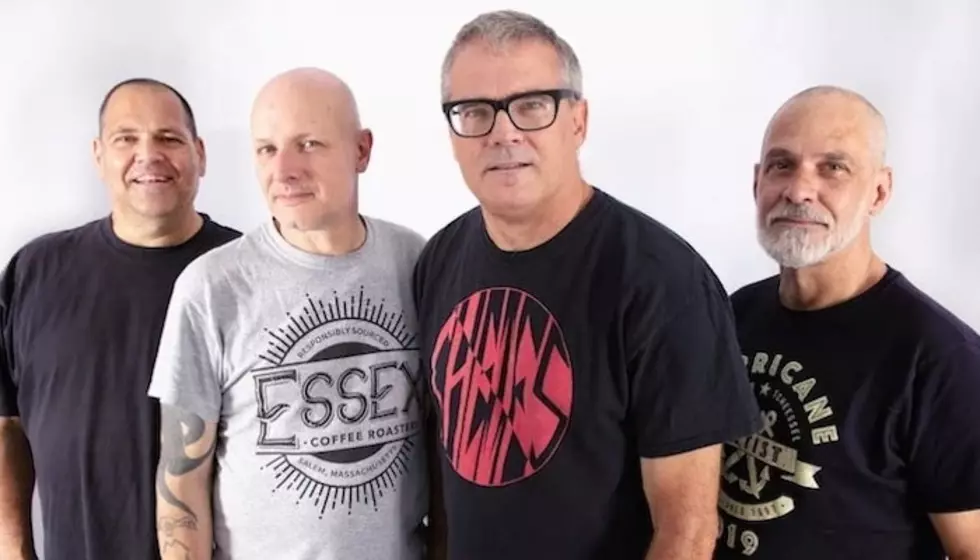 Hear Descendents demand change on the powerful new release 'Suffrage'
[Photo by Ryan Bakerink]
We are a week away from the 2020 general election and Descendents aren't letting you forget about it.
On Tuesday, the band released the politically-charged two-song single Suffrage that features the tracks "On You" and "Hindsight 2020."
After the 2016 presidential election, Descendents frontman Milo Aukerman told Brooklyn Vegan that he found himself unable to write about anything else.
"I've spent most of my punk rock life avoiding the temptation to write political songs; it always seemed like politics is the obvious go-to subject of punk and thus not of interest to me," he said. "Unfortunately, after the 2016 U.S. Presidential election I find myself virtually unable to write songs about anything else."
As a result, the band have a slew of politically-charged songs waiting to be released. Although they intended to include the material on their upcoming album, Aukerman felt that the world needed to hear some of these songs before the 2020 general election.
"These songs are my personal attempts to turn the page on our national nightmare…if only I could will it through music."
He recently put out a three-song single through his solo ukulele project RebUke. Now, Descendents have decided to release their own versions of these political songs. This week, they unveiled their two-song single Suffrage which includes "Hindsight 2020" and "On You."
For these new tracks, Descendents took inspiration straight from the headlines and the ongoing political climate in America. "Hindsight 2020" directly references Donald Trump and his MAGA supporters, calling the 2016 election and the events that followed "a mistake."
Although "Hindsight 2020" is a reflection of the past four years under the Trump administration, it arrives during a particularly important time. With the general election right around the corner, Descendents are using these songs as a reminder of what America has faced in the past four years and what needs to change.
And, well, as a band that is known for being outspoken, it's no surprise that Descendents are addressing Trump's supporters head-on in Suffrage.
"Hashtag MAGA MAGA, what a fucking joke," Aukerman sings. "But hashtag MAGA for real with your 2020 vote. For we the people, it's not too late."
"Hindsight 2020" and "On You" are available to stream below.
What are your thoughts on Descendents' new songs? Let us know in the comments below.