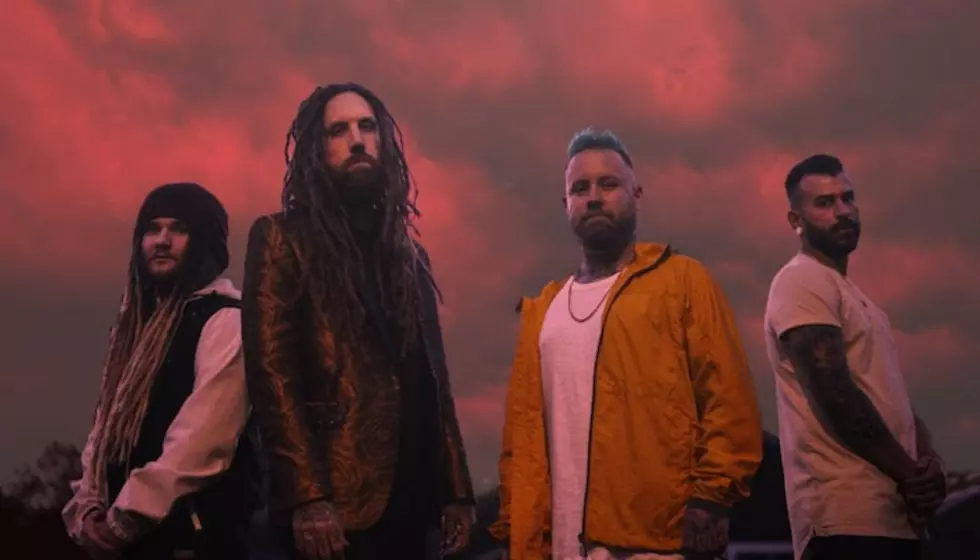 Hear Love And Death reunite for first new song in eight years "Down"
After an eight-year hiatus, Korn's Brian "Head" Welch and Breaking Benjamin's Jasen Rauch's project Love And Death are back with a brand new single.
On Friday, the group released the blistering new track "Down," off of their forthcoming album Perfectly Preserved.
Back in 2013, Korn guitarist Brian "Head" Welch, Breaking Benjamin's Jasen Rauch, JR Bareis and Isaiah Perez came together to form Love And Death. Together, they released their first, and only, debut album Between Here and Lost.
Since then, the members have been hard at work on their other respected projects. However, it looks like the eight-year wait for new Love And Death music is finally over. On Friday, the band unveiled their blistering new single "Down." The track appears on their forthcoming sophomore album Perfectly Preserved which arrives on Friday, Feb. 12, 2021.
Welch, who forged Love And Death as an outlet of recovery, shares that this new album is all about overcoming struggles.
"Everybody knows my foundation, I feel like what our world needs most in this very unique moment in time are real stories about overcoming struggle," he says. "These are honest songs co-written by our group of friends targeting depression/mental health, challenging relationships, trauma, loneliness, and related issues."
Rauch further shares that Love And Death's new music is greatly made up of ideas that just don't work in Korn or Breaking Benjamin. Through this band, both Welch and Rauch are able to take their ideas and create something that metal fans will still enjoy.
"There are certain things we can do melodically in Love and Death that might not work in Korn," Rauch says. "For me, there are certain creative risks I can take with the arrangements and production that wouldn't fit with Breaking Benjamin. In this band, we don't worry about how long a song might be, for example."
Perfectly Preserved marks Rauch's introduction as a full-time member (guitarist, bassist and co-songwriter) for Love And Death. As well, this is his second time producing for Love And Death with the help of co-producer Joe Rickard. Rauch previously produced Love And Death's debut album in 2013.
Listeners can expect plenty of surprises on their forthcoming album including a number of collaborations. Rauch's Breaking Benjamin bandmate Keith Wallen appears on the song "The Hunter." Additionally, Flyleaf's Lacey Sturm is featured on "Let Me Love You" and Ryan Hayes is included on "White Flag."
Perfectly Preserved tracklisting:
Infamy
Tragedy
Down
Let Me Love You (feat Lacey Sturm)
Death Of Us
Slow Fire
The Hunter (feat. Keith Wallen)
Lo Lamento
Affliction
White Flag (feat Ryan Hayes)
Digital pre-orders for Perfectly Preserved are available here. Physical pre-orders are available starting Nov. 27. "Down" can be streamed below.
What are your thoughts on Love And Death's first new song in eight years? Let us know in the comments below.