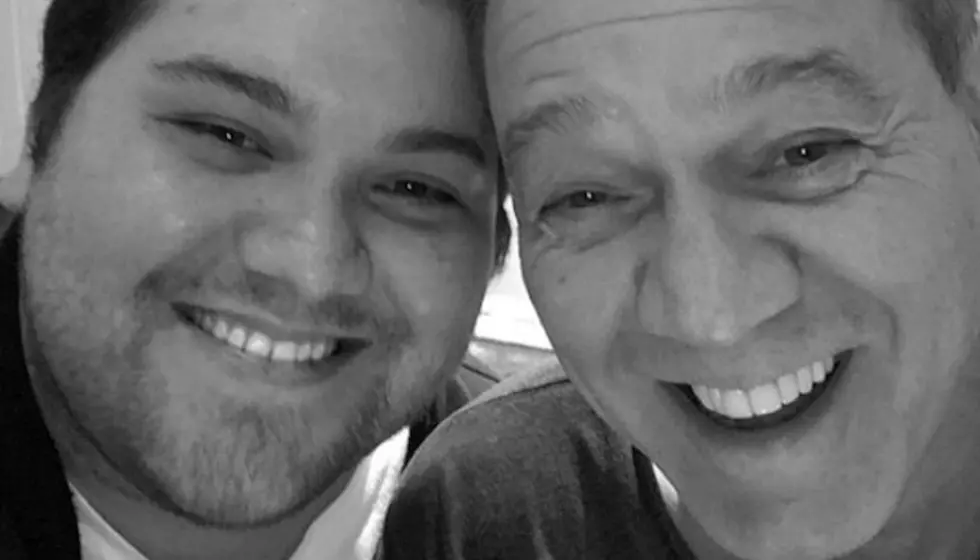 Hear Wolfgang Van Halen honor late father Eddie in emotional new single
[Photo via @wolfvanhalen on Instagram]
Back in October, the world lost legendary rock guitarist and Van Halen co-founder Eddie Van Halen.
Now, his son Wolfgang Van Halen is paying tribute to his late father in his emotional debut solo single "Distance."
In October, Eddie Van Halen passed away at the age of 65 after a long battle with throat cancer. His son Wolfgang was one of the first individuals to break the tragic news to the world in an emotional Instagram post.
 

View this post on Instagram

 
Since then, Wolfgang has gone on to share various other posts honoring his father's memory. Now, Wolfgang is further paying tribute to his dad in his emotional new single "Distance."  Wolfgang wrote the debut solo single during Eddie's ongoing cancer battle.
"As my pop continued to struggle with various health issues, I was imagining what my life would be like without him and how terribly I'd miss him," Wolfgang says in a statement. "While the song is incredibly personal, I think anyone can relate to the idea of having a profound loss in their life. I never intended 'Distance' to be the very first piece of music people would hear from me, but I also thought my father would be here to celebrate its release. This is for him. I love and miss you, Pop."
Wolfgang, who recorded the new single under the project Mammoth WVH, plays all of the instruments and sings lead vocals on "Distance." The song's video is full of old home movie footage that shows Eddie as the attentive and caring father he was.
Certain clips also show the late Van Halen guitarist introducing various musical instruments to Wolfgang well before he could talk. The video closes with a touching voicemail Eddie left Wolfgang before his passing.
"I'm just so happy to have you as my son, man," Eddie says in the voicemail.  "I'm so proud of you. I love you so much. Call me if you get a chance. I just want to hear your voice."
A portion of the proceeds from "Distance" are being donated to the Mr. Holland's Opus Foundation. Eddie was very supportive of the organization and donated to the charity various times throughout his life.
"Distance" is the first single from Wolfgang's long-awaited solo album which is expected to arrive sometime in 2021. Wolfgang recently told Howard Stern that the album was originally slated for a much earlier release. However, he delayed his plans to spend more time with Eddie.
As well, Wolfgang's solo project name Mammoth WVH holds particular importance. According to Rolling Stone, Eddie and Alex Van Halen's band was originally called Mammoth when David Lee Roth first joined in 1974.
Stream "Distance" below.
What are your reactions to Wolfgang Van Halen's debut solo single? Let us know in the comments below.