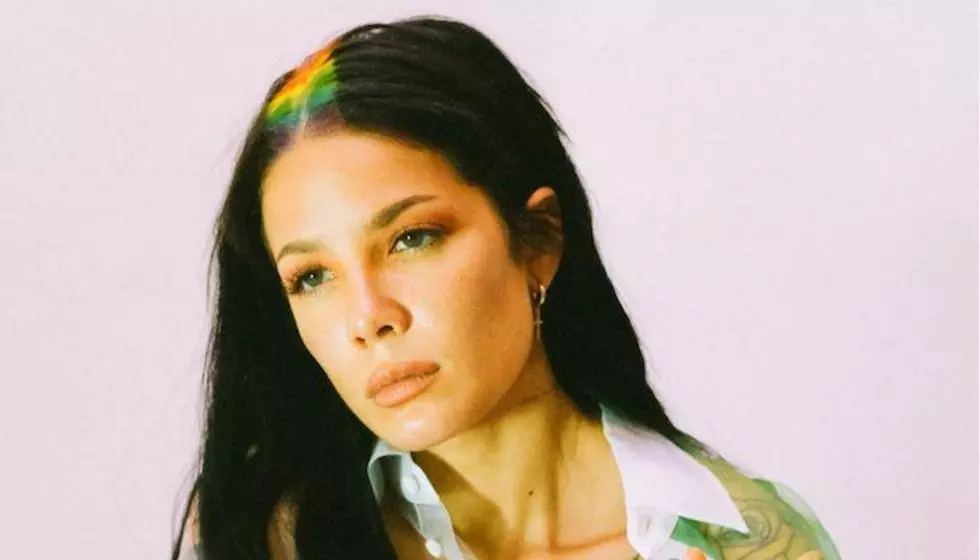 Here's the real reason Halsey is still hiding all of those clues for her music
Over the past few weeks, Halsey has been sharing a lot of cryptic clues pertaining to some upcoming announcements.
Now, it looks like she is giving fans a break from all that theorizing and letting them in on a few secrets about her upcoming plans.
2020 has definitely been a big year for Halsey. Along with releasing her new album Manic, she dropped her first-ever poetry book and put on a Badlands live album in honor of its anniversary. As well, she's treated fans to plenty of collabs including "Life's A Mess" with Juice WRLD and "forget me too" with MGK and Travis Barker.
Then, earlier this month, Halsey began to tease something exciting. She shared a post that told fans to "stay curious" and launched a cryptic Instagram page. Since the clues were released, fans have been divided over what they could mean. Some believe Halsey may be releasing a makeup collection while others theorize a clothing line could be on the way.
Now, it looks like Halsey is letting fans in on a few secrets about her upcoming announcements. This week, Halsey took to Twitter to share a few things that are in store for 2021. She reveals that there are five announcements on the way, one of which has already been announced.
Halsey is appearing in the upcoming film Sing 2 alongside Bono and Pharrell Williams. For the animated film, Halsey is voicing the character Portia.
Sing
Although there are still four more secrets for Halsey to share, she promises each one is more "wild" than the last. As well, she has finally revealed why she enjoys being so cryptic to fans about her upcoming plans. As it turns out, one popular children's book series left a lasting impression.
A Series Of Unfortunate Events
Despite all of the theories floating around, the last four announcements have no relation to each other. As well, even though Halsey loves hearing fans' theories, she says no one has guessed all four announcements yet.
Of course, Halsey doesn't want to give too much information away. However, she does reveal that the second announcement is the one she is looking forward to the most because it arrives in just two weeks. She also hints that the final announcement is "out of this world."
Despite the whirlwind of a year Halsey has had, it looks like fans can expect even more exciting music and plans from Halsey in 2021.
What surprises do you think Halsey has in store for 2021? Do you want to see her release a new album? Let us know in the comments below.