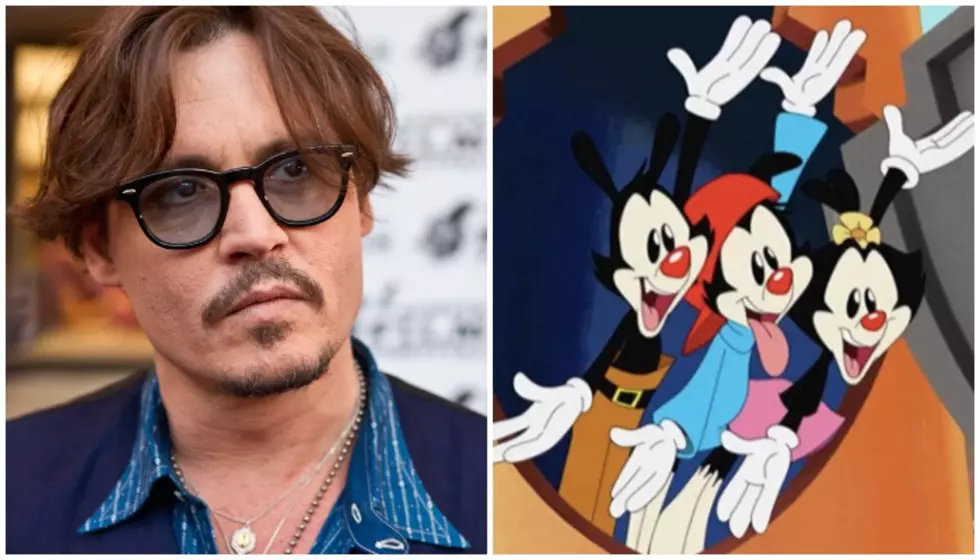 Here's why Johnny Depp fans are boycotting Hulu's 'Animaniacs' reboot
[Photos via Johnny Depp/Arnold Wells via Wikimedia Commons, Animaniacs/Warner Bros.]
Back in 2018, cartoon fans were excited to hear that Warner Bros. was officially rebooting Animaniacs on Hulu for a two-season series. On Nov. 20, the reboot's first episode premiered on the streaming platform. However, it didn't take long for it to receive some major backlash from Johnny Depp fans.
Now, it looks like some fans are officially boycotting Animaniacs after the series allegedly mentioned Depp's recent abuse court case.
Earlier this month, Depp revealed that he was asked to step down from his role in Fantastic Beasts by Warner Bros. The news arrived just days after Depp lost a libel case against the U.K.-based tabloid The Sun over a 2018 article alleging he was a "wife beater."
The court reasoned that all of the recorded evidence of abuse presented from both Depp and Amber Heard made The Sun's claim acceptable. In his statement, however, Depp confirmed that he plans to appeal the ruling.
 

View this post on Instagram

 
While Warner Bros. continue the search for Depp's replacement in Fantastic Beasts 3, it looks like Animaniacs is getting involved in the ongoing matter. On Nov. 20, the Hulu reboot aired its first episode in 22 years.
During the episode, however, Animaniacs included cartoon visuals of the actor and mentioned his fictitious upcoming role in Johnny 2: Telling Lies. Many believe the film's name is in reference to Depp's recent court case.
See as Warner Brothers are involved in Animaniacs and are the reason Depp was removed from Fantastic Beasts, a lot of fans aren't happy. In fact, some are now saying that plan to boycott the show altogether. #BoycottWarnerBrothers and #JusticeForJohnnyDepp quickly became popular hashtags on Twitter this week.
However, some viewers are arguing that the scene isn't in reference to Depp's abuse case at all. Instead, it's a reference to the children's nursery rhyme Johny, Johny Yes Papa which became a popular meme in 2018. If this is true, however, the timing is rather unfortunate.
The Animaniacs scene in question is available to watch below.
Do you think Animaniacs is actually referencing Johnny Depp's court case? Let us know your thoughts in the comments below.