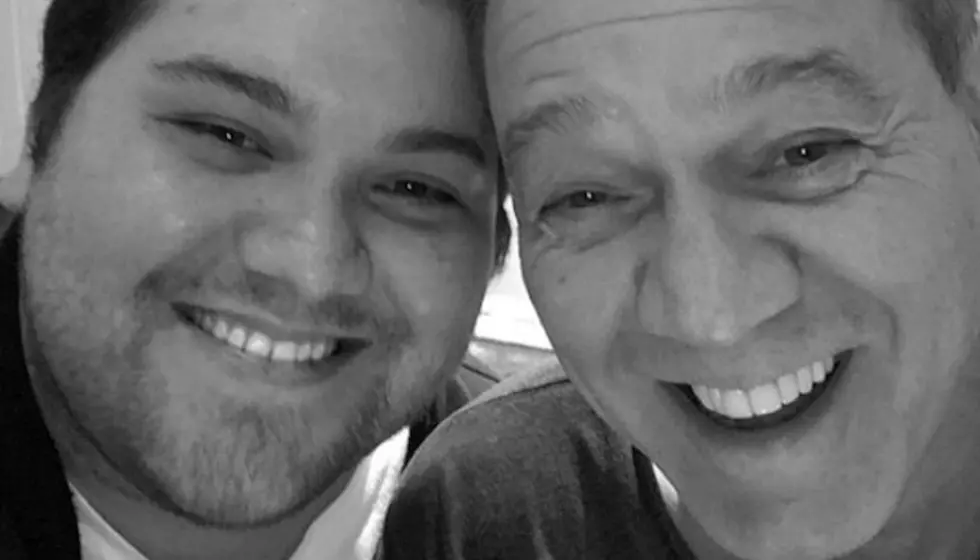 Here's why Wolfgang Van Halen is criticizing the auction of Eddie's guitars
[Photo via @wolfvanhalen on Instagram]
This week, three of late Van Halen guitarist Eddie Van Halen's guitars were auctioned off for $422,050.
Now, his son Wolfgang Van Halen is criticizing the event, accusing them of "taking advantage of my father's passing."
In October, Eddie Van Halen passed away at the age of 65 after a long battle with cancer. His son Wolfgang was one of the first individuals to break the tragic news to the world in an emotional Instagram post.
Then, last month, Wolfgang released his debut solo single "Distance" under his new project Mammoth WVH. Wolfgang wrote the emotional song during Eddie's ongoing cancer battle.
"As my pop continued to struggle with various health issues, I was imagining what my life would be like without him and how terribly I'd miss him," Wolfgang said. "While the song is incredibly personal, I think anyone can relate to the idea of having a profound loss in their life."
Now, Wolfgang is further defending his late father's memory by criticizing a recent auction of Eddie's guitars. Three of the Van Halen guitarist's guitars were sold through Juliens Auctions as part of their highly-anticipated Icons & Idols Trilogy: Rock 'N' Roll event.
Among the instruments sold was a signed Kramer guitar gifted to Eddie Van Halen's close from Bryan Cush. This guitar ended up selling for a staggering $231,250. According to the auction listing, the guitar was built by Eddie Van Halen and his guitar tech.
One of Eddie's Charvel guitars that features a cigarette burn on the front sold for $140,800. The guitar was reportedly played onstage in San Antonio, Texas in 2004. As well, a stage prop guitar used by child actor Bryan Hitchcock in the "Hot For Teacher" video was the last of Eddie's guitars sold. It was eventually auctioned off for $50,000.
Shortly following the auction's conclusion, Wolfgang took to social media to reveal that he was not the one who put these guitars up for auction.
"Also one was a gift. I don't know who'd want to give that away. Timing is a little fishy to me."
Instagram
Memorabilia from Kurt Cobain, David Bowie and Elvis Presley were also part of Julien Auctions' Icons & Idols event. Van Halen's Kramer guitar was the highest-selling item during the two-day auction.
Quite a few iconic instruments have gone to auction this year. Currently, late Soundgarden frontman Chris Cornell's classic Superunknown guitar is up for auction.
As well, one of Kurt Cobain's guitars broke auction records this year. The legendary acoustic guitar used during Nirvana's MTV Unplugged performed went on to sell for $6 million. This feat means that Cobain's guitar is now the most expensive instrument to ever be sold at auction.
What are your reactions to Wolfgang disapproving of Eddie's guitars being sold at auction? Let us know in the comments below.