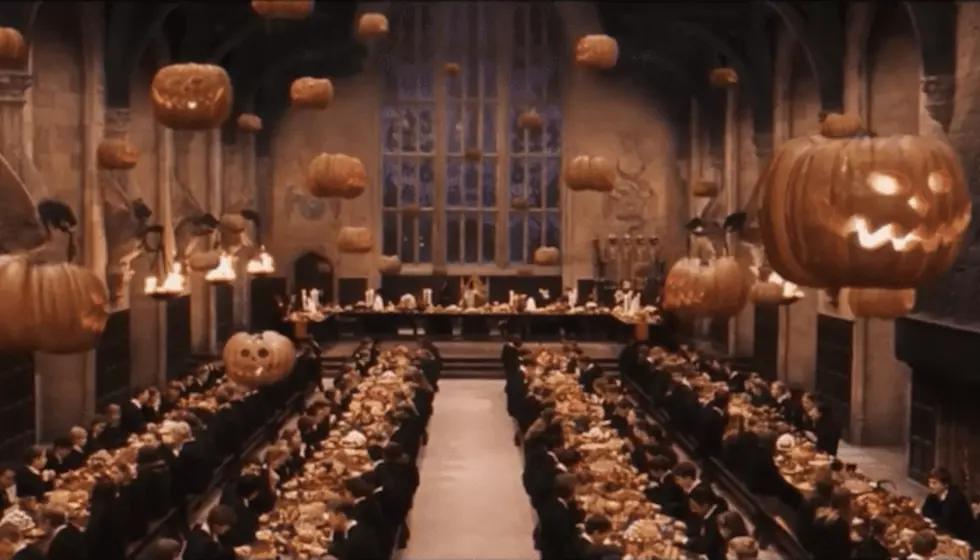 Here's how you can spend Halloween at Hogwarts
[Photo via YouTube]
Harry Potter fans, get ready. You officially have the chance to spend a weekend at Hogwarts (yes, seriously). The best part? It's during the most wonderful time of year: Halloween.

Warner Bros. Studio Tour in London. is holding their three-day Hogwarts After Dark event for the third year in a row, and it's perfect for fans of the series.

Fans will be able to dine in the Great Hall amongst original props and costumes used in the series, which of course this will include floating pumpkins as seen in Harry Potter And The Sorcerer's Stone.


[Photo via wbstudiotour.co.uk][/caption]

The meal itself will include items such as smoked duck, pumpkin purée, blood orange jelly, goat cheese ravioli and roast lamb. The tables will also be full with a feast of red apples, pumpkins and cauldrons of lollipops.

For desert (if you're not totally stuffed from that Great Hall experience), fans will be treated to pumpkin brulée and dark chocolate mousse in the newly opened Forbidden Forest. While there, they will interact with a variety of creatures including Buckbeak the Hippogriff and Aragog the Acromantula.

As if that's not enough, Death Eaters will be roaming the grounds dressed in the original costumes from the films.


[Photo via wbstudiotour.co.uk][/caption]

Once dinner and desert have included, visitors can explore sets such as the Gryffindor common room and the Weasley's kitchen from The Burrow.
There is also an option to meet member of the prop making department from the film who are willing to spill secrets behind that ceiling full of pumpkins. Attendees can also learn wand combat moves from a wand choreographer.

The night ends with a Butterbeer in the Backlot Café as visitors are invited to explore Diagon Alley with dimmed lights and Death Eaters on the loose.

Check out a full breakdown of the tour below:
7:30 p.m.: Arrive for spooky cocktail and canapé reception
8:15 p.m.: Studio Tours commence in two groups
8:30 p.m.: Enjoy dinner in the Great Hall, which will be transformed for Hallowe'en
9:45 p.m.: Explore the Studio Tour before enjoying dessert in the Forbidden Forest
11:45 p.m.: Guests return to lobby
12:00 a.m.: Studio Tour closes

Hogwarts After Dark takes place Oct. 26 – 28 from 7:30 p.m. to midnight and is open to those over 18 years old. Tickets go on sale Aug. 28 at 10 a.m. BST. More information can be viewed here.