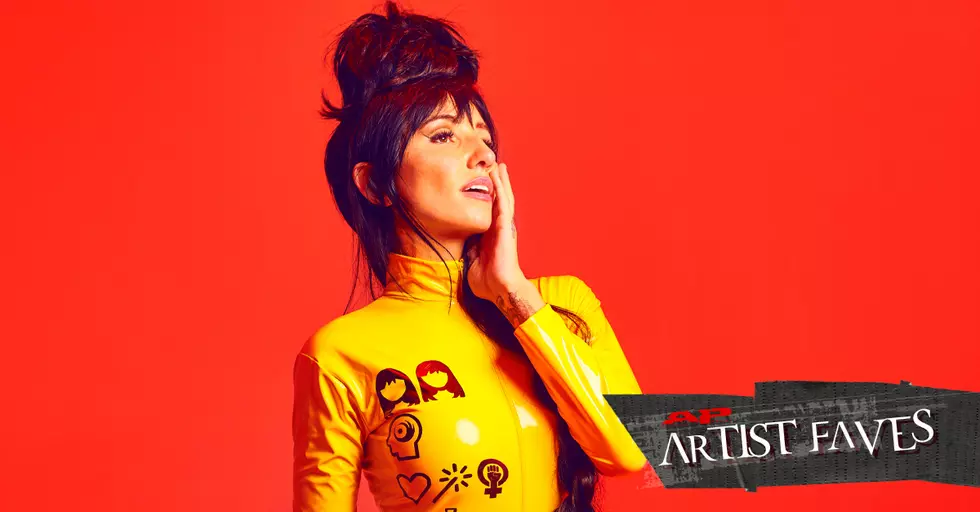 LIGHTS embraces her inner villain with these post-Christmas gift ideas
[Photo by Matt Barnes]
The holidays are right around the corner, and for us, that means stocking up on all the latest merch. If you're short on gift ideas this season, don't worry — we've got you covered. From comfy kicks and bold jewelry to page-turner books and the coolest variants for your vinyl-loving dad, these artists put together the ultimate shopping guide that'll have your loved ones beaming. Check out LIGHTS' picks below.
MDNT45 Black Long Women Kimono Tenshi 
$269 • MDNT45
As the days grow cold, I must soothe my seasonal depression by walking around the house looking like a cozy retired villain. MDNT45 is a Ukraine-based fashion brand that smashes a wearable dystopian vibe. 
[Photo via MDNT45]
Backxwash HIS HAPPINESS SHALL COME FIRST EVEN THOUGH WE ARE SUFFERING vinyl
$30 • Bandcamp
I'm a big fan of Backxwash. She's one of the coolest new artists in a long time: dark, heavy and flowy, a combo of sounds I've always loved. 
[Photo via Bandcamp]
FK Irons Spektra Flux Bubblegum With 2 Powerbolt
$1,060 • Maple Tattoo Supply
I have this in black, but I really want the pink because it is obviously much cooler. 
[Photo via Maple Tattoo Supply]
Demobaza Empowerment Top Coat
$1,432.86 • Demobaza
I don't really know where I'd wear this, but I'd sure as hell find somewhere. I mean, look at it. 
[Photo via Demobaza]
Clocks and Colours Capsize Chain
$1,250 • Clocks and Colours
The intricacy and detail of this chain is enough to make me want to wear chains: a must to go with the rest of my retired villain look as seen above. 
[Photo via Clocks and Colours]
Pink Body Set Honda Rebel
$798 • eBay
Imagine riding around in this? This, paired with my cat helmet, would certainly turn heads in my small town, as a local small-town villain.
[Photo via eBay]
LIGHTS appears in Alternative Press' Winter 2022 issue, which is available here or below.