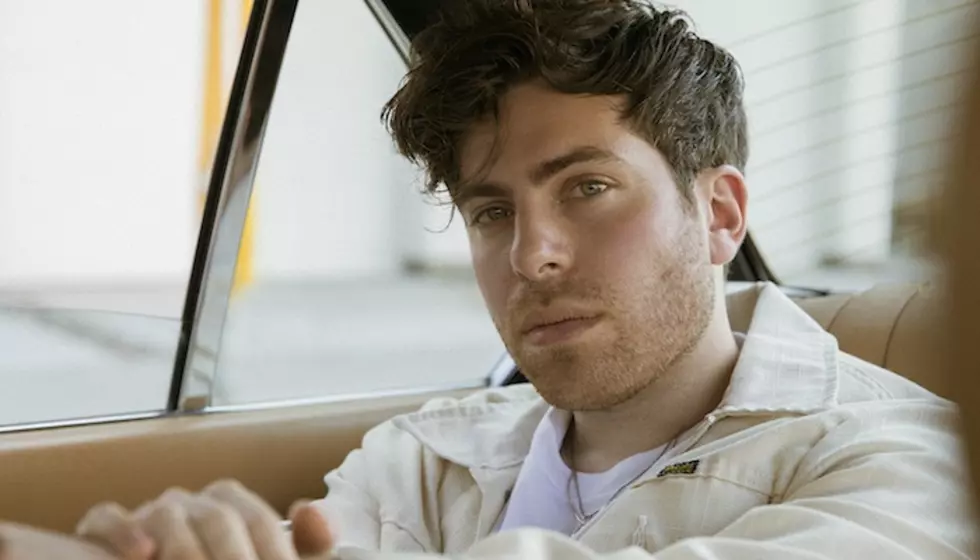 Hoodie Allen reps his pop-punk upbringing on 'Whatever USA'
It may seem like the anti-genre revolution engulfing the music world as of late is a shiny new trend, but artists such as Hoodie Allen beg to differ. As a musician who's constantly skirted genre constraints throughout his career, Allen was hanging with the alternative crowd way before it was cool. 
Allen dropped his painstakingly crafted record Whatever USA last week, and while it may lean more toward rap than rock, he continues to flaunt a wide range of influences through clever verses and silky hooks.
While Allen may have been ahead of the line-blurring trend, he sees the different communities as clearly linked. Fans are becoming less and less picky about the styles of music they identify with, instead opting to enjoy the sonic collision. 
"Obviously, I lean more to the pop side of things, but I always feel like there's a synergy between the two [genres]," Allen explains. "At least for me, I see it just in fans alone. Like if me and Awsten [Knight] from Waterparks tweet at each other, the shit goes crazy. There's just fans who aren't limited to one genre anymore."
Aside from blatant callouts to bands such as Green Day and blink-182 ("Never Goin' Back"), pulses from the rock community are evident with each instrumental laid under Allen's words. Some could chalk this up to the heavy list of collaborators on the record, with Nick Anderson of the Wrecks and Andrew Goldstein (blackbear, 5 Seconds Of Summer), formerly of the Friday Night Boys vocalist and currently of FRND, picking up production credits.
Anderson in particular was a dream creative partner for Allen, who invited the frontman for a recording session through Twitter DMs. 
"We made probably one of my favorite songs on the record in 'You Should Let Me Know,' which is super personal and different," he explains. "There's no rapping on it at all. It starts with this acoustic guitar. It's really nice when you can collaborate with people who are in a whole different world."
Any veteran Allen fan knows his signature blend of influences go much further back than his latest effort. Rock collaborations are nothing new, previously joining forces with State Champs for a track on his previous album, The Hype.
Allen's work with an ever-growing network of friends in the rock community is mostly responsible for the clashing of genres, but Whatever USA bucks his pop-punk trend. Although there isn't a track that clearly falls under the punk umbrella, Allen feels his overall taste for music is present throughout. 
"For the last couple of albums, I feel like there's a song on it that I said, 'Hey, if you're a fan of me but also All Time Low, this is going to be your favorite song,'" he says. "I don't really have that song on this record, but what I think I've found is that because I grew up listening to a lot of that world, there are certain things about my writing style and the melodies I pull from that are just innately inspired by the stuff I grew up with."
The inspiration from the artists that shaped him goes deeper than the music as well. Allen's live energy and desired career trajectory all follow the blueprint of the groups he loves.
"I honestly look to bands like All Time Low and New Found Glory and Simple Plan—the thing I've always wanted to do in music is have the longevity that a band like that has," he says. "Being able to put on a kickass show where you have these core fans who are going to come out and see you multiple times because they know that it's just fun, and it's different than the record."
The rapper has never been down on the scene that shaped him. Even when touring with Fall Out Boy after his explosion into the mainstream, Allen always felt he was welcomed on both sides of the fence. 
"It was the Fall Out Boy, Wiz Khalifa tour that I opened for, which obviously a lot of people had opinions on, and I totally get it," he says. "Those can be seen as very different, but for me it was like, 'Oh shit, I see myself as completely in between these two things,' and it was perfect harmony."
Although his music elicits memories for both himself and listeners, those who see the new record as another edition of his breakout are sorely mistaken.
"I've heard that from a lot of other people too, where someone who's been a fan for a long time would say, 'Man, this really evokes all the nostalgia and safety and comfort that I got when I started listening to you back in this year,'" Allen explains. "But at the same time, it's not just a repeat of that in any sort of way. It's different."
With tracks based on the small town that shaped him, Allen balances memories with the life he's living now. Fueled by the conflicting feelings of his personal life, creative destitution and a dash of angst, the record gives insight into the musician's struggles at the time of recording. 
"It felt like it matched up a lot with how I was feeling in a personal sense too," Allen explains. "Like relationship-wise and just with how I was feeling about myself [and] anxieties. All these things where sometimes you can feel like you're in a small town [and] you have this weird juxtaposition of like, 'I can do anything,' but also not really because the options are limited."
If nothing else, Whatever USA gave Allen some musical therapy, allowing him to put his emotions straight on the page.
"A lot of the time I don't get the opportunity to really write in the now," he says. "It was a pretty comforting and cathartic process."
You can grab Allen's latest full-length, Whatever USA, here. After wrapping up a handful of U.K. sets and an appearance at Reading & Leeds Festival, Allen embarks on the first phase of his Whatever USA tour this fall with Jake Miller in tow. Tickets are on sale now.