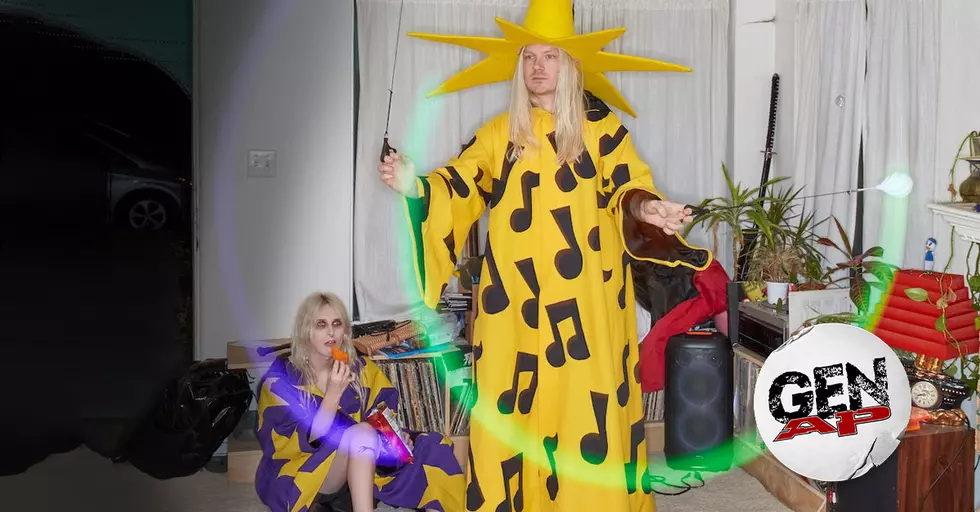 Elly Golterman is the magic artist behind 100 gecs' cloaks
[Courtesy of Dog Show Records]
Welcome to Generation AP, a weekly spotlight on emerging actors, writers and creatives who are on the verge of taking over.
If you've been to a 100 gecs show in the past 18 months, you've seen the iconic purple and yellow wizard cloaks that Laura Les and Dylan Brady sport onstage. In the past year, the costumes graced the stages of their world tour, Coachella, Bonnaroo, and a headlining slot at So What?!, and having made appearances in recent music videos and promotional photos, they've become synonymous with the duo's forthcoming sophomore album 10,000 Gecs (due out March 17).
Read more: Meet Bailey Elayne, the designer behind Pom Pom Squad's cheercore stagewear
Behind these magical outfits is artist Elly Golterman, who is a bit of a wizard herself, as she creates paintings, sculptures, and costume designs as bright and exuberant as the sounds of hyperpop. Aside from working with 100 gecs, the Los Angeles-based artist showcases her joyful artwork on Instagram and fosters creativity in the classroom as an art teacher. Her collaborations with Brady date back to 2018 when she painted a lively rainbow backdrop for his solo music video "I'll Make You Miss Me All The Time." In 2021, she designed a colorful set of food costumes for Brady's hyperpop supergroup Cake Pop, which appeared on the cover of their album Cake Pop 2 and in the video for lead single "Black Rum." Clearly, music, magic, and joy fuel her work across multiple mediums — from her whimsical butterfly sculptures to the sunny brim of her yellow wizard hat design.
AltPress sat down with Golterman to discuss costume design, cloaks, and the core human emotions within her colorful work.
["Bees" by Elly Golterman / Courtesy of Elly Golterman]
When did you first start making art?
I went to school at the University of Arkansas, and I went in to be a teacher. And for two years, I was doing that. Then, just by chance, I found the art department and I loved it, and it ended up being the right thing for me.
What are your favorite mediums to work with?
I started loving creating things through paintings, and from there, I moved into sculpture and ceramics. But it all started with painting — that's the heart of my artwork.
A lot of your artwork has these recurring motifs of musical notes, butterflies, and just generally bright fun colors. What draws you to that imagery?
I think I am interested in communicating core human emotions through any medium. Love, fear, joy, anger, sadness — I think some or all of the motifs generally connect to one of those core emotions.
What piece of yours do you feel is the most connected to those emotions for you?
I think the "Bees" painting was the first really strong connection I had to a painting with a really specific emotion of joy. It was just made out of cardboard and oil paint, but I still look back at it and it connects me to what it feels like to be human.
[Elly Golterman's 100 gecs sketches / Courtesy of Elly Golterman]
How do your painting and sculpture projects influence your costume designs?
I think my costume designs connect to the core emotions, as well. Specifically, when I was making Laura and Dylan's designs, I was thinking about magic and music, and those were the main inspirations. Both of those things connect us to something that's bigger than ourselves and take us to that really specific place of connection with the people around us.
You also designed a colorful, bright set of costumes for Cake Pop and made the puppets for their "Satin Bedsheets" music video. How did you come up with the concepts and designs for that project? Were any unconventional materials used?
We had all been thinking about that project for a while. The group wanted designs that were fun and communicated each of their personalities. I did not make the costumes myself — I just designed them — but I know they were made with lots of different types of foam.
The puppets move so naturally and fluidly in the video for "Satin Bedsheets" that it really seems like you're watching the artists in their costumes dancing at some points. How did you design them to move like that?
My friend Lewis [Grant] and I worked on the puppets together. He attached the arms and limbs and it looks so amazing how they move. For those, we ended up using paper, spray foam, paints, and [the clay] Sculpey — those basic materials.
The puppets also incorporate bright colors that are prominent in a lot of your sculpture work and the intersection between those mediums.
Definitely. I think that in artwork and in designs — the colors, sun — I think that I revolve around. I think color, for me, is how you can communicate the most emotion to someone else.
How did you determine the color palettes for the 100 gecs cloak designs?
Well, I wanted the music notes to be black, and the hat was going to be yellow. So, it made sense for Dylan's cloak to be yellow. Then for Laura, thinking about magic, I just immediately thought of purple. They ended up being complementary colors, and the colors of the Lakers.
At what point did the hat design become part of this concept?
It was happening or being created at the same time. Dylan really wanted a hat, so we were thinking about the cloaks and the hat side-by-side. He couldn't end up wearing the cloak with the hat, but it worked out so they were made at the same time.
Is there any time you've had something change or come up in the middle of the design process?
For the Cake Pop costumes, it was a matter of time because they had a certain amount of time they could shoot the video.
The [100 gecs] cloaks didn't really change. They stayed pretty much the same. The hat design stayed the same, but it was very difficult to construct. We had to work with several different people and make several different iterations of the hat before we got to one that could be worn on stage and was light enough to wear and not break Dylan's neck.
Do any of these prototype hats still exist?
Yes, they do. They were very heavy. [Some of them] also didn't end up fitting. But I took them to school. I'm a teacher and my students are doing their own hat design project right now, so it was fun to bring those in and tell them about them.
What kinds of designs do you want to make more of in the future?
I want to make more costume and stage designs. I'm looking to get into film and theater.
Are there any specific types of designs or sets that you'd like to make?
Something with major handmade props. I can go elaborate, yes, but I think simplifying is important, too. But I love set-y sets — like, play sets and the look of a handmade, community-built set that you can tell has had a lot of sweat and tears put into it.