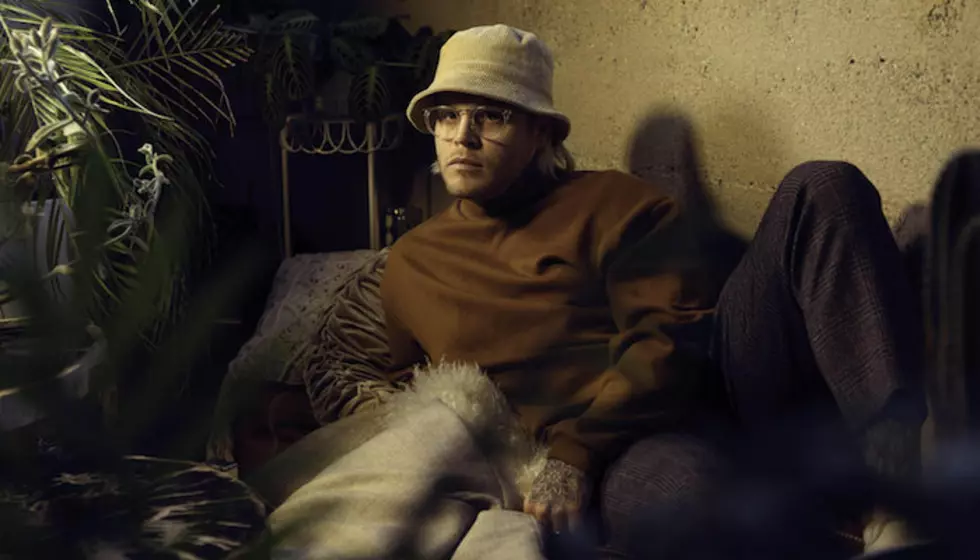 Hundredth release final single in digital series, "Iridescent"—listen
[Photo by: Megan Thompson]
On their 2017 album, RARE, Myrtle Beach, South Carolina-based hardcore band Hundredth did a complete 180. Trading their melodic hardcore raving for a more atmospheric spin with effected guitars and even more melodic singing from frontman Chad Johnson. By the sounds of "Iridescent," the new song we are premiering today, they don't plan on looking back.
"Iridescent" is the fourth song to be released this summer by the hardcore hellions-turned-luscious-post-modern alt-rockers. It would be incredibly cliché and trite for us to do some empty bragging and say that we got "the best song" compared to what other outlets premiered over the last few months. The truth is more like we got one of the best bands currently operating to premiere new music with us, period. 
Hundredth—now the core of guitarist/frontman Johnson, lead guitarist Alex Blackwell IV and guitarist/bassist Andrew Minervini—are mining a field where the perception of alt-rock and pop are blurred significantly. The direction began with RARE and has further manifested in the series of digital singles released this summer, "Leave Yourself," "Cauterize" and "Whatever." 
Johnson says because they're no longer in a position of being beholden—whether it's to a record label or a bunch of angry-looking pit-starters—it's marked a personal growth for the trio as musicians, music fans and people.
"It sounds weird to say this now," he begins on the phone from his Los Angeles home, "because there's always been a pile of stressing, whether something is going to be good or people liking it or whether it's absolute shit. It feels like the most natural progression for me: I've been able to express myself as a person through Hundredth creatively.
"You mentioned not having a record label," he continues. "And there are days where it would be much easier if we had a record label and get some kind of machine behind what we're doing. Maybe we'll get there and we'll find a partner, and it will be great.
"We definitely threw a mad curveball at our last record label, and they didn't know what to do. But I felt that we had to be true with what we wanted to make. It's a weird thing. If we would've stayed where we were, it would have been flimsy, and it would have been fake. There's definitely been a growing period of us getting better writing songs and how we connect to music."
In a lot of hardcore circles, the idea of not playing at light speed and shearing your lungs is perceived as "lame." But without any kind of grand scheme other than "whatever," Hundredth actually held on to a lot of their fans by no other virtue than by the quality of their new music. 
"I think a lot of people found themselves growing, too," he says. "We always operated on the fringes, anyway. A little more metal. We had choruses in 2011 when no hardcore band were writing choruses that weren't more punk-influenced. We managed to find an open-minded group of people that were checked into other hardcore or deathcore bands but were also listening to more melodic-leaning stuff. That listener has progressed like we have. I think the majority of people who follow our band are of the same mindset. I think it's rare, but I am extremely grateful that people are still plugged in. It makes me feel that maybe I'm not out of my mind, and I'm able to connect with people at some level outside of this box I was in before.
"I truly believe there's a way to write a song that can appeal to the masses but not at the cost of someone's soul," he continues. "Even something like the Cure's most popular cuts: It's insane that they wrote songs like that and they were as exceptional as they were. It was such a flex, as if to say, 'We don't do this all the time, but we can do this.' It's always fascinated me, and it's always something I've tried to do.."
Regarding "Iridescent," Johnson says the song is about "taking meticulous care of something—whether it be a relationship or project—for a long time, and then one day you realize that even though you cared so much for it, it's not ultimately up to you whether it thrives or not. And even trying to make it thrive almost adds a pressure that could potentially ruin it. It's a song about letting things happen and just trying to get through. The lyric 'Free falling now 'cause we're hooked on synthetic light/An iridescent lie' is the realization that we are never really in control, and the beauty is actually in the experience. And even if it's just an illusion, everything looks different from a different angle. The goal is experience instead of expectation."
Actually, it sounds like he's describing his band.
"You're dead on," he fires back. "When someone would ask me what that song's about, I wouldn't say it's about my band. But I think it applies 1,000% to us. But I think it applies to a lot of other people's lives, too. These four singles have layers of what they mean to me. They mean different things to me on different days—which is cool to me and sometimes psychotic."
Check out "Iridescent" below.