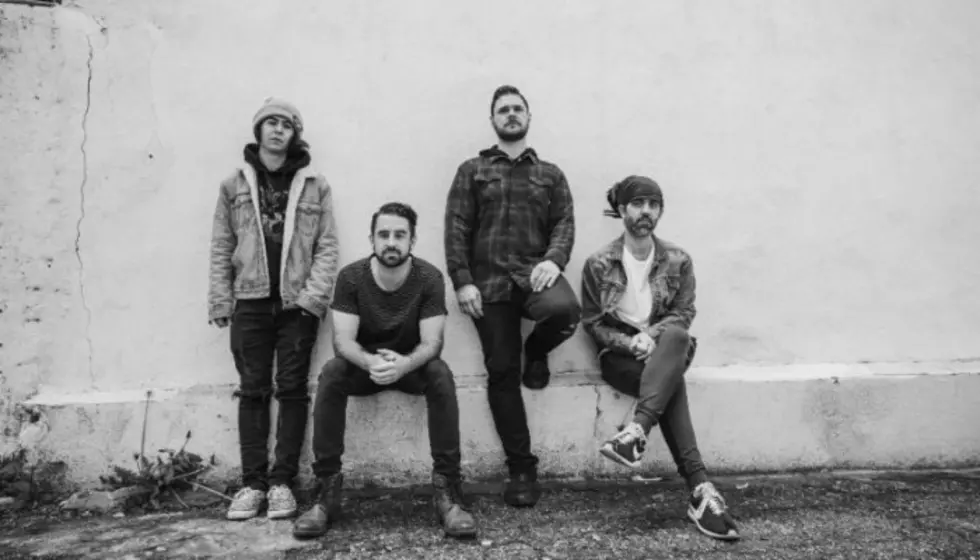 I The Mighty release new single and other news you might have missed today
VISTA released a new single—plus, don't miss a new music video from Loyal Panic. Check out the news you might have missed today below!
1. Inklings release new music video
Kier Kemp's post-Fearless Vampire Killers solo venture Inklings released a new music video for "Ambush." "'Ambush' is about someone close to me that was in an abusive relationship," Kemp says. "This someone happened to be a man, and it was heartbreaking to see the effect it had on his self-esteem. Men are 'supposed' to be strong. The song is from his perspective, the confusion he felt and the need to always blame himself."
2. VISTA debut new single
VISTA released a new single inspired by the experiences of lead vocalist Hope Vista and her struggles with body dysmorphia and anorexia. With "Eat (I Must)," the band hope to spark a safe space for healthy conversation about disordered eating, as well as encourage listeners to ask for help if they're struggling with something similar. They'll be supporting Pollyana on the On The Hunt Tour: Part II this April. You can check out the dates below, and tickets are available here.
Dates:
04/18 – Attleboro, MA @ Patterson Creations
04/20 – Summit, NJ @ Mondo Summit
04/22 – Buffalo, NY @ Stamps
04/23 – Montreal, QC @ La Vitrola
04/24 – Long Branch, NJ @ Brighton Bar
04/26 – Columbus, NJ @ Donatos Basement
04/27 – Philadelphia, PA @ Creep Records
04/28 – Amityville, NY @ Amityville Music Hall
04/29 – Brooklyn, NY @ Gold Sounds
3. Blood Cultures share first new track of the year
Blood Cultures released a new single, "Flowers For All Occasions." This follows their Halloween release of "Dunk On Me" last year. Their debut album, Happy Birthday, was released in 2017 and is available to stream here. Not much else is known about the band except that they're committed to stay 100 percent anonymous, letting their music speak for itself.
4. Siamese drop new music video
Siamese unveiled a new music video for "B.A.N.A.N.A.S." The track will be featured in their forthcoming album, Super Human, which is set to be released May 24. The LP is available for preorder here. They're hitting the road this summer to tour through Europe. Dates can be seen below, and tickets can be found here.
Dates:
05/25 – Copenhagen, DK @ Hotel Cecil
07/02 – London, UK @ O2 Academy 2
07/03 – Bristol, UK @ Crofters Rights
07/04 – Manchester, UK @ Satan's Hollow
07/05 – Newark @ UK Tech-Fest
07/08 – Milan, IT @ Dissonance Festival
07/09 – Munich, DE @ Backstage Club
07/10 – Mainz, DE @ Schon Schön
07/11 – Berlin, DE @ Cassiopeia
07/12 – Hamburg, DE @ Astra Stube
09/28 – Cologne, DE @ Euroblast Festival
5. I The Mighty release new single, music video
I The Mighty released a new single, "Cave In," along with an accompanying music video. "'Cave In' is a song that people close to me have been pushing me to write for the better portion of my career. I think I've put it off because it can be easier to bury things than to face them, but I know that the song's content is something that a vast amount of people can relate to," lead vocalist Brent Walsh says. "Experiencing substance abuse among close family, especially as a child, is something that I and many others will carry with them for life. My hope is that 'Cave In' can be as cathartic for people to listen to and sing along to, as it was for me to write." The band embark on tour with Polyphia, and tickets are available here. Check out what cities they'll be visiting below.
Dates:
04/01 – New Orleans, LA @ House Of Blues
04/02 – Tallahassee, FL @ The Wilbury
04/03 – Tampa, FL @ The Orpheum
04/04 – Ft. Lauderdale, FL @ Culture Room
04/05 – Jacksonville, FL @ Mavericks
04/06 – Charlotte, NC @ The Underground
04/07 – Nashville, TN @ The Cowan
04/09 – Richmond, VA @ Broadberry
04/10 – Baltimore, MD @ Baltimore Soundstage
04/11 – New York, NY @ Gramercy Theatre
04/12 – Asbury Park, NJ @ House Of Independents
04/13 – Worcester, MA @ The Palladium
04/14 – New Haven, CT @ Toad's Place
04/15 – Rochester, NY @ Montage Music Hall
04/17 – Grand Rapids, MI @ The Pyramid Scheme
04/18 – Newport, KY @ Southgate House Revival
04/19 – Indianapolis, IN @ The Citadel
04/20 – Bloomington, IL @ The Castle Theatre
04/22 – Boulder, CO @ Fox Theatre
04/23 – Salt Lake City, UT @ In The Venue
04/25 – Berkeley, CA @ Cornerstone Berkeley
04/26 – Santa Cruz, CA @ Catalyst Atrium
04/28 – Los Angeles, CA @ Teragram Ballroom
04/30 – Las Vegas, NV @ Fremont Country Club
05/01 – Tucson, AZ @ 191 Toole
05/02 – Albuquerque, NM @ Launchpad
05/04 – San Antonio, TX @ Paper Tiger
05/05 – Dallas, TX @ House Of Blues
6. Speech Patterns release new music video
Speech Patterns surprised fans with a new single and accompanying music video for "Another Mess." This is the second release since their 2017 debut full-length, Without A Sound. The band will be performing at So What?! Music Festival sharing the stage with bands such as Crown The Empire, We Came As Romans and more. Tickets can be purchased here.
7. Thousand Thoughts drop new music video
Thousand Thoughts released a new music video for "Ignite" from their debut self-titled EP, which is also out today. "I'm really proud of the Thousand Thoughts EP, as all four songs are different to each other in sound yet keep within the same theme of mental health," vocalist/guitarist Ethan Smith says. "I love the dichotomy of depth from different interpretations of our songs; alongside the simplicity in lyrics and melody. They explain different fights you have, but also contain the empathy from understanding. Each song is honest and will take you on a journey." The album is available to stream on Spotify. They have several performance dates lined up in the coming months, and you can purchase tickets here. Check out where they're headed below.
Dates:
03/30 – Aldershot, UK @ West End Centre
04/07 – Camden, UK @ The Black Heart
04/20 – Exchange, UK @Howlfest
06/01 – Milton Keyes, UK @Marshall Live
06/02 – Camden, UK @ The Good Mixer - Camden Rocks Festival
8. Modest Mouse releases A-side
Modest Mouse dropped the A-side "Poison The Well" which is available on all streaming platforms. The band previously announced they'd be participating in Record Store Day April 13 with an exclusive triangle seven-inch featuring their first new music in over four years. The record will include "Poison The Well," and the B-side will feature "I'm Still Here." A list of participating stores can be found here. They'll be going on tour this fall with the Black Keys. Dates can be seen below, and tickets can be found here.
Dates:
09/23 – Denver, CO @ Pepsi Center
09/24 – Kansas City, MO @ Sprint Center
09/25 – St. Louis, MO @ Enterprise Center
09/27 – Chicago, IL @ United Center
09/28 – Minneapolis, MN @ Target Center
09/30 – Cleveland, OH @ Quicken Loans Arena
10/01 – Nashville, TN @ Bridgestone Arena
10/02 – Columbus, OH @ Nationwide Arena
10/04 – Milwaukee, WI @ Fiserv Forum
10/05 – Detroit, MI @ Little Caesars Arena
10/07 – Pittsburgh, PA @ PPG Paints Arena
10/08 – Grand Rapids, MI @ Van Andel Arena
10/09 – Toronto, Ontario @ Scotiabank Arena
10/11 – Boston, MA @ TD Garden
10/12 – Washington, DC @ The Anthem
10/14 – Philadelphia, PA @ Wells Fargo Arena
10/15 – Brooklyn, NY @ Barclays Center
11/05 – Sunrise, FL @ BB&T Center
11/06 – Orlando, FL @ Amway Center
11/08 – Raleigh, NC @ PNC Arena
11/09 – Atlanta, GA @ State Farm Arena
11/12 – Houston, TX @ Toyota Center
11/13 – Austin, TX @ Frank Erwin Center
11/14 – Fort Worth, TX @ Dickies Arena
11/16 – Phoenix, AZ @ Talking Stick Resort Arena
11/17 – San Diego, CA @ Pechanga Arena
11/19 – Los Angeles, CA @ The Forum
11/22 – Portland, OR @ Moda Center
11/23 – Tacoma, WA @ Tacoma Dome
11/24 – Vancouver, BC @ Pepsi Live at Rogers Arena
9. Loyal Panic share new music video
Loyal Panic released a new single, "Hero," with an accompanying music video. "The hero refers to the role models that I looked up to growing up," vocalist Roni Weinstock says. "Learning from them, but also being envious of them for what they have. Then dealing with the heartbreak when they ended up committing suicide and realizing they're just as fragile as I was. The track's about saying goodbye to those heroes and learning how to appreciate and rely on yourself more and more."
[envira-gallery id="186668"]