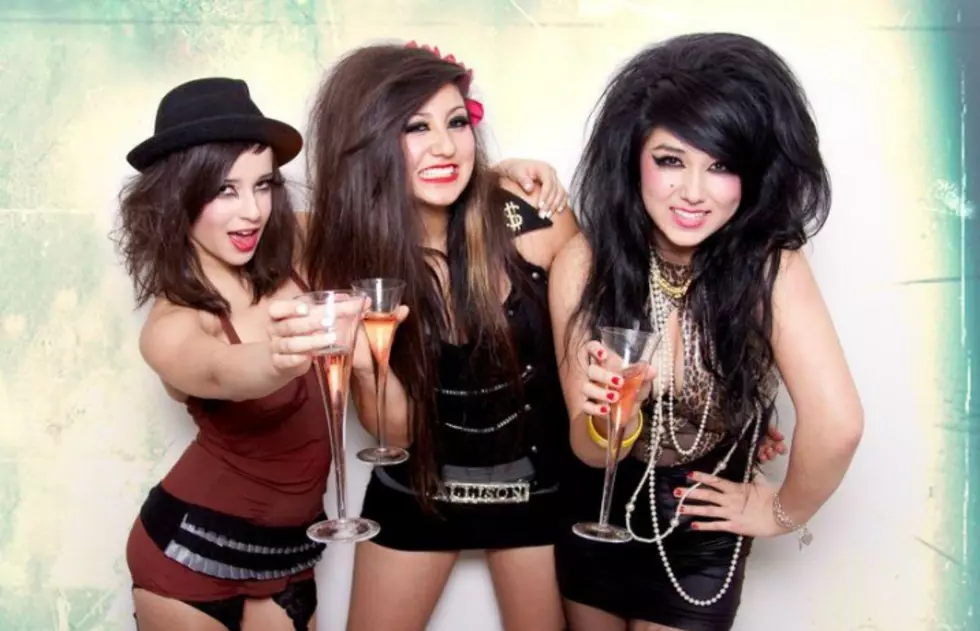 "I just got paid, let's get laid": Remembering the Millionaires
[Photo via the Tampa Bay Times.]
Fans of the scene in the late 2000s will remember the atomic bomb of neon-pop that threatened to topple the punk reputation of Warped Tour and its contemporaries. 
In retrospect, it wasn't all bad. There were definitely some more neutral holdovers from the period like All Time Low and We The Kings, while Cobra Starship toed the line between scene and mainstream (and eventually long-jumped over that line with "Good Girls Go Bad").
But standing in the dark corner—or should we say, blacklit corner—raving to the sound of electronic beats were bands like Breathe Carolina and Brokencyde, and spilling drinks all over and taking up their limelight were the iconic Millionaires.
Ah, the Millionaires: A ragtag team of scene queens armed with GarageBand, hairspray and choruses so catchy that you'd want to rip out your hair just to get "A-L-C-O-H-O-L" out of your head.
It all began almost exactly ten years ago, when Melissa Marie Green created a MySpace profile in collaboration with her sister Alison and friend Dani Artaud.
Their very first song, "I Like Money," solidified their brand: Just trashy enough to make every girl want to be them, or at the very least get drunk with them.
"High heels, makeup, fake eyelashes.

Look at you, you're so damn plastic!

Acrylics on with orangey skin.

That lipo really made you thin.
2 a.m. and I'm still going.

Pour my drink, it's overflowing!

Take me home, rough me up.

No one's here,

So let's just FUCK!"
The follow-up single, "Hoe Down," did not disappoint, with lyrics simultaneously so mindless yet shocking, about killing a "fat slut":
The band released their 2008 debut EP, Bling Bling Bling!, independently (DIY, am I right?). Along with their first track "I Like Money," the EP also featured "Alcohol," which could be said to be where it all really started for the Millionaires. Following its release, they co-headlined a tour with electropop peers Breathe Carolina across the west coast, and eventually embarked on their own headliner. (Tragically, we can't embed "Alcohol," but PLEASE watch the video right here.)
And that's when everything started happening for the Millionaires. According to the extremely credible source of Wikipedia, by the time 2008 was through, their songs had been featured on the TV shows Skins, A Double Shot At Love, My Life As Liz and MTV film Turn The Beat Around. 
At the turn of 2009, the girls embarked on the Just Got Paid, Let's Get Laid tour which sold out every single stop. We repeat: They sold out every. Single. Date. (Imagine asking your parents to take you to this tour!) And that was all before they released the EP of the same name, featuring the title single "Just Got Paid, Let's Get Laid."
Before the year was through, the girls released a holiday single called "Rated Xmas." Hope Jesus forgives us for that one.
Honestly, for many, that's the last we heard of the Millionaires. The band had a debut album in the works for 2010, but after the abrupt departure of Dani Artaud from the group, the record was scrapped. The only released single, "Stay The Night," was released on an Ep called Cash Only along with a few other songs meant for the album.
Even though most of the world forgot about the Millionaires, the Greens didn't slow down—in 2013 they did finally put out a debut album called Tonight, featuring single "Drinks On Me." Since then, they've managed to pull out a couple more singles, even one this year called "Rich Girls."
The real legacy of the Millionaires, though, are those late 2000s singles that I could only blast when my parents weren't home, and left people shaking their heads when they walked by the Skullcandy stage. Secretly, though, they probably wanted to be in that pit. Because that's the thing about the Millionaires—they were so easy to hate that you had to love them.
The most amazing thing is that the Millionaires existed in a kind of vacuum. The Internet wasn't yet a collective trial by fire (lest we forget Rebecca Black's "Friday"), so criticism of the band's trashy style wasn't enough to have them excommunicated. Furthermore, while the concepts of slut-shaming and political correctness existed, they hadn't yet trickled down into the common thought like they have today. The Millionaires could pretty much do whatever the fuck they wanted, and no matter how much punk snobs doth protest, no one was going to stop them. They're an emblem of all that was possible in the late 2000s, and they deserve one last hurrah—so make sure to "get fucked up" in their honor this weekend.