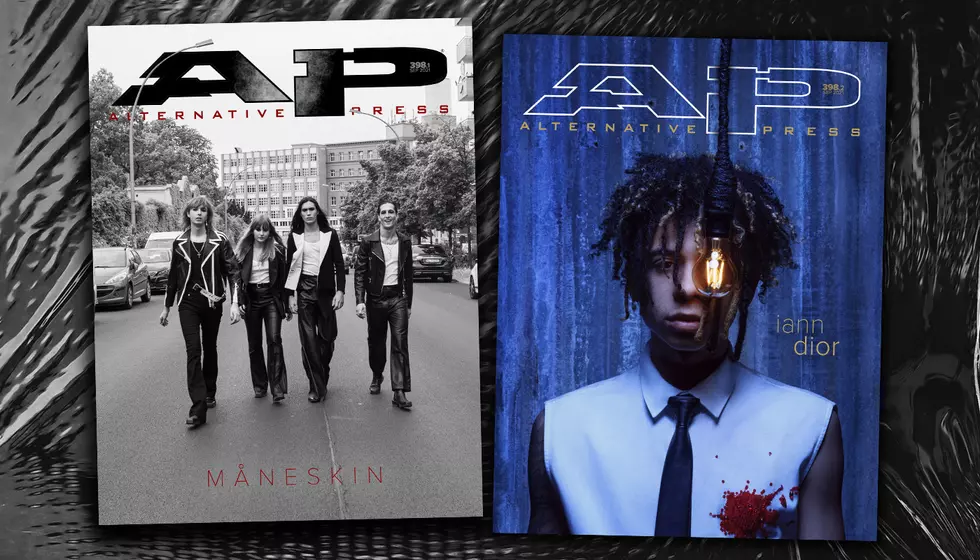 iann dior and Måneskin are making alternative music for a global age
[Covers by: iann dior/Ryan Allan; Maneskin/Fabio Germinario]
In one sense, the word alternative captures a sound, just as a style or genre has a unique musical character. Used in this way, the term can call to mind a specific era or maybe that specific band that first helped us feel like we had our own distinct corner of the world.
In another sense, alternative is something much broader. It's also a bit harder to pin down. Alternative is a state of mind, a commitment to finding our own paths in life, even if it means refusing to walk the easy road. Especially in 2021, as music becomes more and more inclusive—and our world becomes more interconnected with each and every day—that path looks different for everyone who chooses to walk it.
Enter issue 398 cover artists iann dior and Måneskin, who represent the changing nature of alternative music in their own ways.
At only 22, dior has already released two EPs, a mixtape and a full-length, 2019's Industry Plant, and also charted a No. 1 Billboard hit with his feature on 24kGoldn's "Mood." The young star represents a new type of alternative artist, fluidly crossing genre lines and tailoring his unique vocal styles to every track. Just as comfortable in pop and rock as he is in hip-hop and pop punk, dior has racked up collaborations with a broad range of artists, including Trippie Redd, Glass Animals, Machine Gun Kelly and Lil Uzi Vert.
In his cover interview, dior suggests his approach to music comes with a greater sense of what he wants to achieve.
"I was just watching the Woodstock documentary, and they were talking about how all the kids, they would come because they wanted to feel like they had a purpose," dior says. "All together is one. They would come to these shows, and it would be love, music and just everybody's loving each other. I feel like that's what music is for me. It just makes me feel like I have a purpose because now I know for sure I'm not the only person out there that feels this way. There's multiple people out there, millions of people that feel the same way that I do. Even at that, I'm helping people. I just feel like I have a very important job. It's like a superpower."
If dior represents a new generation of artists transforming the industry, Måneskin reflect the increasingly global nature of alternative music. The band built a name for themselves through show-stopping performances on The X Factor and the Eurovision Song Contest. Already stars in their native Italy at the time of their 2021 Eurovision triumph, the band now can attest to a devoted fanbase in the U.S., U.K. and across the world.
While their success reflects their ability to soundtrack our present, Måneskin also perfectly capture the history of alternative music. The band comfortably draw influence from the classics of the 1970s and have even collaborated with punk legend Iggy Pop.
In their cover interview, bassist Victoria de Angelis made it clear that the band's popularity reflects their devotion to rock and their willingness to stand up for what they believe in as artists.
"I think the main thing we want to express is really the freedom because, especially here, there are not many rock bands," de Angelis says. "And since we started playing together, we've always been told, 'This is not going to work. Rock music is not a thing in Italy. No one listens to it. It's dead.'
"We spent a couple of years fighting every day about this stuff, but we kept doing it because we were sure about it," she continues. "Because the main thing for us is that we feel represented and happy while we're playing. We don't have to pretend—like writing shitty songs that we don't like just to get on the charts. We want to make something that we can enjoy, and we have freedom, and we can express ourselves. This is the most important thing we would want our audience to get. Also, I think there are so many amazing artists that feel limited by the music industry in general, and it's such a shame. I think the meaning of music is just to be free and to be who you are."
Like our cover stories, the rest of Issue 398 offers a case study in what alternative music is today. The issue features other young artists who are changing the game, such as LILHUDDY, Master Peace and Angel T33th. It also highlights veteran bands and creatives, including Our Lady Peace, Thrice and DC Shoes founder Damon Way, who are continuing to push themselves and the culture at large to new heights. In between are many other acts, showcasing the multi-generational, multifaceted nature of the alternative community.
​​You can get Issue 398 featuring iann dior and Måneskin here or below, available now.