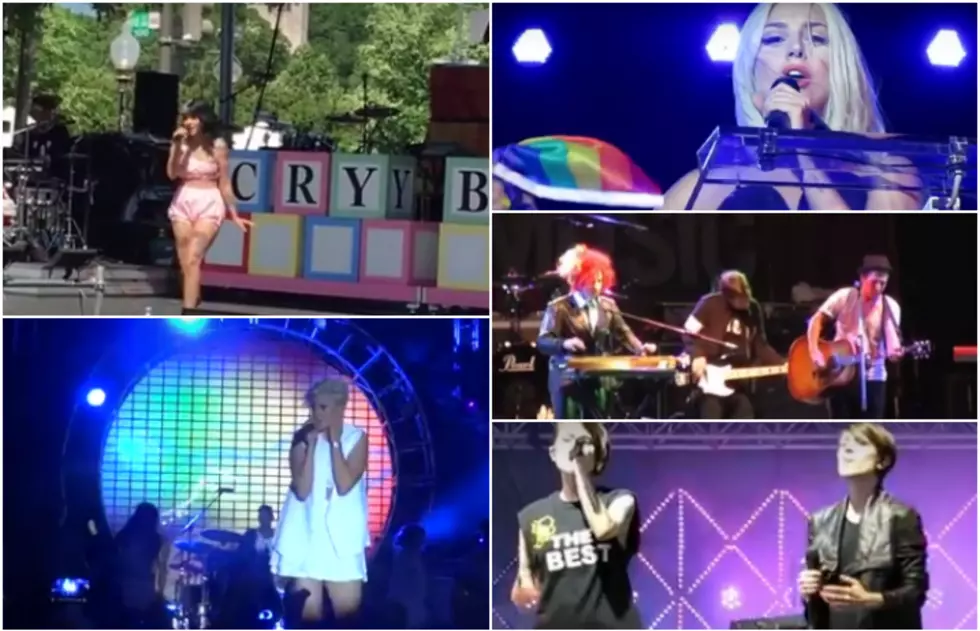 10 iconic Pride parade performances we won't soon forget
Pride parades are colorful celebrations of acceptance, and many bands have gotten in on the events with live concerts. Whether they're allies or identify as LGBTQ+ themselves, the musicians help spread a message of love at these shows.
In honor of LGBTQ+ Pride month, we took a look back at some of the most iconic Pride parade performances.
1. Against Me! at Toronto WorldPride 2014


As part of the Toronto Trans March in 2014, Against Me! performed hits from their 2014 album Transgender Dysphoria Blues, including the song "FUCKMYLIFE666." Singer Laura Jane Grace has been open about being transgender since 2012 and even wrote a memoir titled Tranny: Confessions Of Punk Rock's Most Infamous Anarchist Sellout.
Read more: 14 of our favorite music videos that celebrate LGBTQ pride
2. Lady Gaga at New York City Pride 2013
On June 28, 2013, Lady Gaga sang the national anthem at Gay Pride in New York City. This was just days after the
Defense of Marriage Act (DOMA) was overturned in the United States
, which gave married same-sex couples access to federal benefits. Before she sang, Gaga said, "I get to say I knew you when you suffered, when you felt unequal, when you felt that there was nothing to look forward to. I knew you then, and I knew you when … I really know you now."
3. Melanie Martinez at Washington, D.C. Pride concert 2016
Martinez performed songs from her 2015 release,
Cry Baby,
at the 2016 Capital Pride concert in Washington, D.C. A supporter of LGBTQ+ rights, she had transgender YouTuber Lucas Mogerley
star in the music video
for "Pacify Her" in late 2016.
4. Kesha at San Diego Pride 2016


Pop singer Kesha has performed at multiple Pride concerts. In 2016, she headlined the San Diego Pride with an explosive show. Before she appeared on stage, she started with a short monologue: "Join me in this fight for acceptance. To accept each other and ourselves, as without acceptance, there is no love, and love is the magic."
5. Joan Jett & The Blackhearts at Phoenix Pride 2010
Iconic rock band Joan Jett & The Blackhearts headlined the Phoenix Pride festival in 2010, performing classic songs including "Do You Wanna Touch Me (Oh Yeah)." Jett has been an advocate for LGBTQ+ rights, and she participated in Miley Cyrus' LGBTQ charity
The Happy Hippie Foundation
for a performance.