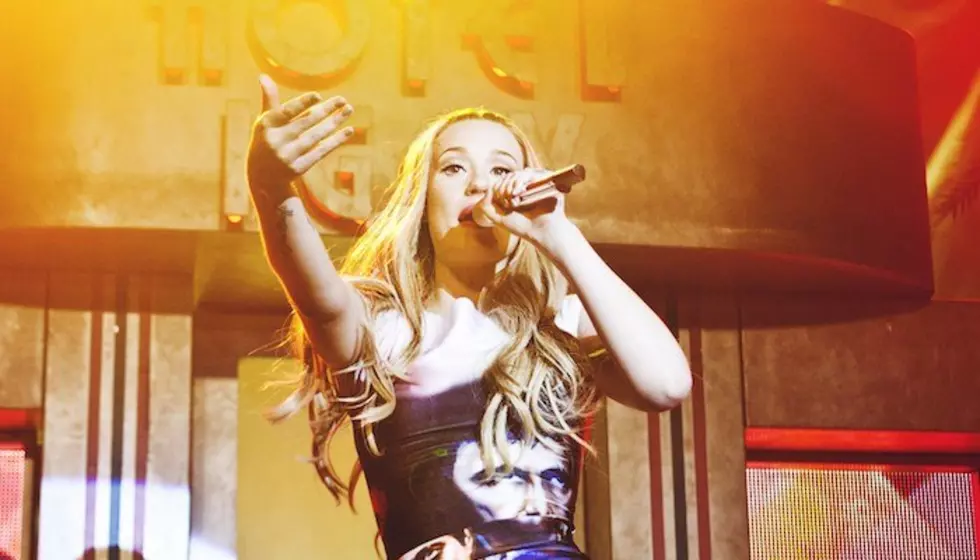 Iggy Azalea creates twerkpit circle for a "mosh pit but with ass" at shows
[Photo via Wikimedia Commons/Laura Murray]
Iggy Azalea may fall into the mainstream realm between "Fancy" and "Black Widow," but the artist has been known to give a shout-out to the alt-world. At the beginning of the year, the singer came under fire for donning that Cradle Of Filth shirt, but it clearly didn't deter her from her metal interest. Now, she's giving the mosh pit a revamp with her own version: The twerkpit.
Last week, Azalea announced two special, one-night only gigs in Los Angeles and New York City. With it, she delivered a playful warning of how the shows were about to go down.
"IF YOU ARE NOT TRYNA MELT THE FOUNDATION OF YOUR FACE. IF YOU ARE NOT TRYNA SCREAM THE WORDS TILL YOU HAVE NO VOICE. IF YOU ARE NOT TRYNA LEAVE LOOKING LIKE YOU GOT JUMPED. DO NOT. And I repeat. DO NOT Stand in the first 10 rows at the shows cause it ain't for you!!!"
One fan responded to the tweet, asking "Twerk pit instead of a mosh pit?? ??" Azalea shared it stating, "Let's invent one. Thoughts ?"
The following day, another fan shared a meme with the caption, "Azaleans at the show fighting over who gets to twerk at the stage."
Azalea played along, stating "This is why we need to invent: TwerkPit. It's like a mosh pit but with ass. And friendly."
While some probably assumed the singer was just messing around with fans, she revealed this week that it's more than just a joke.
"So if you come to my show; You're gonna notice a giant yellow circle on the floor in the middle of GA that says 'twerkpit.' When it's about that time at the show y'all gotta clear off the circle ⭕️ unless you bout to show us something crazy."
Some fans were all about the twerkpit, expressing they were stoked to bust out some moves at her upcoming shows.
Azalea clapped back at one Twitter user who was less than enthused. The user wrote, "So @IGGYAZALEA is making a 'twerk pit' at her shows. What I want to see is a bunch of punks show up and turn that into a full on fucking mosh pit and brawl." to which Azalea responded with "I love how you think giving me $50.00 per person is bucking the system."
Azalea also clarified it's for "any and all dancing," so we guess feel free to open up the pit.
Iggy Azalea has a new album, In My Defense, out this Friday. The one-night only shows hit Los Angeles Friday and New York City July 24. More information is available here.
[envira-gallery id="194356"]