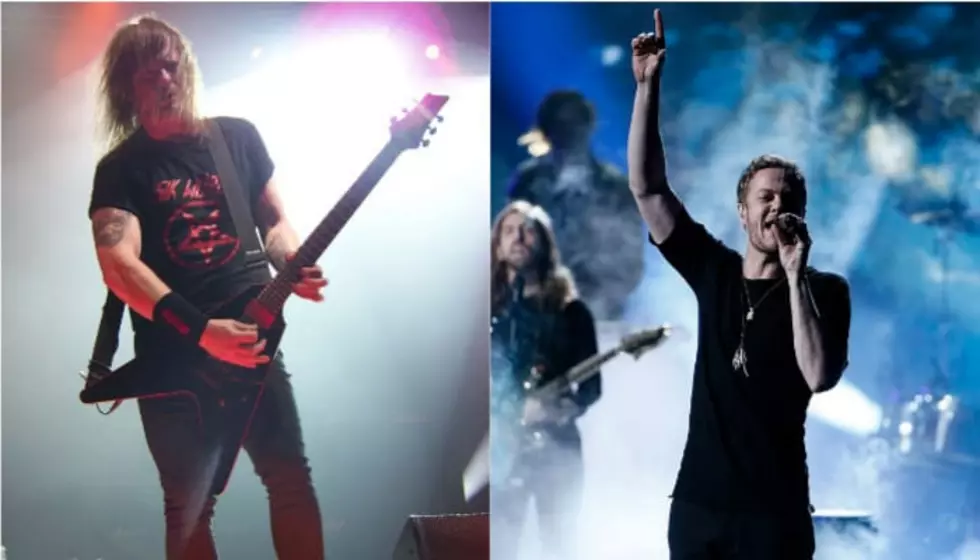 Slayer guitarist doesn't like Imagine Dragons
[Photos by: Wikimedia Commons]
Wow. The Imagine Dragons hate came thick and quick after the group got the nation's attention during Sunday's Lil Wayne-assisted college football halftime show. (The one that happened as Clemson took the championship from Alabama.)
But it's Slayer and Exodus guitarist Gary Holt who seemingly spoke up with perhaps the bluntest words for the act who consistently nab rock accolades while taking flak for not being rock enough. And, yes, Holt's the same musician who wore a shirt envisioning the murders of a certain ubiquitous reality entertainment dynasty, in case you were wondering.
In fact, Holt's reported anti-Dragon diatribe may have seemed so improper once viewed in the hindsight of morning's harsh light that the guitarist decided to purge it altogether. Purportedly shared Monday night on his Instagram account, the following text from the alleged post is no longer available on the photo and video-sharing social media service.
But here's what it reportedly said:
"Just watched the college football half time show to see just how bad it really was. PLEASE no more calling this shittiest band on earth 'rock', they are simply the crappiest excuse for a band I've ever heard. Uggggh. Just awful. I don't usually enjoy slagging musicians but they can't really call themselves that. So fuck em!!"
That's according to Metalhead Zone and Loudwire, anyway. Both blogs embedded Holt's Insta post now ghost. All the same, we'll assume Imagine Dragons aren't hurting for praise. They'll probably just pick up another award and get on with it.
Still, there seems to be a lot of talk about so-called rock bands not being rock. And fair enough: it's an expected gripe when the genre's struggling to remain relevant against eclipsing competition. But are the loudest faultfinders perhaps those unwilling or unable to carry the torch for the art form into a new generation? And if they can't, who will?
[envira-gallery id="194356"]