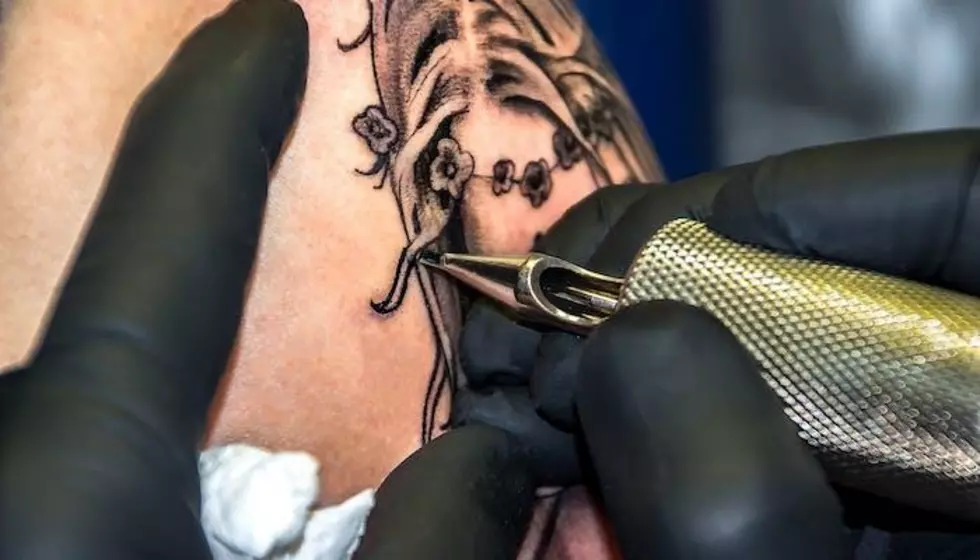 INKCARCERATION 2019 reveals featured tattoo artists, shops
[Photo via Pexels]
Bolstering a scheduled shock of headliners including Shinedown, Godsmack and Five Finger Death Punch, the upcoming INKCARCERATION 2019 Music And Tattoo Festival will be a veritable playground for tattoo lovers: The event will host over 70 tattoo artists and shops at the Historic Ohio State Reformatory in Mansfield, Ohio, July 12-14.
See the full list of participating INKCARCERATION artists and shops, below. There will also be gourmet food trucks and reformatory tours at the event. As well as the "Escape From Blood Prison" attraction, typically reserved for Halloween.
Taking Back Sunday, Motionless In White and many more acts are also scheduled to perform at the festival that takes place in an old prison, the former reformatory with which rockers Godsmack actually have some history with.
"This will be Godsmack's first time back at the Ohio State Reformatory since we shot the 'Awake' video in 2000," the band say, "so we can't wait to get out and rock with you! We're coming at you harder in 2019 than ever before so get ready!"
Weekend passes are on sale now, with general admission and VIP available. There are also hotel and camping packages as well as parking passes available now.
Tattoo shops/companies:
Megavision El Drako Tattoo, Sin Inkorporated, Uncle Rodge's Tattoo Shop, Sellers Ink Tattoo, Studio Vitruvius, Living Dead Tattoo Co., Waves Raditattoo Me Tattoo & Tattoo Repair Parlor, 1st Order Tattoo Co., Resurrection Tattoo, Murder Ink, American Crow Tattoo, Artisan Ink, Straight Eight Tattoos, American Outlaw Tattoo, Paragon Tattoo, Ventura Tattoo, Hardkore Ink, Hard Knox Tattoo, Soldier Mikes Tattoo, Imperial Tattoos, Eves Ink Tattoo, Artful Impressions, Bare Knuckle Tattoo, Red House Irons, Ink Slingas, Casually Tragick, Cincinnati Tattoo
Tattoo artists:
John Cummings, Michael Hicks, Natalie Davis, Samantha Little, Serena Estes, Robert Keiuf, Michael Lalli, Jennifer Pennington, Tiffany Sutton, Melissa Freebern, Alexis Herzog, Alex Diffee, Whitney Rehn, Kristina Pafford, Amy Jiao, Jeff Naumann, Racheal Lare, Kassidy Huck, Alexis Hasket, Keith Hinkel, Brandon Durbin, Destinee Defriece, Kim Loesche, Loki Shane Defriece, Jacob Bettker, Justin Crawford, Tony Campise, Sean Smallwood, Tony "Two Times" Ledbetter, Rick Vicious, Juan Colon, Pain Sadler, Amber Sanders, Bethany Hendrix, Ed Zimmer, Chris Jacobs, Dragon Edong, Steven Hullander, Thomas Somebody, Pammy Sellers, Danny Kearney, Soldier Mike, Lil Alex, Josh Schutrum, Sean Quinlan, Jason Dombrosky, Cheyanne Cooper, Ryan Richardson, Josh Helman, Nicolas Daugherty, Amy Sinclair, Rob Hill, Tyler Larkin, Daniel Renteria, Waverly Judd, Tommy Guns, Martin Benavidez, Josh Paul, Kevin Caron, Mark Gailey, Stevil Knevil, Jacob Foster, Adrean "Cash" Moreno, Jake Henry, Matt Fotheringham
Will you be attending the INKCARCERATION event this year? Sound off down in the comments section! And let us know what tattoo shops and/or tattoo artists you're excited to see at the summer music and arts festival in Ohio.
[envira-gallery id="185694"]