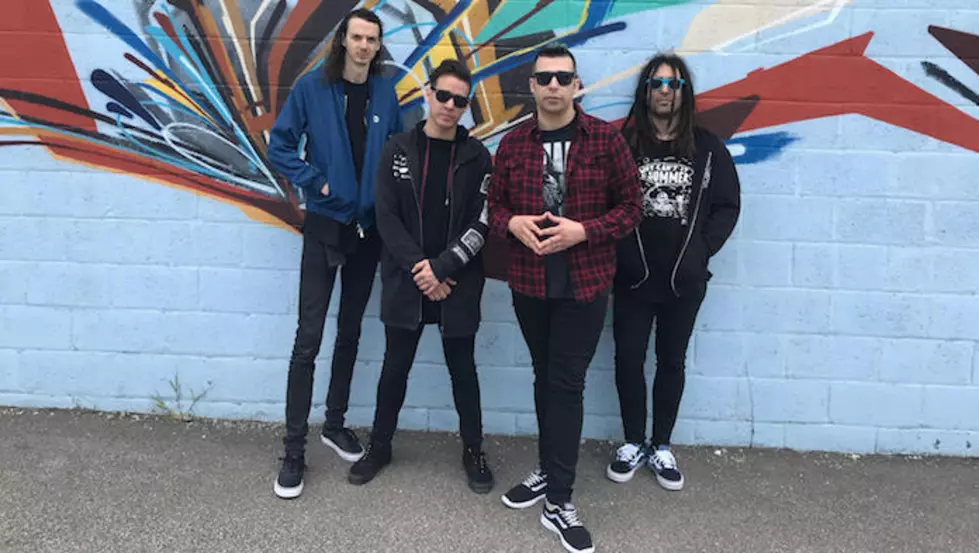 Islander asked to leave Warped Tour
Islander won't be playing any more shows during the final cross-country Warped Tour.
The band shared a video explaining what happened. Watch it in full below.
Islander were asked to be removed from Warped Tour after vocalist Mikey Carvajal damaged the drum kit they were using.
The band explained the incident in a video.
"We just wanted to say to anybody who was planning to come out to hangout with us on the Vans Warped Tour we're not going to be able to be there unfortunately because we goofed up today," Carvajal explains.
"During the last song of our set, I dove into the drum kit," he continues. "I didn't even think about the fact that we were using a backline kit that didn't belong to us."
"But I wanted to let you guys no this is no reason for you guys not to go and support all incredible bands," the band says.
Besides the July 1 show in Denver, Colorado, the band were also scheduled to play from July 3 to July 8.
In March, Warped Tour 
shared its final lineup
Lyman previously shared his appreciation for the bands and fans who have stuck with him throughout the years, and we're excited to see who rounds off this incredible final chapter of the punk rock summer camp.
Tickets are on sale now. Dates and full lineup can be found below.
Warped Tour lineup:
Journeys Left Foot Stage
3OH!3 (6/21-8/5)
Asking Alexandria (7/22-7/28)
Beartooth (7/19-7/21)
Black Veil Brides (6/21-7/1)
Cassadee Pope (7/30-7/31)
Mayday Parade (6/21-8/5)
Reel Big Fish (6/21-8/5)
State Champs (6/21-8/5)
SUM 41 (7/17)
Taking Back Sunday (6/24)
This Wild Life (6/21-8/5)
Waterparks (6/21-8/5)
William Ryan Key (7/10-7/14)
Journeys Right Foot Stage
All Time Low (6/22-6/24)
Falling In Reverse (6/26-7/16)
Four Year Strong (6/21-7/29)
ISSUES (6/21-8/5)
Less Than Jake (7/18-7/20, 7/22-7/27, 7/29-8/5)
Movements (6/21-8/5)
New Found Glory (8/3-8/5)
Real Friends (6/21-8/5)
Simple Plan (6/21-8/5)
The Maine (6/21-8/5)
The Used (6/21-7/10)
Tonight Alive (6/21-8/5)
We The Kings (6/21-8/5)
Mutant Red Dawn Stage
Chelsea Grin (6/21-8/5)
Deez Nuts (6/21-8/5)
Ice Nine Kills (6/21-8/5)
Kublai Khan (6/21-8/5)
MYCHILDREN MYBRIDE (6/21-8/5)
Sharptooth (6/21-8/5)
Silverstein (7/17-7/20, 7/25-7/28)
The Amity Affliction (6/21-8/5)
Twiztid (6/21-8/5)
Wage War (6/21-8/5)
Mutant White Lightning Stage
August Burns Red (7/29-8/5)
Crown The Empire (6/21-8/5)
Dayseeker (6/21-8/5)
Every Time I Die (6/21-8/5)
Hail The Sun (6/21-8/5)
Harm's Way (6/21-7/23)
In Hearts Wake (6/21-8/5)
Knocked Loose (7/10, 7/18, 7/21, 7/24)
Motionless In White (6/21-8/5)
Nekrogoblikon (6/21-8/5)
Underoath (7/16-7/18)
Unearth (6/21-8/5)
Owly.fm Stage
As It Is (6/21-8/5)
Assuming We Survive (6/21-8/5)
Broadside (7/10-8/5)
Capstan (7/10-8/5)
Chase Atlantic (6/21-7/31)
Dead Girls Academy (6/21-7/8)
Doll Skin (6/21-8/5)
Don Broco (6/21-8/5)
Grayscale (6/21-8/5)
Makeout (6/21-8/5)
Palaye Royale (6/21-8/5)
Phinehas (6/21-7/8)
Picturesque (6/21-7/8)
Sleep On It (7/10-8/5)
Story Untold (6/21-8/5)
Trash Boat (6/21-8/5)
With Confidence (6/21-8/5)
Full Sail Stage
1 Last Chance (7/30 & 7/31)
8 Graves (7/13)
A Friend, A Foe (6/29)
A Summer High (7/16 & 7/18)
A War Within (7/20)
Alteras (7/18-7/19)
Amerakin Overdose (6/30)
Amuse (7/24)
Antonio Hancock (7/12 & 7/29)
Apache Chief (7/25)
Apes Of The State (7/26)
Art Of Shock (6/21)
At Mercy (6/28)
Awake At Last (7/31, 8/2, 8/4 & 8/5)
Bears Among Men (7/1)
Beebs & Her Money Makers (8/2-8/5)
Beneath The Waves (7/7)
Black Alley (7/20-7/22)
Blessing A Curse (8/3-8/5)
Blue Heaven (7/29)
Boarderlines (6/22)
Bodysnatcher (8/2 & 8/4)
Born A New (7/15)
Boundaries (7/15)
Boxford (7/12)
Boys Of Fall (7/20)
Butchered (7/21)
Call Conscious (6/24)
Captain Squeegee (6/29)
Carousel Kings (7/26)
Charmer (7/24)
Chaser (6/22)
Chrmng (8/3)
Circuit Of Suns (7/25 & 7/26)
City Cop (7/18)
Civil Youth (7/13)
Cockeyed Optimist (6/21)
Cold Shoulder (7/27)
Cousin Simple (7/18)
Crash Overcast (6/22)
Crown Magnetar (6/30)
Dark Wing (7/14)
Decent Criminal (6/23)
Discrepancies (6/30-7/5)
Don't Sleep (7/29)
Downsizing (7/26)
Dr. Beardface & The Spaceman (7/13)
Eidola (6/30)
Emma White (7/10)
Everyone Dies In Utah (7/6-7/8)
Extortionist (6/30)
Failed To Study (6/29-6/30)
Fake A Home (6/28)
Falset (7/17)
Familypet (7/25)
Farewell Winters (6/21-8/5)
Fat Heaven (7/14)
Feverwar (7/16)
Flight Club (7/12)
Fubar (7/16)
Gabe Kubanda (6/28)
Gardenside (6/21, 6/22 & 6/24)
GFBF (7/18, 7/22 & 7/23)
Glacier Veins (7/19)
Glassworld (6/21)
Great American Ghost (7/25-7/26)
Green Screen Kings (7/23)
Grudge Holder (7/27)
Gutterlife (7/28)
Haddonfield's (7/3)
Half Hearted (7/15, 7/25 & 7/26)
Heroner (6/24)
Home Seeker (7/25 & 7/27)
I The Victor (7/30)
Idle Lives (7/15)
Ignescent (7/22)
In The Red (7/15)
Intervention (8/4)
Inventure (7/13)
Islander (7/1, 7/3-7/8)
Jet Black Alley Cat (7/10)
Johnnie Guilbert (6/21-6/22)
Nihiloceros (7/28-7/29)
No Better (6/29)
No Hugs (7/27)
Not Ur Girlfrenz (7/6-7/10)
Oh Weatherly (7/8)
One Last Shot (7/25)
Orchards (7/6)
Pickwick Commons (7/21 & 7/24)
Pour Choices (7/23)
Quietkind (7/23)
Quote Unquote (6/22)
Qwam (7/28)
R I L E Y (6/21-6/23 & 6/29)
Redundant (7/17)
Rob Riccardo (6/28)
Rose Cora Perry (7/17)
Run Rabbit Run (7/19)
Saving Vice (7/27)
Scattered Hamlet (7/8 & 7/10)
Secret Eyes (7/16)
Senior Discount (7/16)
Set Your Anchor (6/30)
Shallow Views (7/28)
Shell Corporation (6/23)
Sincerely, Me (6/24)
Size Fives (7/23)
Skyhaven (7/22-7/23)
Skyward Story (7/29-7/31)
Small Talks (7/30-8/2)
Something More (7/29)
Sondorblue (7/30)
South Paw (7/20)
Spiral Method (6/23)
Standard Issue (6/21)
State To State (6/22, 6/28 & 6/29)
Stay Loud! (7/16)
Stone Clover (7/20, 7/21, 7/26 & 7/27)
Stringer (7/28)
Summer Wars (7/12, 7/30 & 7/31)
Sundressed (6/28)
Sweatergirl (7/20)
Tao Jones (7/31)
Tat (6/21-7/23)
Taylor Phelan (7/6)
Tha Native (6/21)
The Band Camino (8/3)
The Hails (8/5)
The Kreutzer Sonata (7/21)
The Living Strange (7/14)
The Prozacs (7/15)
The Rift (7/19 & 7/24)
The Split Seconds (7/18-7/20)
The Stolen (7/14)
The Studs (7/21)
The Voiceless (8/3)
The World Over (6/29-7/7)
Throw The Goat (6/21)
To Whom It May (7/6-7/8)
Treads (7/14 & 7/29)
Two Birds (7/16, 7/18 & 7/19)
Vanessa Silberman (6/29)
Vanish (7/13)
Varials (7/13)
Vegas Lights (7/20)
Versus The World (6/24)
Walk The Plank (7/29)
War Prayer (7/22)
We Were Sharks (7/25)
Whitney Peyton (6/28)
Who Knows (7/21)
Who Saves The Hero (6/22)
Wide Awake (7/6)
Widowmaker (7/31)
Wilder Sons (8/5)
Young Lungs (7/16)
Warped tour dates
06/28 – Phoenix, AZ
06/29 – Las Vegas, NV
06/30 – Salt Lake City, UT
07/01 – Denver, CO
07/03 – St. Louis, MO
07/05 – Bonner Springs, KS
07/06 – Dallas, TX
07/07 – San Antonio, TX
07/08 – Houston, TX
07/10 – Nashville, TN
07/12 – Virginia Beach, VA
07/13 – Camden, NJ
07/14 – Holmdel, NJ
07/15 – Hartford, CT
07/16 – Pittsburgh, PA
07/17 – Toronto, ON
07/18 – Cuyahoga Falls, OH
07/19 – Cincinnati, OH
07/20 – Detroit, MI
07/21 – Chicago, IL
07/22 – Minneapolis, MN
07/23 – Milwaukee, WI
07/24 – Indianapolis, IN
07/25 – Darien Center, NY
07/26 – Scranton, PA
07/27 – Mansfield, MA
07/28 – Wantagh, NY
07/29 – Columbia, MD
07/30 – Charlotte, NC
07/31 – Atlanta, GA
08/02 – Jacksonville, FL
08/03 – Orlando, FL
08/04 – Tampa, FL
08/05 – West Palm Beach, FL
Read more: Five things you should FORGET about Islander