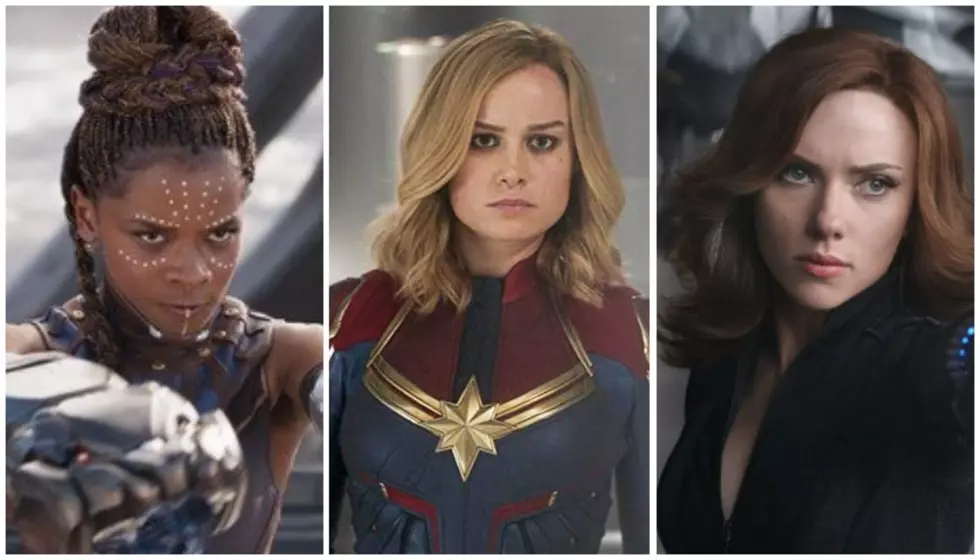 It looks like an all-female Marvel film may still be in our future
[Photos via Black Panther/Marvel, Captain Marvel, Marvel/Black Widow, Marvel]
For years now, there have been talks about Marvel finally making a film with an all-female cast.
Now, Black Panther star Letitia Wright is revealing the likelihood that a female Marvel film will happen in the future and it looks like she is staying optimistic.
Back in 2018, Thor: Ragnarok star Tessa Thompson expressed her desire for Marvel to make an action-packed film with an all-female cast. Following the success of the female-led Captain Marvel and the upcoming Black Widow, Thompson said the possibility is there.
"There's an interest—they're doing Captain Marvel, they're doing a Black Widow—there's an interest in having women at the forefront of this phase. I feel like it's hopeful."
Along with Thompson, Scarlett Johansson is also pushing for an all-female film. Last year, she told Variety that it's time for Marvel to bring all of the strong female heroes together on-screen.
"I don't know what my future is in that world," she said. "Obviously, it's a little more opaque for my character. But that group of actresses is so incredibly powerful and when they come together, it's explosive and unstoppable. So yes, I'm pushing for that. I think audiences want it and I'm definitely one of them."
Captain Marvel star Brie Larson also previously revealed to Variety that her co-stars have approached Marvel Studios president Kevin Feige about the project.
"I will say that a lot of the female cast members from Marvel walked up to Kevin and we were like, 'We are in this together, we want to do this,'" Larson said. "What that means, I have no idea. You know, I'm not in charge of the future of Marvel, but it is something that we're really passionate about and we love and I feel like if enough people out in the world talk about how much they want it, maybe it'll happen."
Now, Black Panther star Letitia Wright is further weighing in on the possibility of an all-female Marvel film. She tells Yahoo! that fans shouldn't give up hope just yet. Since the film is in high demand, Wright thinks it is bound to happen at some point.
"I don't think we have to fight for it," she says. "Victoria Alonso is very strong about spearheading it, alongside Kevin [Feige]. It's only a matter of time before they do it."
Although the possibility for an all-female film is still there, it may be a while before Marvel fans get to see it on-screen. The coronavirus pandemic has severely delayed the start of Marvel Phase Four. As it stands, Black Widow is set to kick off Phase Four on May 7, 2021.
As well, many fans are wondering what is in store for the Black Panther franchise following the death of Chadwick Boseman. Some theorize that Wright's Shuri will become the new Black Panther as this storyline is played out in the comics. However, it is still too soon to tell how Marvel plans to approach Black Panther 2.
Do you want to see an all-female Marvel film? Let us know in the comments below.