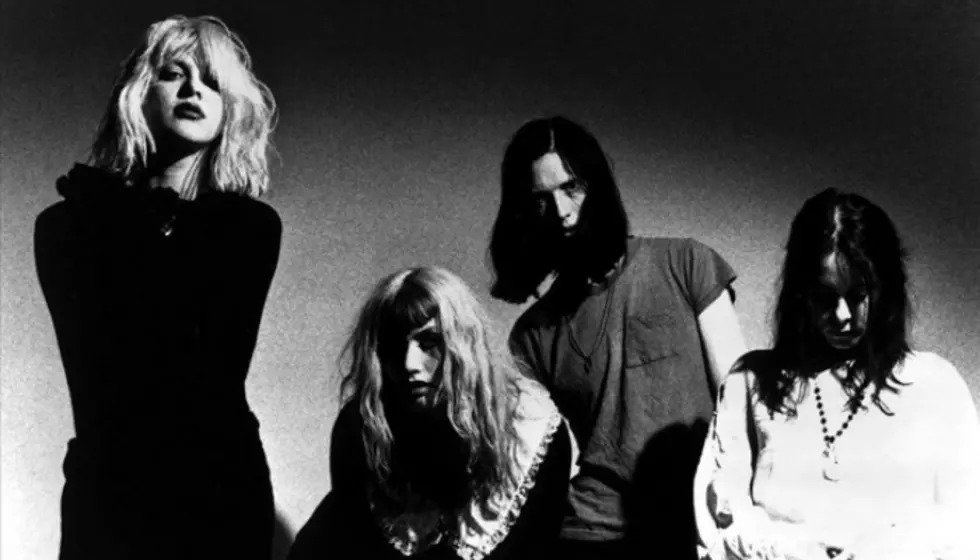 It looks like Courtney Love wants a Hole reunion just as much as you do
[photo via Spotify]
It's been quite a while since we last heard new material from Courtney Love. However, it looks like the wait for new music is almost over.
Love recently revealed that not only is she working on new songs, but she also hinted at the possibility of Hole reuniting in the future.
Over the past few years, rumors have swirled that a Hole reunion may be in the works. For the 25th anniversary of Live Through This early last year, she told The Guardian that the band were in talks to reunite.
"We are definitely talking about it," she said. "There's nothing wrong with honoring your past; I've just kind of discovered that. If you don't, people will rewrite history and you will become an inconvenient woman."
Then, in October 2019, Love further teased the possible Hole reunion. The frontwoman posted a now-deleted photo performing with original drummer Patty Schemel and bassist/back-up vocalist Melissa Auf der Maur.
Since then, however, it's been pretty much radio silence. Now, Love has revealed that she would love to bring Hole back together for a reunion. She tells NME that she's even been taking guitar lessons in preparation for the possible event.
"Before I came back I actually had Melissa and Patty come with our tech to this old-world rehearsal studio," she says. "We had a good session, but it takes a bit of time to get back into the rhythm of it all. It's something I'd love to do and been taking guitar lessons over Zoom during lockdown and I'm writing again so we'll see!"
The original Hole lineup hasn't played a full show together since 1998. However, the four-piece did reunite for a short two-song set for Schemel's documentary afterparty in 2012. The original lineup released Celebrity Skin, their last album, in 1998. Then, in 2010, Love went on to release Nobody's Daughter under Hole, but she was the only original member featured on the album.
While Hole fans continue to wait for a possible reunion, Love has been hard at work on music of her own. She further tells NME that since moving to London, she has recorded various new songs.
"It's early days and I've recorded several new songs whilst I've been in London," she says. "I've also taken this time to enjoy rediscovering really good songwriters like Aimee Mann who's from LA but went to Juilliard and is a genius and overlooked. Frances sends me playlists, which are fantastic and full of artists that I hadn't come across before too."
Love credits Jonathan Daniel and Crush Music for helping bring her new material to life. Daniel stepped in as Love's manager back in 2010.
"I also feel like the luckiest motherfucker in the history of rock and roll because finally after 26 years myself and my family have an honest and ethical manager with great ears in Jonathan Daniel (JD) and Crush Music. We've been together since 2009," she continues. "He started managing me in the middle of me making a self-funded [Hole] album called Nobody's Daughter, which had some really amazing songs that I'm so proud of. He's been instrumental in working with me on the new material too."
Hole's classic video for "Celebrity Skin" can be streamed below.
Do you want Hole to reunite? What do you think Courtney Love's new music will sound like? Let us know in the comments below.