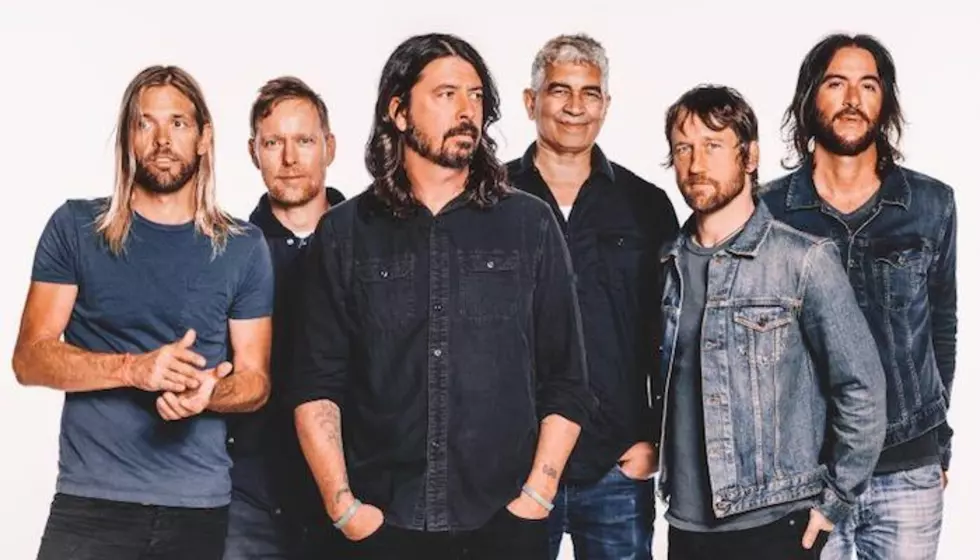 It looks like Foo Fighters are ringing in the New Year with more new music
Foo Fighters are gearing up to release their new album Medicine At Midnight in February. However, it looks like they are going to be rocking everyone's New Year's Eve with more new music from the album.
This week, the band teased their new single "No Son Of Mine" which is arriving just in time to say goodbye to 2020 forever.
Foo Fighters are about to reach a major milestone in their career. On Feb. 5, 2021, they are officially releasing their 10th studio album Medicine At Midnight. Back in November, Foo Fighters debuted their new song "Shame Shame." After sharing a few cryptic social media posts, they unveiled a haunting video for the single based on a nightmare Dave Grohl has had since childhood.
"No Son Of Mine" officially arrives on New Year's Eve, allowing Foo Fighters fans to ring in the New Year on a good note. Foo Fighters' Medicine At Midnight includes nine tracks that were produced by both the Foo Fighters and producer Greg Kurstin. Grohl and Kurstin recently reunited to treat fans to plenty of musical covers this holiday season for their Hannukah Sessions.
Previously, Grohl revealed that Medicine At Midnight is a critical release in Foo Fighters' decades-spanning career.
"It's filled with anthemic, huge, sing-along rock songs," he said. "[It's] kind of like a dance record, but not an EDM, disco, modern dance record. It's got groove. To me, it's our David Bowie's Let's Dance record. That's what we wanted to make, we wanted to make this really up, fun record."
Mostly, Grohl is looking forward to hitting the road with this new batch of songs when concerts resume after the coronavirus pandemic.
"I'm fucking excited for people to hear it and I can't wait to jump on that fucking stage to play it," he said. "There are choruses on this record that 50-fucking-thousand people are gonna sing, and it's gonna bring everyone's fucking hearts together in that moment. And that's what it's all about."
Along with Foo Fighters' upcoming album, Taylor Hawkins has been busy in the studio with a few other familiar faces. Producer Andrew Watt recently shared that Hawkins is among the musicians working on Ozzy Osbourne's new album. Metallica's Robert Trujillo and the Red Chili Peppers' Chad Smith are also part of Ozzy's studio band.
For those of you looking for even more musical celebrations happening on New Year's Eve, you're in luck. This year's Dick Clark's New Year's Rockin' Eve with Ryan Seacrest is set to include a slew of musical performances from Machine Gun Kelly, Miley Cyrus, 24kGoldn, Iann Dior and Lewis Capaldi among others. Additionally, President-elect Joe Biden will also be making an appearance.
As well, Post Malone is celebrating the New Year with a whole lot of Bud Light. The rapper is set to headline the Bud Light Seltzer Sessions Presents New Year's Eve 2021 livestream alongside Steve Aoki, Jack Harlow and more.
Foo Fighters' Medicine At Midnight arrives on Feb. 5, 2021 and pre-orders are available here. "Shame Shame" is available to stream below.
What are your reactions to the "No Son Of Mine" teaser? Are you ready to hear Foo Fighters' new album? Let us know in the comments below.