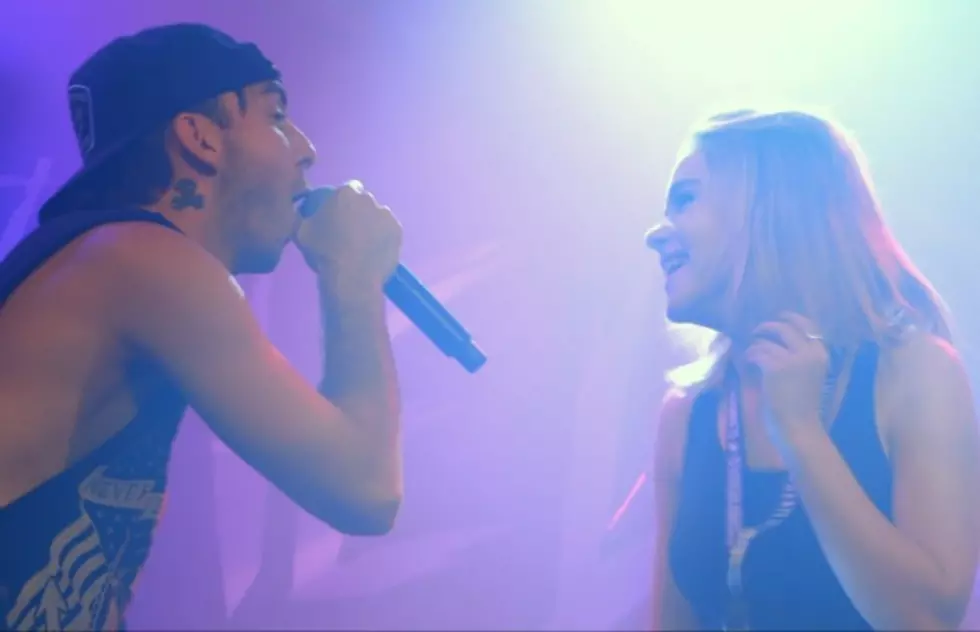 "It was rad to be a part of." Alex Gaskarth talks "Fan Girl" movie
Last week, the ABC Family movie Fan Girl wowed audiences with its humorous take on what it means to be a fan in the modern age. Fictional Telulah Farrow [played by Kiernan Shipka] is obsessed with All Time Low, wears Glamour Kills clothing and just doesn't want to do her film project.  Can you relate? AP caught up with vocalist/guitarist Alex Gaskarth to talk the new movie, new tour and how he feels about being a professional actor.
How did All Time Low get involved in the production of Fan Girl?
ALEX GASKARTH: It kind of came out of nowhere for us. It was brought up to us as: This movie's been written, the script had been written based on the person who wrote the script, her daughter and the fact her daughter was a fan of the band. So she had this idea for the movie, but then it turned into this broader story and narrative about this high school girl. It was basically pitched to us because the movie was written around our band—and I guess the band would have been interchangeable, had we turned it down. But we just thought it was something different and cool. It was rad to be a part of.
How was that acting experience different from what you've done in the past, as opposed to music videos and being on camera in a band sense?
Well, the performance part was pretty similar, to be honest. Obviously the focus was a little more on the actors and a little less on us. But [performing] felt pretty much like familiar territory. I mean [in terms of acting] it was such a small part—it was a lot of fun to do it and everybody was very cool about the fact that I don't know what I'm doing. So, like I said, it was something different to do and it's always fun to try out new things.
Did you have any problems getting into the character of yourself?
[Laughs.] No, they kept it easy on me. The fact that we just got to be ourselves helped, for sure.
What do you think this movie will mean to both All Time Low as a band and our scene at large?
It's pretty hard to say whether it will have sort of any long-standing consequences. For us, we've been a band for 12 years, and it's cool to be recognized as something more than a band that only a few people know about. It's really cool to get to be a part of something like that. As far as what it does for our band: The coolest thing is it introduces us to some new people. There were definitely people tuning into the movie [who] watch ABC Family that weren't familiar with our band. So from a standpoint of reaching new people, I think it was great. And obviously, it helped us out tremendously that our music was so heavily a part of the film. There were songs that were constantly playing in that movie, along with some other bands' songs. It helps the bands, but it also brings the genre of music into the forefront, which is great because this genre of music has been tucked away for a little while. It was very, very cool that they embraced the scene as a whole. It wasn't just about All Time Low—which I think made it feel a little bit more real to all of us. If it had just been solely about us, then it could have felt contrived. But the fact that they did their research and they were very much aware of aspects of the scene, I thought that was really cool.
How much of that was originally written into the script? Did you guys get to contribute anything?
We didn't do much with that. A lot of that stuff was actually already in there when the script was given to us. Which I really commend, I think they did a great job of really knowing their facts and having a lot of that stuff already in there. We didn't have a whole lot to do with the creative process. We were the band that the script was written around. [Directors] asked us if we wanted to do it and we were super-down.
It's no surprise All Time Low have a predominantly young, enthusiastic, female fanbase—who I'm sure were avidly watching this movie specifically for you guys. What do you want them to take away from this movie?
I think it's just a nod to the scene. I don't necessarily think the movie's trying to make any bold statement. It's pretty tongue-in-cheek. I think that even down to just the title. It's kind of a critique, but also a commentary. It's a commentary on where some people are at in their life. I think the message of this film would be to not completely lose yourself in obsession. [Telulah, main character] takes her obsession and applies it and turns it into something creative and awesome. I think that's something people could take away from it as far as getting more involved and taking your passions and making them into something productive.
Regarding Back To Future Hearts Tour, what sort of cool new stuff are you guys bringing for this tour that fans can anticipate?
The big thing with this tour is the focus on the new record. Until now, we've been playing maybe four or five songs off the new album. What we really wanted to do this time around was give a complete and fully rounded out experience of the record. One of the things we noticed with this album was how passionate people were for the new music. More so than ever before, people [were] saying, " We want to hear the new songs, we want to see this song live," etc., etc. So, we had this idea to play the majority of the record and we're still touching on all of the songs that people would want to hear from our past. But it's pretty awesome for us to be able to come out here 12 years into a career and people want to hear the new material…that doesn't always happen. It's really cool. It's one of the biggest tours that we've ever headlined in the States. From a production standpoint, we're doing a lot of cool things—the show looks amazing, the light show looks incredible. I'm really excited for people to just see it. It's definitely taking the stage show to the next level.
You can grab Back To Future Hearts tickets right here.