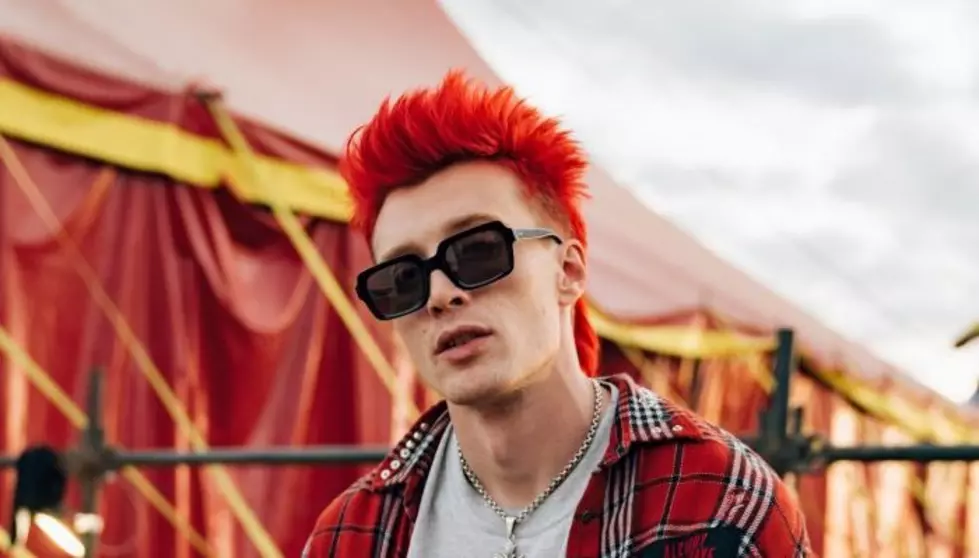 BBC Radio 1's Jack Saunders' mission to help the world find new music
[Photo by Phoebe Fox]
Ever since he discovered his love for radio as a young teenager, Jack Saunders dreamed of working for BBC's Radio 1. However, having a dream and trying to realistically accomplish it are two very different things.
It takes passion, perseverance and hard work to make your dreams come true, and luckily, Saunders knew this better than anyone. He jumped through all the hoops and followed all the right paths — paving his own when necessary — to get where he is today: a Radio 1 DJ.
Now a name synonymous with the station, Saunders is one of the leaders in broadcast media. Every day, he combines his love for the radio with his desire to connect fans with talented artists who they have never heard of before.
In a world where radio is overwhelmingly pop-oriented, Saunders manages to cut through the noise and now has an earlier time slot for his shows so he can reach more people and positively affect anyone who decides to tune in.
Congrats on your new time slot for your show! Tell me a bit about what "Future Artists" is and what you hope to accomplish with it.
I present on BBC Radio 1 here in the U.K., a show called "Future Artists," Monday to Wednesday, and then on Thursday, we switch it up into "The Indie Show." So, it's all about alternative music, and across the four days, regardless of what type of show it is, it's all about new music.
I just love supporting new bands. I love discovering. I love the excitement that brings, the thrill of it, the nurturing process involved in that and telling that narrative and building the story of these bands and artists. It's such an amazing move for me but also just the show in general that me and my producers have worked so hard on since September of 2018. 
When I joined Radio 1, we were on [from] 11 p.m. to 1 a.m. — right ol' graveyard shift — but we had the freedom out there to essentially do whatever we wanted and play whatever we wanted. The audience was really receptive to it, and, because of that, we'd been moved forward [to] 10 p.m. to midnight.
Now we're 8 p.m. till 10 p.m. in an amazing slot where people are, at that time of day, engaged and listening. I have so many more messages than I usually do coming through, just being like, "Oh, my God, I've discovered this. I love this. I can't stop listening to this." It's so great, and it really feels like we're able to properly blossom and nurture that little following that we had before into something really exciting.
You are also essentially one of the main people ushering in a new era for BBC and helping evolve the definition of modern radio.
Yeah, it's in a really interesting moment. We've lost Annie Mac. We've lost Grimmy [Nick Grimshaw] recently — they're still alive; they're just not on the station anymore. They obviously were pillars of the station, in synergy with the name.
Over the last few years, Radio 1 has gone through a real transition phase. It's gone, in the last 10 years, from having roughly 10 competitors to now over 50 in various different formats and media. Trying to keep up and maintain that attention is a really difficult thing in such a competitive landscape. It's very much is still in a transition phase and really always will be [because] the way that youth culture moves is inexplicably quick. It's up to me and every other presenter on that station to keep up with it and make sure [Radio 1] is at the forefront of the ever-changing youth sphere.
Obviously, the music is important, but another big aspect is the connection. How do you form genuine connections with your listeners?
Some presenters will just play the music and move on to the next one, but for me, it's about establishing that connection. You're playing new music to people that have never heard it before, so you have to give them a reason to love it.
It's a noisy world. They've got so many other distractions and things that they could be doing in their lives, so you've got to give them a reason to tune in. You've got to give them a reason to love the music that you're playing. Because Monday to Wednesday, we play every genre as well. You're not gonna be able to please everyone. Let's just say you play a new metal track, and you've got a whole load of people who love R&B music listening to the show.
I've got to somehow find something that connects them to that music, and I really love that challenge. It's been made easier and easier by these newer bands coming through and being so ambitious with the music they're making.
What was your quarantine experience like being in both media and music spaces, and did you have to adjust how you connected with listeners?
I went headfirst into combating the pandemic. I built my own PC. I invested in a whole setup. I basically [have] a studio in my house now. I did quarantine karaoke on Instagram, and we had [artists such as] HAIM, Ashnikko [and] Alex [Gaskarth] from All Time Low come on and do it.
I took that to Twitch, and that morphed into this "Feedback Friday" thing where I'd come on, and bands and artists would send me their music, and we'd listen to it on [the] stream, and then I'd [give] feedback as to whether I thought it was good, what they could work on, how I can help them.
There was a real community around it, and I built this community over lockdown via a Discord channel that I started. So, I adapted over lockdown, and that community is even stronger [now]. I know my audience far better than I did beforehand. We were just there for each other and bonded [because of] the show and the streams.
You know better than anyone, so what artists have you been following recently that readers need to check out ASAP?
KennyHoopla feels like a real game changer to me. There's this new collective that I've just come across over here in the U.K. called R U Init? Sad Night Dynamite are really amazing. They [have a] really highly textured, colorful early Gorillaz [sound].
There's this wicked band out of Glasgow called VLURE. They're like apocalyptically rave-y, like a horror movie but a great horror movie.
Another one we had on the show [recently] who I really liked was Hollow Sinatra, and "My Favorite Hierarchy" is the track we had on the show. He's just a great artist who feels really creative.
This interview appeared in issue 399, available here.