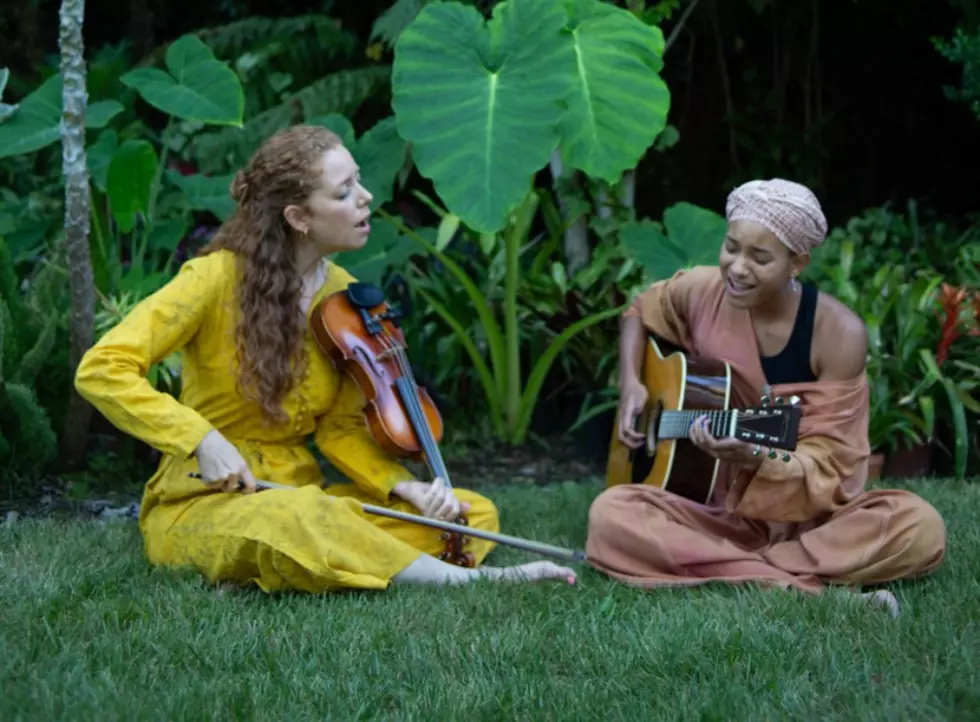 Jahnavi Harrison on WILLOW collab, musical meditation and more
[Photo courtesy of Jahnavi Harrison]
Jahnavi Harrison is a talented musician whose sonic influences span genres. Her recent collaboration with Willow Smith on the 2020 single "Surrender (Krishna Keshava)" and the R I S E EP showcases an all-new side to the kirtan musician and her musical prowess. The co-founder of Kirtan London is a passionate artist who found common ground with WILLOW during a mantra music event. It was destiny that the two met that day, as the collaboration that spawned from that first meeting delivered audiences a mainstream presence of kirtan and an unseen side of the young musician.
The two empowered each other through their differences. As Harrison and WILLOW blended traditional, spiritual and acoustic sounds, their individual talents shined through while creating songs that were uniquely their own. Fans of WILLOW will find familiarity with her exploration of genres, but they'll be surprised to discover just how much goes into the creation of an EP such as R I S E. Especially when it means that two artists of seemingly different musical backgrounds encounter numerous obstacles that are in and outside of their control.
Harrison speaks of the powerful bond the two created in the midst of the COVID-19 pandemic, the release of their first song "Surrender (Krishna Keshava)" as Black Lives Matter protests erupted on a global scale and the peace they offered through music and community. With the need to quarantine several times to reach the completion of R I S E, Harrison highlights the dedication that she and WILLOW bring to their music on an ongoing basis. They came together and embraced their differences to craft a unique and spiritual experience through sound. Through their collaboration, the past, present and future of kirtan appears as vivid as ever, and the possibility for it to reach an even broader audience is imminent.
Throughout your career, you've expressed your musical talents through mantra meditation music, known as kirtan. Last year, you had the opportunity to collaborate with Willow Smith on the single "Surrender (Krishna Keshava)" and later on the R I S E EP. How was it for you to come together with WILLOW to create such unique songs and approach spirituality like this?
Mantra music is something I've been doing for a long time. Since I was a child, I was aware that it could have a wide outreach. When I met WILLOW at a mantra music event, it was exciting to see her enthusiasm toward the music. She's like a light bulb; her entire face lit up, and she held a smile across her face. It was incredible to hear her joyful encouragement toward creating something together.
I remember she said, "I'm really curious to see what happens when we bring our audiences together." Since we have audiences that might not have heard of kirtan, it was inspiring to hear her say that she was excited to collaborate. She told me that her fans are used to seeing her go through various genres of music, so she was certain they'd be all right with us giving our project a try.
When we recorded our first single, it was magical. We only had six hours in the studio because I had to catch a plane back to England, but when we finished it, we were like, "Wow, that was so beautiful." [In] that moment, we realized we had to do something more. I've been grateful to have a new friendship with WILLOW. When we went in there, we knew that it was something new for her. However, there were no expectations to our approach. There was a lot of ease. We took it seriously. It was a meditation for us. 
The R I S E EP is inarguably entrancing, with instrumentation that can only be described as divine storytelling and mindful artistry. What themes were most important to you during its creation?
We started out knowing we wanted to create something that shares sacred sound and the teachings of Bhakti, the yoga of devotion. We were thinking about themes such as life and death, fear, resilience [and] courage, [and] we asked questions like, "What is our true identity? Our true potential? How do we access that? And what is the goal of life?"
That is the purpose of yoga: to explore the goal of life and our deepest potential. When we were thinking about the project, we played some chords that reminded us of dawn and the sunrise. We imagined it would be really incredible if we could record during sunrise and see how that experience impacted the music. In yoga, the sunrise hours are incredibly powerful. While we didn't record during sunrise, its thematic influences of dawn and awakening, as well as where I am going and the clarity of my direction, became central to our first song, "Rise."
What was this experience like for you personally and professionally?
I spoke a lot about how WILLOW was really encouraging and very empowering to me. I did feel a bit out of my comfort zone, [and] I also wasn't entirely sure how WILLOW and I would work and flow together. She's younger than me, so I thought she may have a different approach or place she was working from. My experience was challenging at first, as I found she was quite fearless, and, if she did have fear, she leaned into it bravely. I'm much more cautious. She was so decisive and would steer right into it. Eventually, I learned to surrender to that, which became a theme for me too. I found it exhilarating, and it helped me become more creative and experimental.
I think WILLOW knew I was feeling hesitant, and she knew I was out of my comfort zone. She was so encouraging throughout the entirety of the songwriting process. For me, a lot of my music is traditional and expressed in ancient mantras, so I'm very used to singing in languages like Sanskrit, which is commonly the opposite for other artists. In turn, I think she really appreciated that I slowed her down to process what we were creating. I think we both became a source of inspiration for one another and empowered each other through it all.
All in all, it was a very positive experience and brought a lot of positivity. We knew coming together would bring this music to a much, much larger audience, and we knew it was unpredictable. WILLOW and I had an interesting dynamic, but she's a really old soul. She has so much depth and maturity. She's experienced so much, and, in turn, we were able to offer so much to each other.
As the co-founder of Kirtan London, do you believe that your collaboration with WILLOW has helped the project in any way?
I do. Kirtan London is a project that I helped to found nine years ago, and in those subsequent years, it spawned sister projects in 13 different cities in the world, including Dubai and Sydney. The idea of the project was to create a branded project that people knew they could come to and create the music they were familiar with in other parts of the world. When we thought up a name for Kirtan London, we debated using "mantra" instead of "kirtan," but we wanted the world to know its name. When there's more exposure, there's more familiarity.
Where do you hope to see kirtan in the future? Do you see the genre entering mainstream Western popularity, and do you believe that this collaboration helped bring kirtan to a larger audience?
Considering that this is a Hindu practice, I hope people know that kirtan doesn't belong to a particular region or religion. Kirtan is a Sanskrit word that means "to praise." For context, you wash a shirt repeatedly to get stubborn stains out. So, when utilizing kirtan as a meditative practice, you use it to detoxify your heart of impurities. Kirtan is accessible to everyone, as it doesn't belong to anyone or anything specifically.
In terms of kirtan entering the mainstream, I know it can. George Harrison proved that mantra can reach a mainstream audience, and he even featured kirtan. However, that was a long time ago, but it may be time for someone else to do the same now. We've been through a challenging experience this past year. I know we are all experiencing a level of stress and loneliness, an upheaval in our personal lives. Kirtan is a real source of nourishment and shelter. I don't think that it will necessarily be embraced by everyone, but I do hope that more people are open-minded to try it out. It can offer a space of relief, meditation, beauty and joy.
This interview appeared in issue 395, available here.