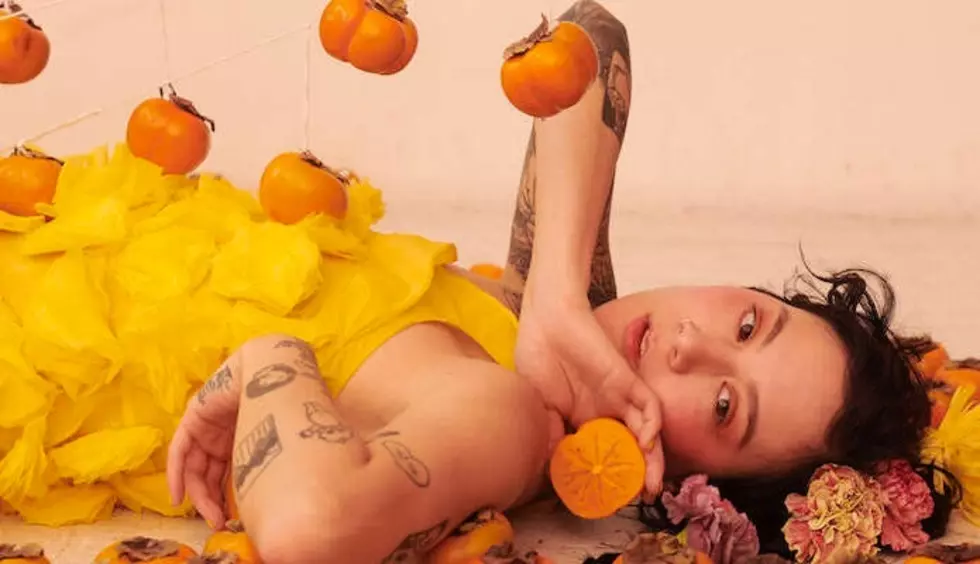 Japanese Breakfast hopes 'Jubilee' will help you preserve your joy
[Photo by: Peter Ash Lee]
Michelle Zauner knows a thing or two about grief. After a few years in Philly indie-emo band Little Big League, the Seoul, South Korea-born Zauner moved back to her hometown of Eugene, Oregon, to care for her mother, then diagnosed with stage 4 gastrointestinal cancer. She died six months later. 
In the wake of that unimaginable agony, Zauner wrote her first two albums as a soloist under the name Japanese Breakfast. In 2016, it was Psychopomp, a gorgeous, shimmering rumination on loss, and in 2017, Soft Sounds From Another Planet, loosely inspired by an obsession with the Mars One project (a privately owned operation with the goal of establishing a human colony on Mars). Of course, her planetary ambition was more of a metaphor—disassociating from her matriarchal trauma to preserve her sanity, looking beyond Earth to establish the most distance between herself and her pain. 
That person is still very much a part of her. This year, Zauner released her first book, Crying In H Mart, a memoir that centers around the loss of her mother, grief and Korean cooking as a means of connection. But she's also releasing Jubilee, her third Japanese Breakfast album, a record unlike any she's made before: It's big, bright and bold, Zauner's first time composing string and horn arrangements, weaving big-band clang into her atmospheric dream pop. In another phrase, it's the sound of coming out of darkness and acknowledging your misery to find your light.
Seated in her bright yellow living room in Bushwick, Brooklyn, New York, show posters and Studio Ghibli art framed behind her, Zauner greets Alternative Press with an excited smile, ready to talk about life's delights. After a year of collective grief in the midst of the COVID-19 health pandemic, we're ready to hear it.
Looking at the Jubilee album cover—it's so yellow, and yellow is the color of joy, curiosity, warmth, openness. Were you thinking in color when writing this one?
I repainted my living room wall yellow while I was in my Jubilee phase. It's the happiest color. My entire discography is hanging on my wall. Psychopomp ended up being very blue, Soft Sounds is very black and red, so it felt like I needed a new color palette. Really warm tones like yellow and orange were very fitting of this record. I knew I wanted to have a very yellow era. Conceptually, I knew it was a warmer record, and I think sonically, it is a warmer record, and I knew it was an album about joy, and yellow is a very joyful color.
[Photo by: Peter Ash Lee][/caption]
Is there any significance in the persimmons on the cover? They are rich, tangy and sweet—a flavor profile that makes sense for Jubilee.
In a lot of East Asian cultures, they'll hang persimmons. They start out as very hard, bitter fruit, and they mature over time and become sweetened, dried fruit. I liked that metaphor: of being a hard, bitter person who's been put on display and that has matured over time and has allowed myself to get sweetened.
You write songs like short stories or vignettes, which makes your memoir, Crying In H Mart, a natural progression, but essays are a totally new medium for you. How has that translation been? To me, it feels like playing acoustically or something. It's raw. In your songs, you can have these big orchestral moments and hide a little.
I definitely feel that way. I've also never written a book before. I was really grappling with my own stupidity and my own limitations as a writer. "I know what I want to say, but I can't quite get there." It's frustrating. With music, it's a little bit more intuitive. I know I can write a record. I've done it before. Of course, I had my own major meltdowns and anxieties about this album, but it felt less intense than writing this book. And it's so lonely to write a book. It was fun to have a slightly more collaborative album than I've done in the past…working with Adam Schatz from Landlady, who played sax on the album, and Molly Germer, who plays violin on all the Alex G records.
You said this album is about joy. And yet your first two, Psychopomp and Soft Sounds From Another Planet, center on grief.
An album theme is allowed to be pretty broad. Soft Sounds was pretty broad—originally, it was a space concept album, and then I just let it be what it needed to be. That album is about disassociating. It's about being in outer space so you can cope with what you just went through. Writing Jubilee, it felt very natural to fling myself to the other end of the spectrum. I'm ready to embrace feeling a bit more. This giant gaping wound that was grief and trauma—it feels like it's healed over a little bit. It still lives with me, and it always will, but I feel ready to tackle a new subject and another part of my life. We're multidimensional people; we're able to experience these different things. I finally just felt ready, after two albums and a big ol' book about grief, to tackle something else, another part of my life that I find really interesting, and to find meaning in those things instead.
Releasing a book and an album around the same time seems like a lot, but I do hope it means there will be less of an inclination to read your album as diaristic—it's the ol' internalized misogyny of thinking women only write to have authority over their own story. You have a memoir if anyone wants to read your personal story. I'm thinking of a song like "Savage Good Boy," a funny takedown of the super wealthy. If it were read straight, it would be like gender-flipped domesticity. Who's this character?
It came from the lyrical line, "A billion-dollar bunker for two." I read about these billion-dollar bunkers that were popping up and being bought up by billionaires. The song really reminds me of a Little Big League song called "Lindsey." I had written that song about a toxic man who coaxed a young homeless woman to live with him. He lists all of these things that he can provide for her, and they become more and more menacing. I'm thinking of the lyrics: "I will have you longing for heirs/I will have you longing." I'd been involved with someone who was a possessive, jealous person, and I was trying to write from his perspective. "Why is this person like this? I've done nothing to make them feel that way." I was trying to figure out how someone like that could validate their behavior. It became an interesting way for me to explore that type of villainy. In this song, it's similar: the way that billionaires validate their hoarding of wealth is something that, in some small way, we can relate to. Everyone has a moment where they experience greed. It's very human. But I wanted to write from that perspective, of this man who's coaxing this young woman to live with him in this bunker. The world is burning outside. There's climate change. Land is going underwater, and he's validating what he did. "I did this out of necessity. This is what you have to do to win the game. This is what you have to do to survive." That's how I imagine those people think. I thought it would be fun to take on that character as a cautionary tale.
What do you hope fans get from listening to Jubilee? Is there any particular messaging you hope comes across?
I hope people experience some joy, that they think of joy as a precious asset, something to look out for in your life, to make decisions that can help you sustain your own personal joy, preserve it and walk away from situations that hinder it. It's something you have to fight for. That's just a part of life, especially right now. It's something we have to cherish and make sure we protect, for ourselves.
You can read the full Japanese Breakfast interview in Issue 393, available here.