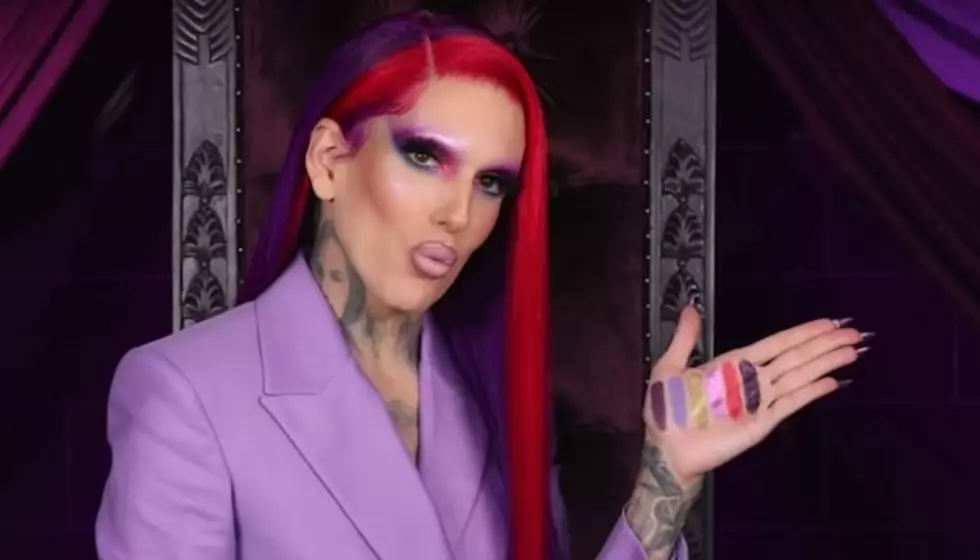 Here's why Jeffree Star is being accused of stealing his Blood Lust designs
[Photo via YouTube]
Some people are calling out Jeffree Star for what they believe to be him stealing packaging from another makeup company. As you may know, Star launched his highly-anticipated Blood Lust collection earlier this year. The hexagonal box of the eyeshadow palette was unlike anything Star had done before.
Well now, some on the internet believe that's because Jeffree Star stole the concept from Lorac's The Royal holiday collection from 2014.
Jeffree Star launched his Blood Lust collection back in February. It is the third that Star has launched after his Blood Sugar and Blue Blood collections.
When Star revealed the eyeshadow palette, fans were in awe at its beauty. The 'crushed velvet' hexagonal box featured gold detailing and maintained a theme of royalty throughout. Well, some makeup aficionados have now noticed that it looks very similar to a 2014 Lorac collection.
The Lorac collection came in a red velvet hexagonal box, with gold detailing and was royalty themed. It is to be noted that Lorac's box was not an eyeshadow palette. The item was a collection of different products for the whole face.
It is also to be noted, that Jeffree Star mentioned during the Blood Lust reveal that he chose the hexagonal box in order to protect the specific shadow shades from breaking. The extra corners are able to provide a barrier and cushion the inner contents.
"When creating this I said I didn't want to create a square unit carton. I wanted to create a buffer, and almost like a bumper so even if there's no bubble wrap, even if there's 20 million bubble wraps around this, I wanted to make sure that you had a palette that when you opened it and whether you throw the box away or you keep it, your shadows were intact."
But, some people are still angry and accusing Jeffree Star of ripping off Lorac.
A recent Reddit post outlined the theory an even noted that in Shane Dawson's The Ugly Side Of The Beauty World YouTube video with Star, the palette is shown at the 22:04 mark. This allegedly indicates that Star knew of the Lorac item and willingly chose to rip it off.
The internet seems to be a bit split about the theory, but nevertheless, people have some things to say.
One user noted that a main issue with this coincidence is that if Star did rip off the Lorac item, then he is a hypocrite. Jeffree Star called out Kylie Jenner in 2017 for using similar packaging to his.
Jeffree Star has not responded to the issue. He's most likely spending his time with his two newest puppies are planning another Cash App giveaway.
Do you think Jeffree Star stole his packaging idea form Lorac's 2014 holiday collection? Tell us in the comments below.
[envira-gallery id="194688"]