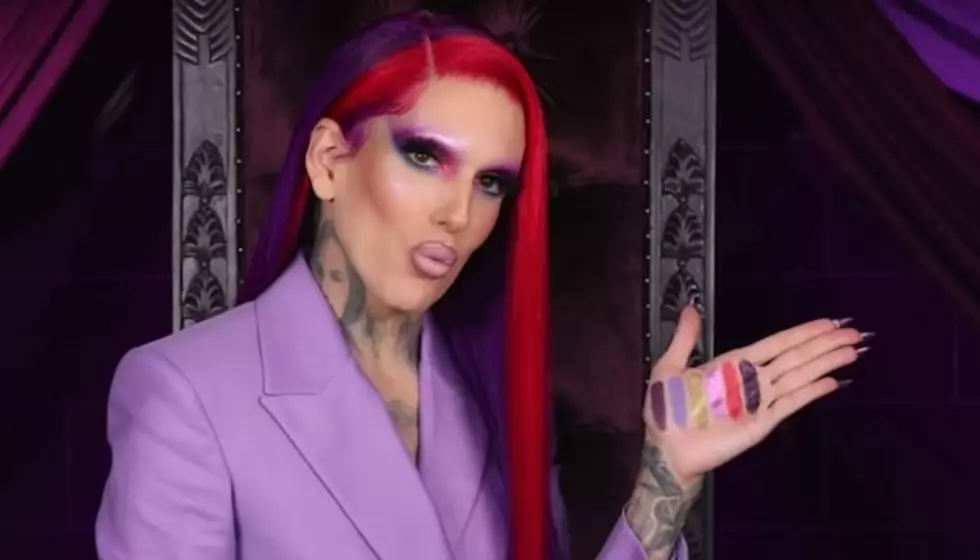 Jeffree Star Blood Lust collection reveal channels high-end, vampy style
[Photo via YouTube]
On Feb. 10, Jeffree Star teased his much-anticipated Blood Lust palette. Star stated that the full reveal would happen the next day and here we are. In a new video, Star unveiled the palette and associated items for the third installment in the Blood collection.
The makeup mogul had a rough start of the year going through a breakup and having to cancel a tour in Europe, but Star is still making moves.
After making a post that said "Everything happens for a reason," Star dropped the news about his upcoming palette. He says the collection "Blood" collection "changed his life."
Next, introduced his new cosmetic creation with the world.
Star's first release of the Blood family was Blood Sugar two years ago. The palette consists of eighteen different pigments, most of them being different shades of red.
The next product in the line is Blue Blood, which dropped March 29, last year. That palette also consists of eighteen shades surrounding the color blue.
Now, Star has finally shared all of the juicy details about the newest addition to the Blood family.
For starters, Star begins the video by saying 2020 will be the biggest year yet for Jeffree Star cosmetics. This is due to them finally introducing mascara and liquid eyeliners and well as all-new lip products.
The new Blood Lust palette consists of 18 new shades. Star describes the collection saying they had to do something sickening.
"It's teetering on the edge of like, vampire, love, sex, devotion and it's just all about passion." Star then says this is one of his favorite packagings he's ever created.
Star also makes sure to address the problem with many eyeshadow palettes that break during shipping.
"When creating this I said I didn't want to create a square unit carton. I wanted to create a buffer, and almost like a bumper so even if there's no bubble wrap, even if there's 20 million bubble wraps around this, I wanted to make sure that you had a palette that when you opened it and whether you throw the box away or you keep it, your shadows were intact."
The packaging is also very different than anything they've done before and features real velvet fabric. It also features a new jewelry clasp opening.
"This is a very eclectic palette. You see, there are all different tones of purple," Star says. "There's also a very big hint of teal, a hot metallic red."
Star then goes on to discuss that the palette also features new formulas.
Okay, now what I'm most excited about this palette is that there are brand new formulas that I have never made before. I'm sure you guys have already spotted a few of them. They are so wet looking on the lid [...] Oh my God. It's so good and it's very highly concentrated. It looks like diamond."
The names of all 18 shades are below.
Your Majesty, Take The Crown, Deviant, Beauty Sleep, Wet Jewel, Royal Pain, Dungeon, Scandal Water, Sworn Enemy, Pink Magic, bleeding Heart, Executioner, High King, Vivid Mood, Monarchy, Blood Queen, Vile Serpent and Betrayal.
The Blood Lust collection is available Feb. 21 and will the palette will retail for $54.
Next, Jeffree Star unveils the five new lip glosses that are part of the collection. The names are Iridescent Throne, Lord Star, Sickening, Sorcery and Wizards Glass. Each lip gloss will retail for $18.
A Jeffree Star website exclusive is the Extreme Frost highlighter. The signature highlighter formula is once again prevalent this time in the purple shade known as Chocking On Ice. The Extreme Frost highlighter retails for $50.
The last makeup item in the collection is the Mini Purple Velour Liquid Lipstick Bundle that features eight new colors and retails for $52.
Jeffree Star also introduces a ton of new fashion items and accessories as part of the Blood Lust collection.
A purple Crown Hand Mirror will sell for $30. The Lavender and Purple Glitter Star Hand Mirror is slightly smaller and retails for $25. For you marijuana lovers out there, Star introduced the Violet and Mauve 63mm Grinder's that will only cost $20. If you can't stand paper straws, Star has the solution for you with the Purple Metal Straw 4-pack available at $19.99.
The next bit of the collection consists of clothing items. Star created a $45 Purple Cross Body Bag. With it being winter, you might be more inclined to get something to keep you warm. There's also the $45 Blood lust Windbreaker and $60 Blood Lust Bomber Jacket. If you're having a bad hair day or just plain love hats, there are also Purple and Lavender Crown Dad Hats for $25.
As stated, the Blood Lust collection will be available on Feb. 21 here. Watcht he full reveal video below.
Tell us what you think of Jeffree Star's new Blood Lust collection in the comments below!
[envira-gallery id="194688"]