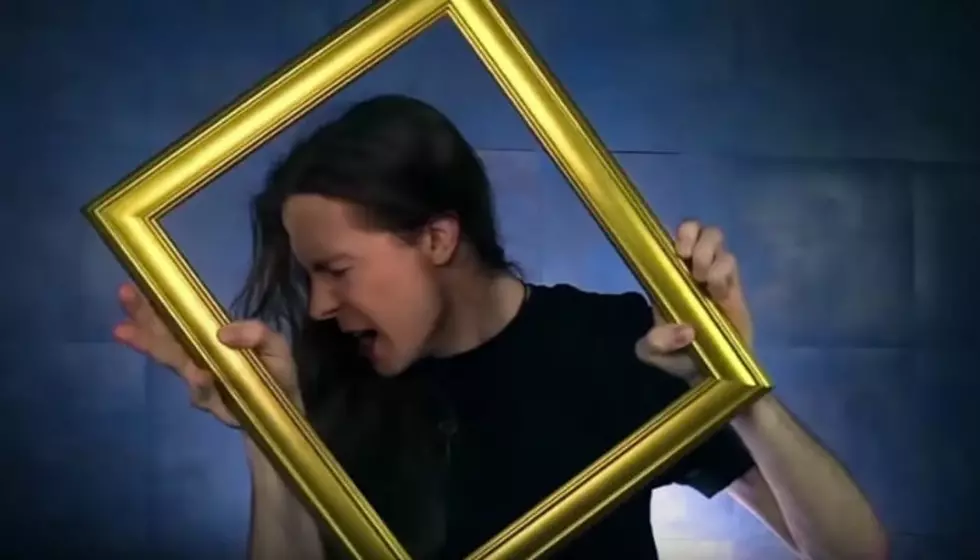 Jered Threatin's true identity, musical history exposed
[Screenshot via YouTube]
"I feel like I won the lottery or something," opines longtime Abigail Williams frontman Ken Sorceron on Facebook today. "Man this explains so much..."
The musician is referring to the revelation that Jered Threatin joined his black-metal band back in 2010, a once-forgotten point now surprising even to the group's leader. "The other day I literally thought to myself that he looked suspiciously a lot like the dude," adds Sorceron. "[B]ut then I thought there was no way that was him but it's actually him."
Yet it goes so much deeper. For Jared Threatin—the man who fronts eponymous metal act Threatin, and who made headlines this week after faking a sizeable online fanbase (along with a fake record label and fake booking agent) to secure a European tour under the notion of false presale numbers—has a musical history under his true identity that stretches back for years.
In fact, and perhaps unsurprisingly, Threatin isn't even his first band. Nor is it the first act for which he may have employed some of his reportedly underhanded promotional tactics, as uncovered in an investigation by MetalSucks.
Threatin's real name is Jered Eames, and he previously spearheaded black metal project Saetith in his small hometown of Moberly, Missouri. (He's currently 29 years old and lives 80 miles from Los Angeles in Hesperia, California.)
Jered appears to have been the sole member of Saetith, as well, mirroring that of his drive to perform all instruments on Threatin recordings. (The musician defended his reasons for playing all the parts himself as a necessity forced by time constraints, in addition to his own musical enjoyment, in a series of since-deleted YouTube videos.)
But playing live metal requires more bodies, even if the gig's booked under false pretenses. So Jered recruited bassist Gavin Carney, guitarist Joe Prunera and drummer Dane Davis for Threatin's farcical European jaunt, the latter two qutting mid-tour once Jered's deceitfulness was exposed. Davis spoke out in a video message Tuesday, saying he didn't know of the tour's dishonest origins until the news broke.
Threatin's "tour" kicked off Nov. 1, and that's when venue owners first started noticing something strange about the band. Namely, the group would claim to have sold hundreds of advance tickets for the gigs, misleadingly assuring promoters they could draw a crowd across the pond. Of course, come showtime, no such attendees would materialize.
And Jered never actually performed on any Abigail Williams recordings, though Sorceron affirms the musician did offer some writing assistance on many of the basslines that appear on the band's second album, In The Absence of Light.
It looks like Jered essentially sat in with Abigail Willaims during a week-long studio session, based on social media posts. Still, Sorceron maintains he played all the bass parts himself on the finished album. But what about Jered's old band?
A 2010 article from Blabbermouth reported that Saetith had signed to a U.K.-based label called Rising Records. But it doesn't look like any Saetith material ever emerged from the supposed deal. There's also an old Saetith EPK.
And Jered has a personal Twitter account that's currently set to private. But the scrupulous musician spoke up yesterday on Threatin's own Twitter account, indicating that he would release some sort of statement on the matter today.
The message continues, "If you are reading this, you are part of the illusion." Undoubtedly, Jered is doubling down on his deception, repositioning his stunt as some sort of social experiment instead of the very large-scale fail it actually was.
Perhaps that's why many are comparing the musician to Tommy Wiseau, The Room director and awkward entertainer who claimed the serious intentions of his cult B-movie were always meant to be comical once folks started laughing.
As for Sorceron, he's apparently tickled at his chance encounter with Jered Threatin. On Facebook, the Abigail Williams frontman remembers "one of the things that made us send [Jared] home" was his gross overuse of soy sauce packets.