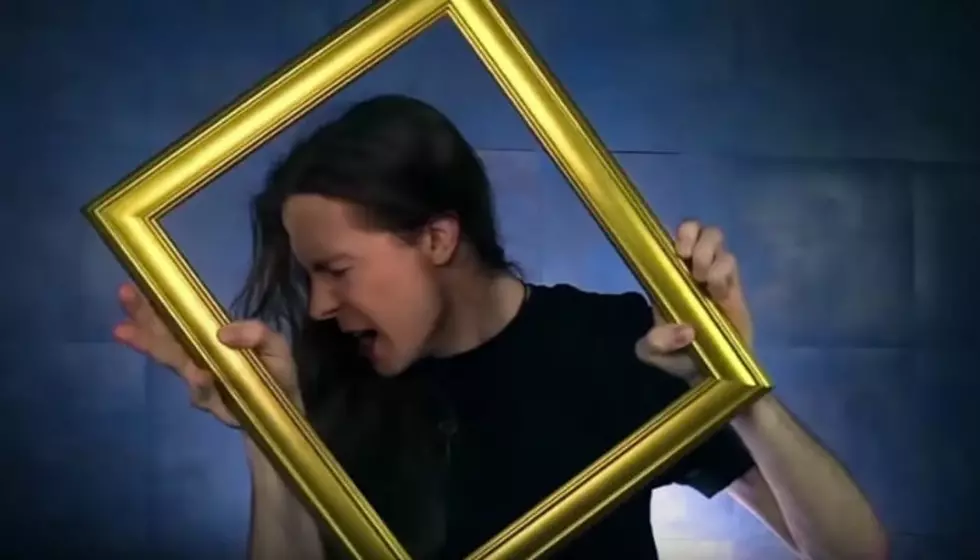 Former Threatin drummer breaks silence about fanbase-faking band
[Screenshot via YouTube]
Calling it a "surreal, strange thing that has happened" in a new Facebook video message, ex-Threatin drummer Dane Davis is speaking out about Jered Threatin, the Los Angeles-based metalhead who faked an online fanbase and recruited the percussionist for his eponymous metal act Threatin to mount a European tour that no one's attended.
As reported by MetalSucks, both Davis and guitarist Joe Prunera quit the band mid-tour once they found out about Mr. Threatin's deceitful and promotional practices. (Bassist Gavin Carney is apparently sticking it out with the band.)
In a new statement, Davis gives his first public update on the situation, claiming that he and the other Threatin backing band members had "no idea" of the true nature of the tour. Read the statement and see the drummer's video, below:
"Hi everyone, I just wanted to give you all an update on the Threatin tour. You've probably heard the news that came out Friday. I'm still trying to take everything in. It's been overwhelming these past couple days. I appreciate everyone's patience during this time and want to say thank you to everyone who has reached out with support for Joe, Gavin and myself. I can't thank you enough."
Threatin's "tour" started this month, and that's when venue bookers first started noticing something strange about the act. Namely, the band would claim to have sold hundreds of advance tickets for the shows, falsely assuring promoters they might draw a crowd across the pond. Of course, come showtime, no such attendees would materialize.
And that's not all. Jered Threatin's also accused of creating and/or buying fake YouTube comments and social media likes for the band, in addition to the slew of false Facebook RSVPs he obtained for the group's shows. All seemingly in an effort to fake a massive online presence and launch a U.K. tour for, essentially, no audience members.
But perhaps the most rewarding result of Jered's gaudily narcissistic and misguided quest to be a rockstar were the hilarious YouTube clips of the musician interviewing himself. Sadly, these seem to have been deleted from YouTube.
Sound off in the comments and let us know what you think.