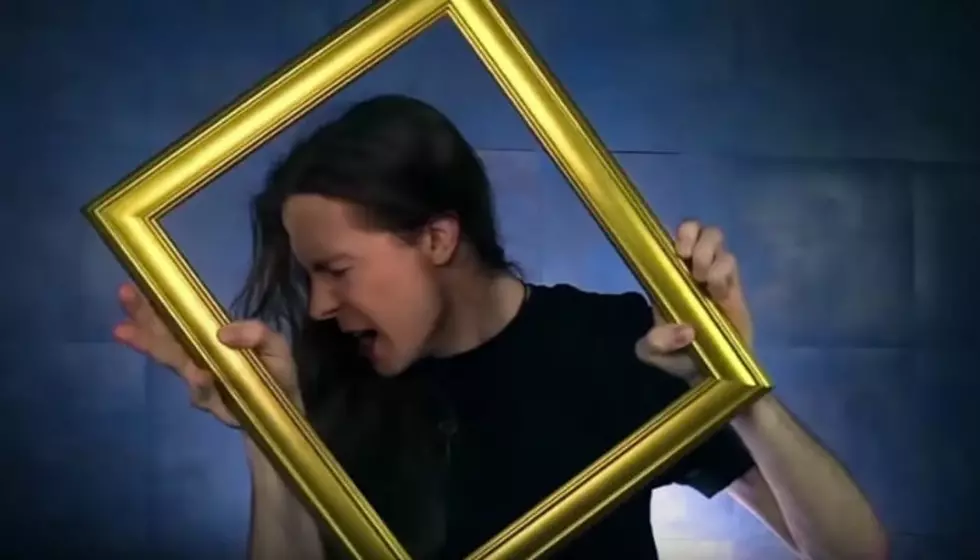 Jered Threatin claims he tipped off the media to his own hoax
[Screenshot via YouTube]
He created a fake label and a phony booking agent to pull off a European tour that no one attended, and after a weird and absolutely insane turn of events, Jered Threatin gained viral fame for all the wrong reasons.
Now, the fraudulent vocalist is claiming he was the one to anonymously tip off the media to his entire web of lies.
In an interview with BBC, Jered Eames (or Jered Threatin as most know him) has opened up about the elaborate hoax behind Threatin; the band that faked Facebook comments, YouTube views, publicity companies, and more.
BBC were invited to the musicians home where he revealed the intricate details to what he later went on to call "the illusion".
During the interview Eames revealed notebooks full of passwords to fake accounts and the eight burner phones he used to create those accounts.
Eames also revealed a series of emails he'd send out under the alias "E. Evieknowsit" that were reportedly sent to anonymously tip off the media to his entire scheme.
"URGENT: News Tip
The musician going by the name Threatin is a total fake. He faked a record label, booking agent, facebook likes, and an online fanbase to book a European tour. ZERO people are coming to the shows and it is clear that his entire operation is fake," he wrote, including links to all his phoney websites.
Please don't let this man fake his way to fame... Please Expose him."
The first email is dated Nov. 2, one day into Threatin's Breaking World Tour. Jered claimed to have sent the messages to numerous reporters' emails that he kept in a massive spreadsheet.
While bandmates weren't looking, Eames also states he was on his phone under his various alias to encourage the controversy.
"I manufactured my own destruction," he tells BBC. "My idea was, how am I going to fill these empty rooms? I'm going to fill them with eyes from the digital world. That was the objective from the beginning."
He went on to elaborate:
"If a band approaches a venue and says: 'Hey, we wanna play this venue,' you're going to get ignored. All it has to do is look like it's coming from a booking agency - doesn't even matter what booking agency, even a fake one - and then you'll get talked to and you can get things booked. Simple as that."
The fake frontman claims to be meeting with movie producers, record labels, and booking agents who are interested in him after the whole ordeal.
"There is no villain character anymore in rock music, or really in all music. I'm trying to vilify myself."
Eames' brother Scott chimed in on his brother's explanation of the events.
"He's a master manipulator. I want to be the voice of reason here. This is like every other profession and you've lied to everyone in your profession, so I don't know where he's going with this. He can be the internet sensation if he wants, but he's not going be the musician that he wants to be."
Jered seems to believe otherwise, claiming he came home to "thousands of CD sales" and a "cult following".
Does Eames have any regrets regarding this whole ordeal? Apparently only one:
"I just would have gotten booed off stage, or bottled, and it would have been a beautiful piece of stage art. It's like, I show up and I play for no-one. And then when there's an audience, I don't play for anyone."
Do you think Jered is simply continuing his web of lies or is the truth finally coming to light? Sound off your thoughts in the comments below.
[envira-gallery id="194728"]