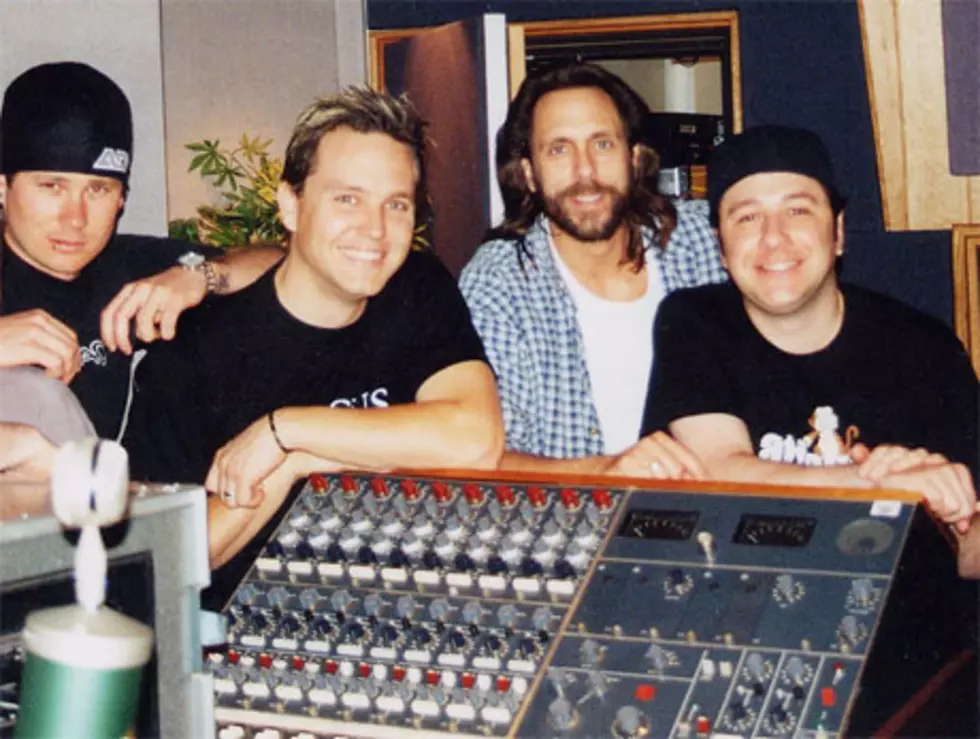 The List on AP: 9 classic albums Jerry Finn left his mark with
This past August, the music world lost one of its most talented and innovative rock producers in Jerry Finn, who suffered a massive brain hemorrhage and was hospitalized for more than a month before being taken off life support. Finn's list of production credits is extensive, to say the least, and he had a hand in many true classics in AP's world. Allow us to take a look back and honor the man behind some of your favorite records. --Scott Heisel
GREEN DAY
Dookie (REPRISE; 1994)
As if we need to remind you of the importance of this album. It's the album that launched a thousand bands (and then some), and though Finn didn't produce it-that was handled by Rob Cavallo, who has produced every Green Day album since (except for next year's)-he was responsible for mixing the legendary record. Anyone who heard Green Day's first two records knew the breakout potential was there, but it took Cavallo and Finn to draw it out.
JAWBREAKER
Dear You (DGC; 1995)
Cavallo and Finn worked together again a year later on another Bay Area trio's major label debut. While Jawbreaker's Dear You didn't shift nearly as many units as Dookie, it did receive landmark punk album status years later. The duo took frontman Blake Schwarzenbach's intensely literal (and literary) tracks and worked plenty of studio magic on his voice, much to the dismay of 40 ounce-swilling East Bay residents, but to the joy of future members of Fall Out Boy, Bayside, Set Your Goals, the Ataris and more--all of whom have covered, honored, or otherwise ripped off the band's sleek pop-punk sound.
RANCID
...And Out Come The Wolves (EPITAPH; 1995)
That same year, Finn was behind the board's for yet another Bay Area punk band's magnum opus, only this time the band were far dirtier and grittier than Green Day and Jawbreaker combined. Finn dug through the layers of grime and pulled out Rancid's most well-known and highest-selling album, which contained such alt-nation hits as "Ruby Soho," "Time Bomb" and "Roots Radicals." Who knows where Tim Armstrong would be had Finn not been able to coax the pop songwriter out of him?
THE SUICIDE MACHINES
Destruction By Definition (HOLLYWOOD; 1996)
In 1996, Finn was enlisted to help polish yet another punk band drafted to a major label, Detroit ska-punk combo the Suicide Machines. While he was only in charge of the album's mixing, he definitely left a mark on the disc's gritty-yet-poppy sound, helping turn the 16-track album into a watershed moment for ska-punk, one that is still fawned over (and unsuccessfully imitated) more than a decade later.
SMOKING POPES
Destination Failure (CAPITOL; 1997)
After they had a minor hit with "Need You Around" off 1995's Born To Quit, Capitol enlisted Finn to make this Chicago mope-punk foursome produce on a wider level. The good news was that Finn's production expertise led to Smoking Popes' finest album to date, with gorgeous rock shoulda-been-smashes like "Paul," "Pretty Pathetic" and the absolutely devastating "I Know You Love Me." The bad news was that the album went absolutely nowhere commercially, and the band eventually broke up (then reunited in 2005). This album is truly their pinnacle, however, with Finn perfectly capturing frontman Josh Caterer's incredible tenor croon.
SUPERDRAG
Head Trip In Every Key (ELEKTRA; 1998)
Probably the most obscure band and album on this list, Jerry Finn deserves all the credit in the world for helping push Tennessee fuzz-rock quartet Superdrag out of their three-chords-and-a-cigarette neo-punk on 1996's Regretfully Yours and into some seriously lush psychedelic rock that was a simultaneous throwback to the Beatles' Revolver and My Bloody Valentine's Loveless (it's in there, just listen to it) on '98's Head Trip In Every Key. The thick, creative, heavily orchestrated tracks on the album became the band's finest hour (and, of course, made the album a commercial failure), and it's no question that Finn had a huge hand in allowing the band the freedom to experiment in what they probably knew would be their final studio time paid for by a major label. The effort is nothing short of genius, and one of Finn's finest moments as a producer.
BLINK-182
Enema Of The State (MCA; 1999)
Notice a trend yet? Finn's bread and butter during the past decade was helping rough punk bands refine their sound, and helping them discover the power of a good vocal hook. Blink's landmark album was guided by Finn, and launched the band into the upper stratosphere of pop music. The band loved him so much that he was tapped to produce the band's follow-ups, 2001's Take Off Your Pants And Jacket and 2003's Blink-182. If anyone was to be considered an honorary fourth member of Blink, it would've undoubtedly been Finn.
ALKALINE TRIO
From Here To Infirmary (VAGRANT; 2001)
Finn was tapped to mix the Trio's first disc on mega-indie Vagrant, which landed the video for "Stupid Kid" on MTV and scored the band giant tours with the likes of Blink-182. Finn's uncanny ability to spit-shine vocalist/guitarist Matt Skiba's blood-soaked missives earned him the production chair for the band's next two releases, 2003's Good Mourning and 2005's Crimson.
AFI
Sing The Sorrow (DREAMWORKS; 2003)
AFI's major-label debut was hotly anticipated by the underground, and even more so by AP-heck, we even named it our Most Anticipated Album of 2003. The resulting disc blew the doors off goth-punk as we knew it, and turned frontman Davey Havok into a bona fide rock god. None of it would've been possible had Jerry Finn not manned the boards and polished the band's previously metallic sound into spike-covered punk-rock candy cane.