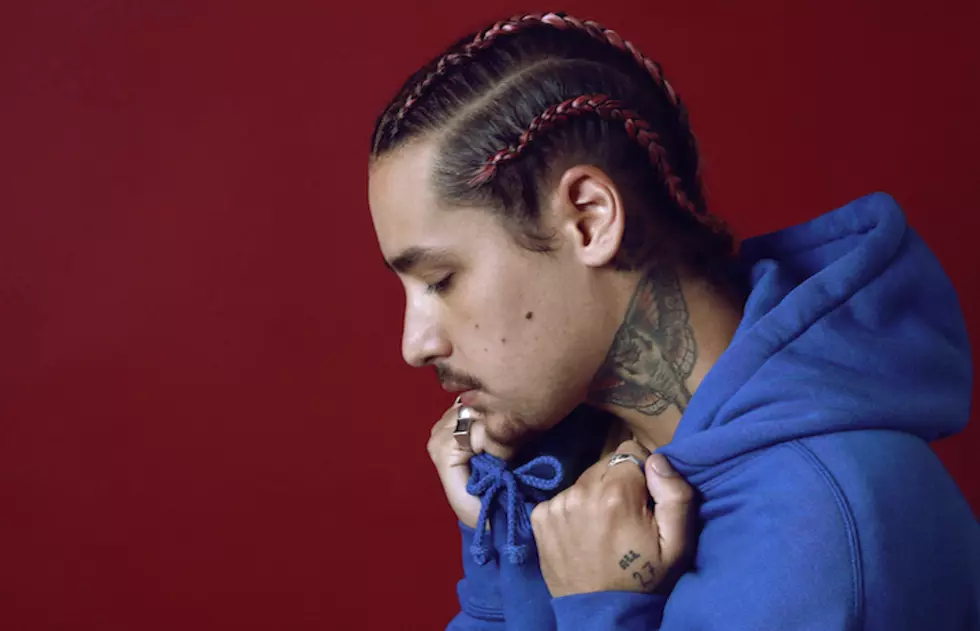 Hip-hop artist Jez Dior opens up about his, and his father Steve Dior's, struggles with addiction
From the outside, you'd think that Jez Dior has lived something of a charmed life. The up-and-coming, Los Angeles-based hip-hop artist—whose breakout track, "Sober," has clocked more than a million streams on Spotify—is the son of British rocker Steve Dior, a veteran guitarist best known for playing with members of the Sex Pistols and the New York Dolls.
Jez's debut album, following a string of mixtapes and singles, arrives early next year on Epic Records. But life hasn't always been easy for the musician, who grew up partly estranged from his father due to Steve's drug addiction, a plight that nearly ripped his family apart. In fact, Jez has been made to confront addiction issues, both his father's and his own, in times recent and past.
"One of the toughest things I ever did was, last December, I went to London and helped [my father] get clean for a month," Jez tells AP, divulging the nitty-gritty details of a drug habit gone awry. "Like, having to carry him to the bathroom in the middle of the night. Just crazy shit. He lived here with me for the early years of my life, but then he relapsed on heroin and went back to London, and he and I have sort of rekindled our relationship in the last few years."
Jez unpacks his patrilineal thirst for intoxication, if not his dad's '70s punk leanings, on "Sober," the candidly neurotic but smoothed-out hip-hop track that sounds more like Post Malone or Machine Gun Kelly than "God Save The Queen." A fitting introduction to the sound of Jez's millennial amalgamation of rap (and rock) influences, the hit tune documents the musician's first foray into the savage heart of the entertainment industry.
"'Sober' is about the first year that I moved to Hollywood," says the 25-year-old. "I'm from Southern California, but moving into Hollywood was just a whirlwind for me. The first year that I lived here, I had tons of problems just trying to stay sober, literally. I was going out every night, meeting new people and sort of having to pick my friend group out here. It was an interesting thing to maneuver. It's really about my struggle with that, to be completely honest."
Thankfully, the song also represents a turning point for Jez's musicality and the start of a fruitful artist-producer relationship. "Another reason why 'Sober' is so special for me is it's one of the first songs that I wrote with this dude, Chris Wallace, that I work with pretty much every day now. That song sort of unlocked something for us; it set everything off for us in creating the rest of my album. After we did that, he and I knew we had something together creatively."
But what turned the son of a punk-rocker into the next big thing in hip-hop? Although Jez was surrounded by the sights and sounds of his father's rock lifestyle from an early age, the attendant tunes didn't exactly thrill him. "My dad definitely influenced me, musically, but it wasn't until I was 12 years old that I really fell in love with hip-hop. Growing up, I was constantly listening to the [Rolling] Stones or Oasis or the shit that my mom and dad were listening to."
It took one massive rap artist to light Jez's fire: "I didn't have any passion for doing [music] until I heard Eminem," he says. "It was around the same time that my dad left that I heard Eminem for the first time, which is actually kind of late—The Eminem Show was the first hip-hop album that I heard. I went back and listened to his whole discography, and that's when I fell in love with hip-hop. I mean, my dad influenced my life in many ways, but first hearing Eminem and relating to his lyrics is what made me fall in love with hip-hop."
The Eminem influence shows in Jez's work, but it's definitely not front and center. A lifetime of disparate influences, plus the unfortunate familial heartache and addiction hurdles, shape the rapper's music into an original blend of West Coast hip-hop that's cooly singular. In addition to the brutally honest "Sober," a handful of other Jez tracks have been making the online rounds, paving the way for the musician's upcoming full-length.
A cut like the reflective "2 Birds" feels nearly a natural conclusion to "Sober," the rapper still drinking, still partying, but taking stock of the situation with a newfound clarity (and probably a closer group of friends). Meanwhile, something like "Late Night" takes a completely different tact, the sultry slow jam finding Jez examining his carnal intentions, the subject matter more typical of hip-hop's often chauvinist braggadocio.
"That's one of my favorites," Jez says of "Late Night." "I really fuck with that joint. It's just fun, you know?" The titillating tune interpolates the 1996 hook of "My Boo" by Atlanta's Ghost Town DJ's, creating a groove that's immediately familiar but stacked with Jez's fresh verses and driven musical ingenuity. "There's probably a lot of kids that are hearing the song that don't know the original," Jez admits of the steamy song that's another side of the "Sober" coin.
And this duplicity is perhaps what makes Jez such an interesting artist. He wasn't raised on the streets, but he knows the hard knocks of life. He's felt the pain of addiction, death, devastation—but he'll still party with you until the sun comes up, drinking all night and getting rowdy. (Then he'll sober up and write a song.) His father may have musical connections to the snarling, English punks who proudly proclaimed there's "no future," but Jez's future looks bright.