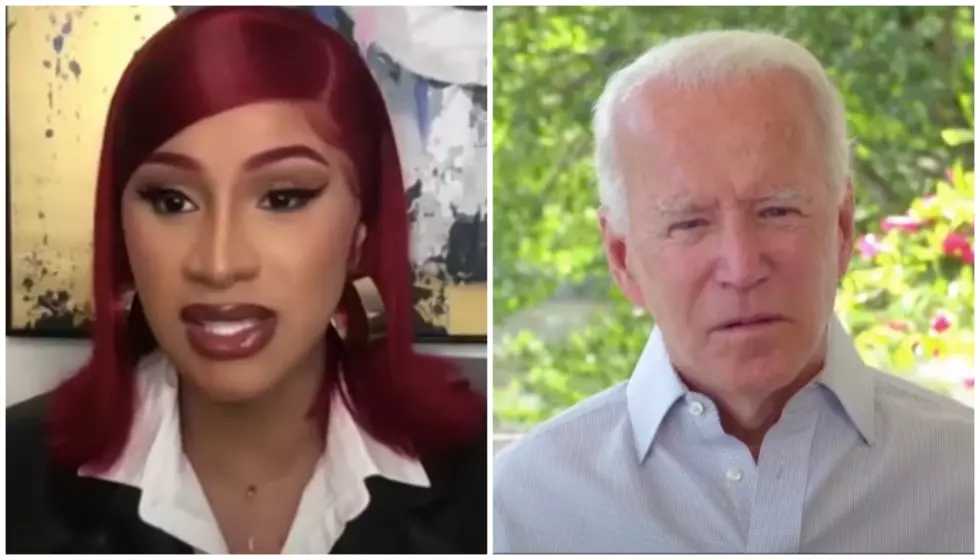 See Cardi B interview Joe Biden on racial equality, Trump and more
[Photos via YouTube]
This week, Cardi B and Joe Biden took part in a socially-distant interview to discuss the upcoming 2020 presidential election.
Along with Donald Trump, the duo discussed coronavirus, racial equality, the importance of voting and more in the new interview.
Thanks to Elle Magazine, presidential candidate Biden and the "WAP" vocalist have come together to talk about America's pressing issues in a new interview. To start off the conversation, Biden asks Cardi B what her main interest is in terms of the upcoming election. Cardi B first addresses the ongoing pandemic and Trump's response to coronavirus and other global issues.
"I just want Trump out," Cardi B says. "I just feel like his mouth gets us in trouble so much. I don't want to be lied to. You know, we are dealing with a pandemic right now, right? I just want answers, I want to know when this is over. I want to go back to my job and be able to go outside."
She further addresses Trump's past statements regarding coronavirus safety.
"I don't want someone to lie to me and tell me that it's okay not to wear a mask, that everything is going to be okay," Cardi continues. "I want a president to tell me what the steps are for us to get better, to tell me, 'This is why it is taking so long, this is why other countries are doing better than ours.'"
The duo also discusses how important voter turnout is for this upcoming election. Cardi B has previously spoken out to her fans about registering to vote. In the interview, Biden shares that Cardi B's generation and her fans' generations are incredibly important for the 2020 election.
"The vote matters, it matters a great deal," Biden says. "Your generation and the young millennials beyond that, they can own this. They can own this outcome and they can own what happens in this next election. They are the ones that can change things dramatically if they show up and vote."
Biden then asks Cardi B what her fans are most concerned about. Cardi B shifts the conversation to talk about free college education, free healthcare, the lack of after school programs and more. They also discuss the demand for equality and change amid the Black Lives Matter movement.
"We are not asking for sympathy, we are not asking for charity, we are just asking for equality," Cardi B says. "That is all. I feel like everything that people are asking for is getting interpreted in a very different way. No, it's simple, we just want justice. We want to feel like Americans."
Biden goes on to say that the current generation is why he has so much hope about change happening in America.
"The reason I am so optimistic is because of your generation," Biden says. "You're the smartest, best-educated, least prejudice and the most engaged generation in American history. And you're going to change things."
Watch Cardi B and Joe Biden's full interview below.
What are your thoughts on Cardi B and Joe Biden's new interview? Let us know in the comments below.