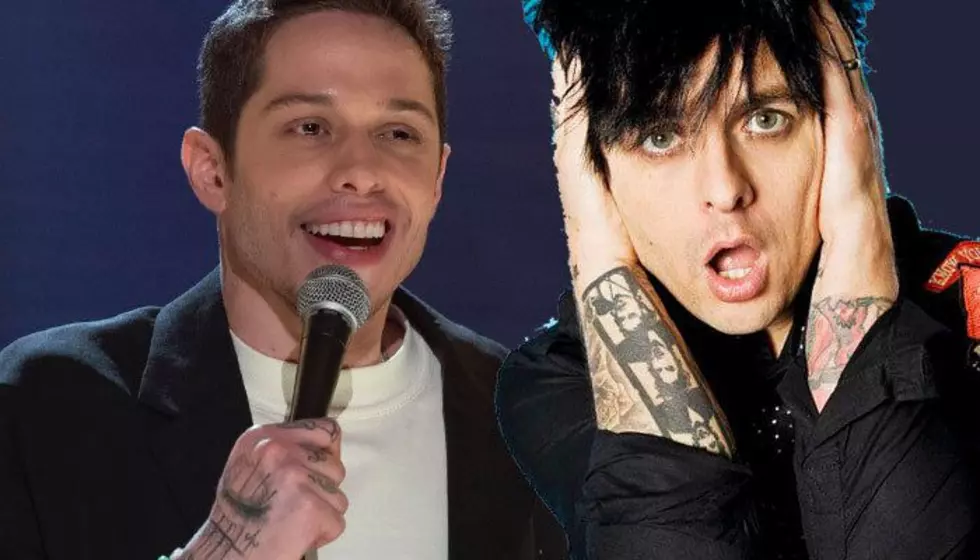 15 times comedians joked about musicians in stand up
Comedians and musicians are more similar than you may think. They both strive to make their audience think, feel and see things in new ways, love saying "fuck" a lot and travel in busses across the country, consuming a questionable amount of gas station food and Starbucks coffee.
Below we've found some of our favorite comedians who shared their thoughts on influential rock, metal and punk bands. 
Pete Davidson – Green Day
In his 2014 bit "20-Year-Olds Are Like Green Day," Pete Davidson compares his sex life to Green Day. Fast forward to the three-minute mark to see exactly what the SNL cast member and stand-up comedian means by that. This joke feels pretty relevant given how close Davidson is to the music community and his friendship with Machine Gun Kelly. In fact, MGK even tried stand up as a guest on one of Davidson's shows. If you like this bit, Davidson released Netflix comedy special Alive From New York perfect for fans of this joke. 
Chris Gethard – Morrissey
Have you ever been to Bonnaroo and gotten so high and self-aware, you were motivated to get a Morrissey tattoo? Comedian Chris Gethard had this exact experience and uprooted his whole life after coming back to New York City from the famous Tennessee music festival. Check out the full story on how he has more than one Morrissey tattoo on his body. He's definitely one of the Smiths' biggest fans and shares his admiration for both the band and singer on several podcasts and interviews.
John Mulaney – Mick Jagger
When John Mulaney was a Saturday Night Live writer, he had the opportunity to meet celebrities and musical acts weekly. In his Netflix comedy special Kid Gorgeous, he talks about meeting Mick Jagger of the Rolling Stones, who wasn't a fan of the comedian's jokes. Mulaney also does a perfect impression of the British rock star. In other jokes, Mulaney also discusses his love for Steely Dan and even took Davidson to their concert. 
Kyle Kinane – Screeching Weasel
Hailing from Chicago, Kyle Kinane is a true punk at heart and got his start in entertainment through Screeching Weasel. After seeing them live at a bar, he bought their second album, Boogadaboogadaboogada! After learning all the tracks on this album, he formed his own band and pursued stand up after he learned he could make people laugh in between songs. You can catch many of his music musings throughout all of his recorded specials available on Spotify. 
Marc Maron – Jack White
Music fan and comedian Marc Maron is known for his blunt takes on life and current events in both his stand-up sets and in his popular podcast WTF With Marc Maron. He interviews musicians and celebrities weekly on his hit show, and he'll often share stories from the podcast on comedy club stages. In this bit from his special Thinky Pain, he explains how guitar player/vocalist Jack White had a music setup so cool, Maron almost blew thousands of dollars on a tube amp for his record player. If you enjoy this bit, feel free to check out this joke about Maron as he explores a record shop and tries to understand the music behind Captain Beefheart. You can also check out his brand-new comedy special End Times Fun available on Netflix. 
Robin Williams – Bono of U2
Robin Williams will always be one of the most famous and hilarious people in pop culture. In his 2009 comedy special, Weapons Of Self Destruction, Williams closes out his show by doing some of his world-famous impressions. One small impression happened to be U2 frontman Bono. In this bit, Williams makes a joke about Bono clapping his hands onstage. Williams has even been mistaken as Bono in public and is deemed his "Rock star look-alike."
Sean Patton – Korn
In his Comedy Central set, comedian Sean Patton shares the craziest parts of his surgical tech brother's daily job. He explained the little-known fact that surgeons often listen to music in the operating room. Instead of the calming sounds of classical music or Ed Sheeran, this particular surgeon played Korn's discography while working. Nü metal may not be every patient's first choice, but the surgeon needs his tunes.
Shane Torres – Nickelback
In this bit, comedian Shane Torres defends the work of chef Guy Fieri. Torres explains how we all unfairly make fun of Fieri for his '90s-esque frosted tips even though he helps schools in need and officiated 101 gay weddings, among other acts of kindness. In the same way that we often use Fieri as a punchline, Nickelback are also readily thrown under the bus for a good laugh. Nickelback, he noted, are a band whose only crime is they "made 40 million dudes happy."
Jimmy Carr – Red Hot Chili Peppers
British comedian Jimmy Carr is a witty and sharp public speaker who's always ready to send a joke back to his hecklers, often involving their mom. On one occasion, he hosted the Mojo Awards for Mojo Magazine, a music publication in the U.K. One of his monologue jokes wasn't received well, and he heard a "Fuck off!" from the audience more than once. That response came from none other than Anthony Kiedis, lead singer of the Red Hot Chili Peppers. Carr shared a hilarious response that's far too dirty to write here. 
Henry Rollins – Iron Maiden
Henry Rollins, formerly of Black Flag, loves sharing stories and jokes onstage when he's not playing music. In this bit, he relives opening for Iron Maiden and what felt like a near-death experience. He joked about how Iron Maiden fans aren't amused by any supporting band, which isn't ideal if you're the first act onstage. Rollins is a man of many talents and even does a super-accurate impression of Iron Maiden's lead singer Bruce Dickinson. If you love these jokes, check out Rollins talk about Ozzy Osbourne, Black Sabbath and Black Flag.
Jim Breuer – Metallica, Ozzy Osbourne, AC/DC
Comedian Jim Breuer breaks out his best Metallica, AC/DC and Ozzy Osbourne impressions to prove that rock musicians would be great at covering children's music such as "Row, Row, Row Your Boat" and "London Bridge Is Falling Down." Snoop Dogg made a lullaby album of his songs, so metal kid's tunes seem like the next logical step. 
Dave Hill – Snoop Dogg
Snoop Dogg may primarily be a rapper, but he's a rock and metal ally, especially in his performances with Linkin Park and on his single for the new Addams Family movie. Originally from Cleveland, comedian Dave Hill had the crazy opportunity to open for Snoop Dogg. As one could expect, the performance and meet and greet after the show didn't go down without a few hiccups. Hill also shares that Snoop Dogg is a bit of a Joan Jett fan, too.
Andrew W.K. – Andrew W.K.
Andrew W.K. parties hard on both the concert stage and the Comedy Central stage. In this story, he talks about how he performed a cover of Elton John's "Rocket Man"—a song he didn't know—in Greenwich Village at Cafe Wha? at just 18 years old. "It wasn't even a train wreck. It really was more, uh... It was like an existential shattering of a human soul," he joked. Also, in typical Andrew W.K. fashion, he's wearing head-to-toe white as he shares his story. 
Kevin Lyman – Pennywise
Kevin Lyman, the founder of Warped Tour, has more than enough crazy stories to share about the artists he's worked with over the years. Lyman's story involved Fletcher Dragge of Pennywise jumping out of a bus window, Kid Rock and guns. You have to hear it for yourself. 
Chris Hardwick – Staind
Comedian and Talking Dead host Chris Hardwick uses this bit to describe his fascination with the golden age of rock music that is the '90s through early 2000s. He notes how Staind are iconic for rhyming "Yeah" with "Mreah" in their hit song "It's Been Awhile." Hardwick also labels this very specific music style as "soul yodeling."