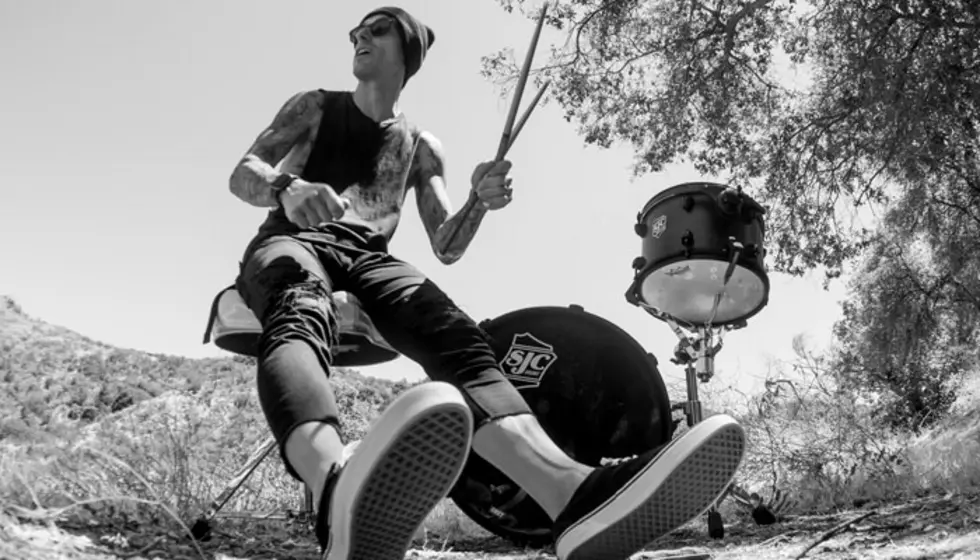 How Josh Dun gave Frank Zummo the courage to make his own music
[Photo: Jorge Rivas (@you_look_dope)]
Frank Zummo's storied career behind the drums has taken him places he never expected. He's created regimented percussion ensembles, played with bona fide rock stars and currently keeps the machine moving in Sum 41. But it was the encouragement of twenty one pilots' Josh Dun that gave him the momentum to make the step toward making his own music.
How many drummers can say they stepped in for one of their heroes? It happened to Zummo when he was enlisted to replace Tommy Lee in Mötley Crüe for a brief tour. He has always been the go-to guy for outfits as diverse as theSTART, Chester Bennington's Dead By Sunrise and EDM unit Krewella. But after he attended an EDM event in Los Angeles, he reconsidered everything. 
"I was in the Staples Center," Zummo recalls. "I went to see ODESZA, and I thought, 'That's really chill ambient music. How the fuck is this going to translate in an arena?' There was a huge drumline. They had live musicians come out in the arena. And I was just like, 'This is totally possible. Like, build it and they will come. Do something that you believe in.' Have incredible production, play live, have a musician element versus just the DJ up there."
Two years ago, Zummo and his wife took a brief trip to Hawaii to celebrate his 40th birthday. He was running on a beach and the ideas–and fears–kept flowing. "There was this battle of things together in my head that I had to get out," he says. "'I need to do something, and I need to make something happen.' When I was running on the beach, I had this whole vision. It all became clear as to what I wanted to do."
When he returned from the trip, he went to the gym with his friend, twenty one pilots drummer/programmer Josh Dun. The only people Zummo confided in were his wife and Dun. "I was like, 'Dude, I want to talk to you about this whole vision that came to me on this trip. I respect you so much. Does it sound crazy? What do you think?'" he recalls. "We stopped our workout, and I told him what I wanted to do. He was like, 'Dude, yes! Do it. This is incredible. If anybody could do it, you could do it.' He really did give me the courage to go for it."
When Zummo's debut EP, It's My War, was released last month, he remembered how Dun had encouraged him to pursue his dream. "I hadn't thought about that in two years," he says. "The day my record came out, I remembered having this talk with Josh. I sent him a long text [saying] thank you for giving me the balls to do it because you were the first person I really talked to about it. He really gave me the confidence. I just respect him so much for what he's doing with his band, and he's somebody I look up to. Josh Dun really did give me the courage to go for it."
Zummo is currently working on his proper full-length debut. In addition, he collaborated with EDM producer Whyel and Sleeping With Sirens frontman Kellin Quinn, but there are no definitive plans for that project yet. And check out this highlight from the 2017 APMAs, when Zummo and Dun teamed up with No Doubt/DREAMCAR drummer Adrian Young for an epic drum moment.