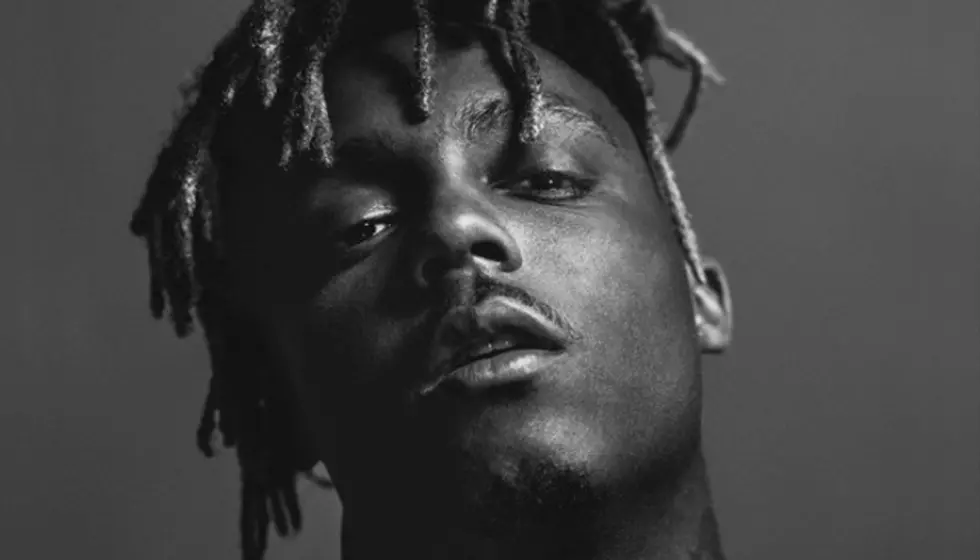 Juice WRLD autopsy report reveals cause of death
[Photo via Spotify]
Last month, Juice WRLD, aka Jarad Anthony Higgins, passed away at the age of 21 after suffering a seizure in a Chicago airport. Now, more details have emerged regarding the cause.
On Dec. 9, the day after the rapper died, the autopsy results came back inconclusive, but it's now officially being ruled as an accidental overdose.
Initially, in a statement to USA TODAY, the Cook County Medical Examiner's Office revealed the first autopsy conducted had come up inconclusive. "The cause and manner of death are pending at this time," spokesperson Natalia Derevyanny wrote on Dec. 9.
The examiner revealed additional testing would be conducted in order to determine the cause, including toxicology, cardiac pathology and neuropathology. Now, according to Rolling Stone, the Cook County Medical Examiner's Office released more information Wednesday stating Higgins "died as a result of oxycodone and codeine toxicity." They also confirm the death was accidental.
As previously reported, officials seized 70 pounds of marijuana in 41 vacuum-locked bags and six bottles of prescription-strength codeine cough syrup from Higgins' private plane. Upon suffering a seizure, Higgins' girlfriend Ally Lotti told officials he "takes Percocet and has a drug problem." Officials then administered Narcan twice before Higgins later passed away at Christ Medical Center.
More on Juice WRLD
On Dec. 8, law enforcement officials were tipped off in advance that Higgins' private plane may have had contraband onboard, according to the Chicago Tribune. FBI agents and Chicago officers were waiting at Chicago's Midway Airport when Higgins and his crew had landed.
Chicago policemen and FBI agents stopped Higgins to search his bags when he began convulsing. An official administered Narcan twice after his girlfriend told officials he "takes Percocet and has a drug problem." Higgins later died at 3:14 a.m. Dec. 8 after being transported to Christ Medical Center in Oak Lawn, Illinois.
The Chicago Tribune reported that FBI agents seized marijuana and prescription-strength codeine cough syrup from his private plane. In addition, two of the rapper's associates, Harry Dean and Chris Long—who identified themselves as the rapper's security detail—were taken into custody by agents for possession of handguns.
Among those seized were two 9 mm pistols, a .40-caliber pistol, a high-capacity ammunition magazine and metal-piercing bullets, according to law enforcement. While the associates were taken into custody on weapons charges, it's unlikely anyone will be charged with possession of marijuana, according to TMZ.
A few days after his passing, Higgins' family broke their silence by sharing a statement with TMZ. Juice WRLD'S mother, Carmella Wallace spoke about her late son, discussing his prescription drug addiction and his music.
"We loved Jarad with all of our hearts and cannot believe our time with him has been cut short," Wallace says. "As he often addressed in his music and to his fans, Jarad battled with prescription drug dependency."
"Addiction knows no boundaries and its impact goes way beyond the person fighting it." She continues.  "Jarad was a son, brother, grandson, friend and so much more to so many people who wanted more than anything to see him defeat addiction."
Juice WRLD's mother hopes that her son's music helps others beat addiction going forward.
"We hope the conversations he started in his music and his legacy will help others win their battles as that is what he wanted more than anything." We know that Jarad's legacy of love, joy and emotional honesty will live on."
Juice WRLD rose to recognition with breakout single "Lucid Dreams" in 2018, a track first released on SoundCloud in 2017. It debuted at No. 74 on the Billboard Hot 100 and peaked at No. 2. "Lucid Dreams" later appeared on his debut album Goodbye & Good Riddance, which released in May 2018.
The track is currently the basis of a lawsuit filed by Yellowcard regarding copyright infringement, which the band says they were "torn" over continuing after his death.
Following his debut album's release, Juice WRLD dropped a mixtape with Future titled Future & Juice Wrld Present… Wrld on Drugs in October. The release featured collabs with Young Thug, Lil Wayne, Yung Bans, Gunna and Nicki Minaj among others.
A known fan of alternative music, Higgins teamed up with Panic! At The Disco frontman Brendon Urie and Benny Blanco on "Roses" in December 2018. The single was off Blanco's debut album Friends Keep Secrets, which also housed his single with Halsey and Khalid, "Eastside." Juice WRLD dropped his last full-length, Death Race For Love in March 2019.
Juice WRLD turned 21 on Dec. 2. His last Instagram post was a celebration of this writing, "Yesterday was my actual bday im celebrating all week doe
999 shit."
Ahead of turning 21, Juice WRLD was in Australia for what would become his final shows. He played Spilt Milk Festival's second weekend in Ballarat Nov. 30, which was his last performance.
Juice WRLD had two performances remaining in 2019 including Rolling Loud Festival in Los Angeles Dec. 14 and Snowta NYE Festival in Minneapolis Dec. 31. He was on Hangout Music Festival's 2020 lineup in Gulf Shores, Alabama in May.
His girlfriend Ally Lotti gave a heartfelt speech during a tribute set at Rolling Loud Festival. Lotti tells the audience Juice WRLD cared about every one of his supporters. She also went on to say that he wants them to be happy. Check out the full clip below.
[envira-gallery id="197439"]