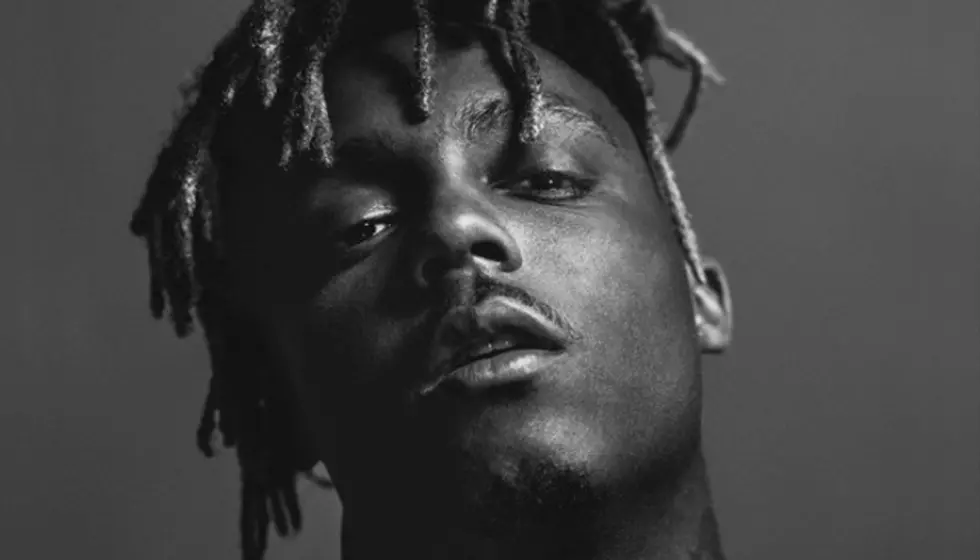 Juice WRLD mourned by music community after death at 21
[Photo via Spotify]
The entire music community is mourning the death of rapper Juice WRLD,  aka Jarad Anthony Higgins. 
The 21-year-old rapper was reported dead on Sunday via TMZ. 
Higgins was on a private jet from California to Chicago. Once landing at Chicago Midway International Airport, witnesses reported he suffered a seizure while walking through the airport. TMZ reports he was "bleeding from the mouth" when paramedics arrived.
The rapper was reportedly still conscious when being transported to the hospital and was pronounced dead shortly after. A cause of death has not been reported as an autopsy is still pending, a medical examiner told the Chicago Sun Times.
Since the news was released, artists, fans and more have flooded the Internet with tributes to the late rapper, with most people expressing shock and sadness for the loss of such a young talent. You can see what people have posted online below. 
Kellin Quinn (Sleeping With Sirens)
Billy Martin (Good Charlotte)
Spotify
Lil Peep's mother Liza Womack
Jeffree Star
Andrew McGuire (Afterlife)
Zane Lowe
Fronz (Attila)
WSTR
Zedd
Reading & Leeds
Skyler Acord (Issues)
Telle Smith (The Word Alive)
Luke Holland
Ben Bruce (Asking Alexandria)
Mod Sun
blackbear
FINNEAS
Machine Gun Kelly
Benny Blanco
Andy Biersack (Black Veil Brides)
Halsey
Pete Wentz (Fall Out Boy)
More on Juice WRLD
Juice WRLD rose to recognition with breakout single "Lucid Dreams" in 2018, a track first released on SoundCloud in 2017. It debuted at No. 74 on the Billboard Hot 100 and peaked at No. 2.
The track later appeared on his debut album Goodbye & Good Riddance, which released in May 2018. Following the album's release, he dropped a mixtape with Future titled Future & Juice Wrld Present… Wrld on Drugs in October. The release featured collabs with Young Thug, Lil Wayne, Yung Bans, Gunna and Nicki Minaj among others.
In December 2018, Higgins teamed up with Panic! At The Disco frontman Brendon Urie and Benny Blanco on "Roses." The single was off Blanco's debut album Friends Keep Secrets, which also housed his single with Halsey and Khalid, "Eastside."
Juice WRLD dropped his last full-length, Death Race For Love in March featuring singles such as "Robbery" and "Hear Me Calling."
Juice WRLD turned 21 earlier this month on Dec. 2. His last Instagram post was a celebration of this writing, "Yesterday was my actual bday im celebrating all week doe 999 shit."
In 2018, the rapper released his Too Soon EP featuring "Legends," a tribute to Lil Peep and XXXTentacion where he says, "What's the 27 Club? We ain't making it past 21."
Ahead of turning 21, the rapper was in Australia for what would become his final shows. He played Spilt Milk Festival's second weekend in Ballarat Nov. 30, which was his last performance. He also released "Let Me Know (I Wonder Why Freestyle)" on Dec. 7.
Following the run, he took to Instagram to share a clip of him packing to leave Australia.
"@chrislongfilms @ogdonn.999 helping me pack my last night in Australia JUST TURNED THIS WHOLE CONTINENT UPSIDE DOWN but anyway we having fun thank God for the opportunity to travel the world and change it.. be with me through every battle and Ik I'll win.. AMEN. Great things coming y'all 999 STILL ROCKING POLO DRAWERS HOE"
Our thoughts are with Higgins family and friends at this time.
[envira-gallery id="197439"]