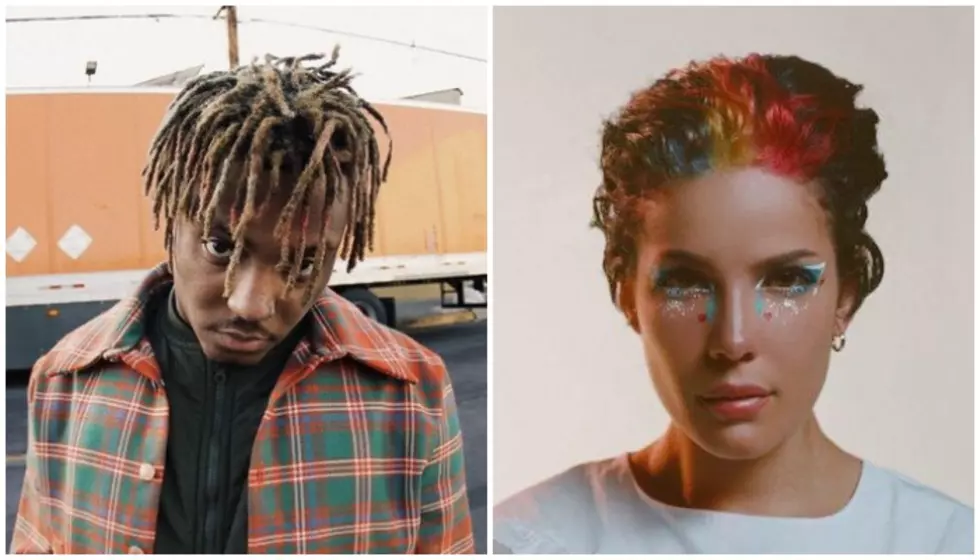 Hear Halsey and Juice WRLD's collab off of his posthumous album
[Photos via Juice WRLD/Spotify, Halsey/Aidan Cullen]
Following Juice WRLD's sudden death in December 2019, friends, fans and collaborators alike have been keeping his spirit alive through various covers and tributes. Now, Juice WRLD's song with previous collaborator Halsey is finally out for everyone to hear.
"Life's A Mess" is off of his Juice WRLD's posthumous album Legends Never Die.
Both Juice WRLD and Halsey have worked together in the past. They teamed up together for a remix of her hit single "Without Me" at the start of 2019. As well, in 2018, Halsey shared a cover of Juice WRLD's "Lucid Dreams" and talked about his genre-bending style.
Now, their collaboration "Life's A Mess" is out for everyone to hear. Following its release, Halsey shared a post talking about the late rapper and the first time she heard the new song. She also shared a photo with the song's title tattooed across her hand.
The emotional new collaboration is accompanied by a visual video that shows artist David Garibaldi painting a photo of Juice WRLD and Halsey. The photo was originally shared by Halsey following the rapper's passing.
"Sweet boy. The fastest brain in the game. Your creativity, endless. Immortal. Rest in power. I can't even explain the sadness," Halsey says.
"Life's A Mess" is off of Juice WRLD's posthumous album Legends Never Die which arrives this Friday, July 10. Along with the album's announcement, a new merch collaboration with the gaming organization FaZe Clan has launched. The collection is inspired by the friendship between Juice WRLD and various FaZe Clan members. Together, they all shared a common love of video games.
The new collaboration with Halsey follows two other posthumous singles to be released called "Righteous" and "Tell Me U Luv Me." The latter is a feature with Trippie Redd.
The visual video for "Life's A Mess" is available to watch below.
What do you think of the new Juice WRLD and Halsey collab? Let us know in the comments below.