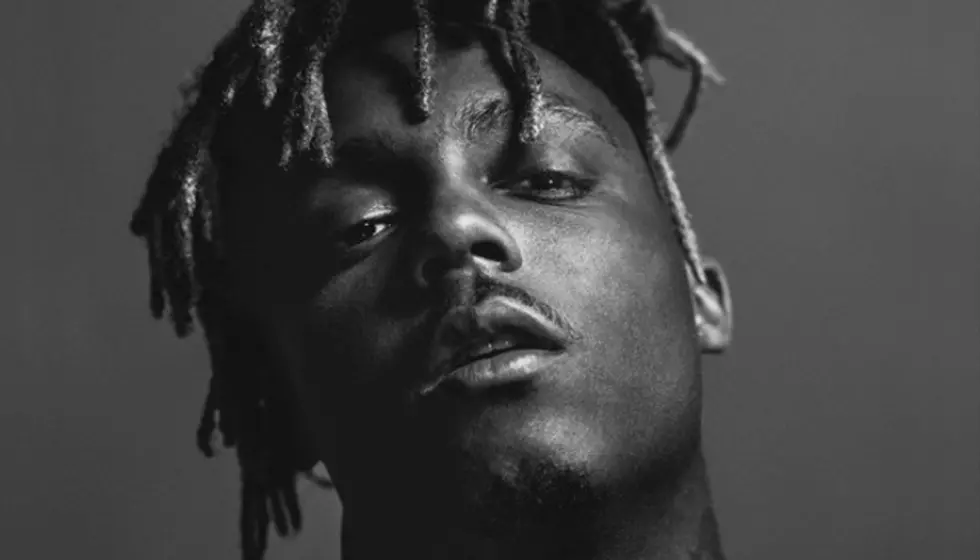 Juice WRLD proves "addiction knows no boundaries," mother says
[Photo via Spotify]
After the untimely passing of Juice WRLD aka Jarad Anthony Higgins earlier this week, details have slowly been emerging about the incident. Now, however, Higgins' family has broken their silence and spoke about the death of Juice WRLD for the first time.
The incident occurred after Higgins deplaned from a private jet traveling from California to his hometown of Chicago. Once landing at Chicago Midway International Airport, witnesses reported he suffered a seizure while walking through the airport. TMZ reports he was "bleeding from the mouth" when paramedics arrived.
In a statement to TMZ, Juice WRLD'S mother, Carmella Wallace spoke about her late son. She discusses his prescription drug addiction and his music meaning to heal.
"We loved Jarad with all of our hearts and cannot believe our time with him has been cut short," Wallace says. "As he often addressed in his music and to his fans, Jarad battled with prescription drug dependency."
"Addiction knows no boundaries and its impact goes way beyond the person fighting it." She continues.  "Jarad was a son, brother, grandson, friend and so much more to so many people who wanted more than anything to see him defeat addiction."
Juice WRLD's mother hopes that her son's music helps others beat addiction going forward.
"We hope the conversations he started in his music and his legacy will help others win their battles as that is what he wanted more than anything." We know that Jarad's legacy of love, joy and emotional honesty will live on."
More Juice Wrld
As previously stated, Juice WRLD died after having a seizure at the Chicago airport.
Law enforcement officials were tipped off in advance that Higgins' private plane may have had contraband onboard, according to the Chicago Tribune. Both FBI agents and Chicago plainclothes officers were waiting at a private hangar at Midway when Higgins landed.
Then, the Chicago Tribune reported that FBI agents had seized over 70 pounds of marijuana in 41 vacuum-locked bags. In addition, six bottles of prescription-strength codeine cough syrup from his private plane. In addition, two of the rapper's associates, Harry Dean and Chris Long were taken into custody for possession of handguns. They later identified themselves as the rapper's security detail.
Police seized two 9 mm pistols, a .40-caliber pistol, a high-capacity ammunition magazine and metal-piercing bullets.
The Tribune story reports that as Higgins was stopped and having his bags searched by plainclothes Chicago policemen and FBI agents, he began convulsing. He was administered Narcan twice after his girlfriend told officials he "takes Percocet and has a drug problem."
Higgins died at 3:14 a.m. Sunday after being transported to Christ Medical Center in Oak Lawn, Illinois.
In a statement to USA TODAY from the Cook County Medical Examiner's Office, an autopsy conducted today has come up inconclusive regarding Higgins' death. "The cause and manner of death are pending at this time," spokesperson Natalia Derevyanny wrote.
USA TODAY is also reporting that the Homeland Security immigration agency ICE is investigating Higgins' death. But, the agency was not providing additional information at this time. Chicago outlet WGN9 has also reported ICE's involvement alongside local police.
Following news that Juice WRLD's autopsy results are inconclusive, TMZ reported that an unnamed law enforcement official confirmed the private jet's pilot alerted the authorities that Higgins' crew had guns on them prior to landing.
[envira-gallery id="197439"]